Body
As a physical therapist, I often hear patients — and also friends, family and just about everyone I meet — complain about how their busy schedules and time spent in front of a computer leave them sore and tired.
This discomfort happens for a reason: our bodies are made to move.
If you find yourself sitting for most of the day, you may feel tension throughout certain areas of the midback and neck. Without appropriate interventions, tissues in these areas can become stiff, weak, tight or too loose. And, imbalanced muscles often contribute to poor posture and can potentially lead to an injury.  
However, simple movements throughout the day will encourage the flow of blood to act as a lubricant for our bones, muscles and joints. This five-minute mobility exercise routine will help. Improving your mobility work does not need to take an hour of your day. Here are three general mobility exercises in sitting for the midback and neck to help open your posture.
Add this routine three times per day to improve the mobility of your back and neck, reduce stiffness around your neck and joints, and draw attention away from the aches and pains of your body in order to improve focus on your task at hand.
Before You Start: Upright Posture
First, recognize poor posture versus upright posture.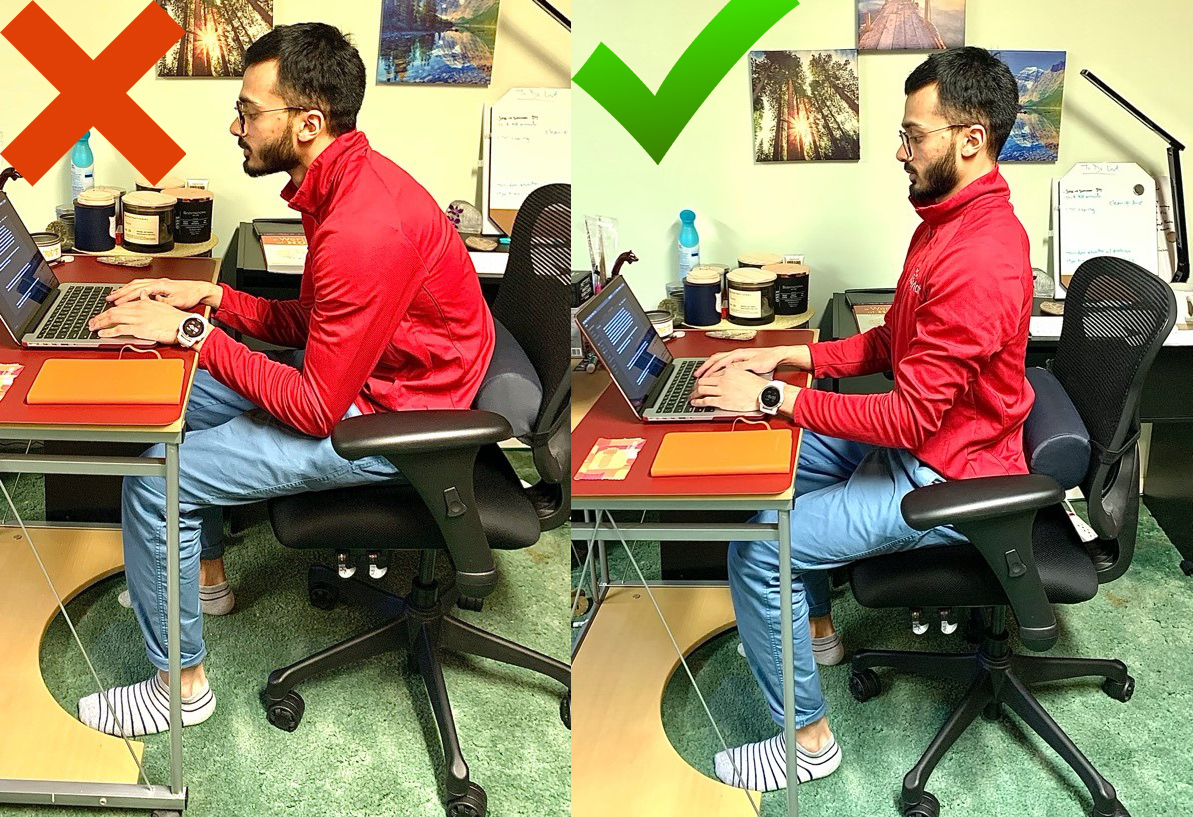 For good posture, sit on the two bones underneath the buttocks; back straight; relaxed shoulders; and feet flat on the ground.
Exercise 1
While sitting tall, place both hands behind the neck, keep the elbows forward and as close as possible. Keeping elbows as close as possible, bend backwards. Be sure to bend from the midback — not the low back. You should feel a stretch in the midback. If this stretch is too intense, do not bend as far back or allow a slight gap between the elbows. Return to the starting position. Aim for 10 to 15 repetitions.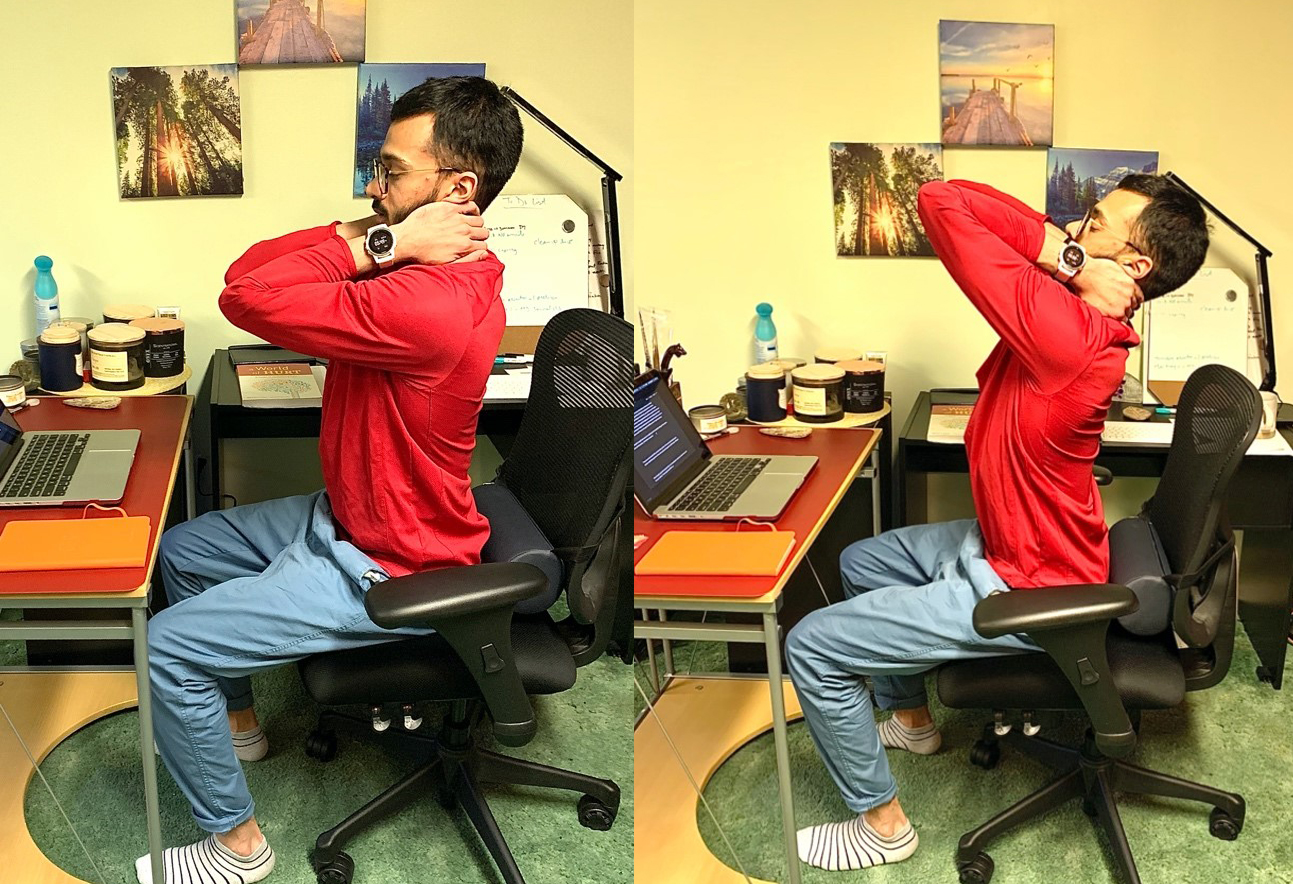 Body
Exercise 2
Place your right hand on the inside of the right thigh as an anchor. Keeping both feet flat on the floor, and not letting your hips move, rotate the trunk while reaching upwards. You should feel a stretch through the midback, and potentially in the chest area. Repeat in the other direction. If the stretch is too intense, do not rotate as far. Aim for 10 to 15 repetitions.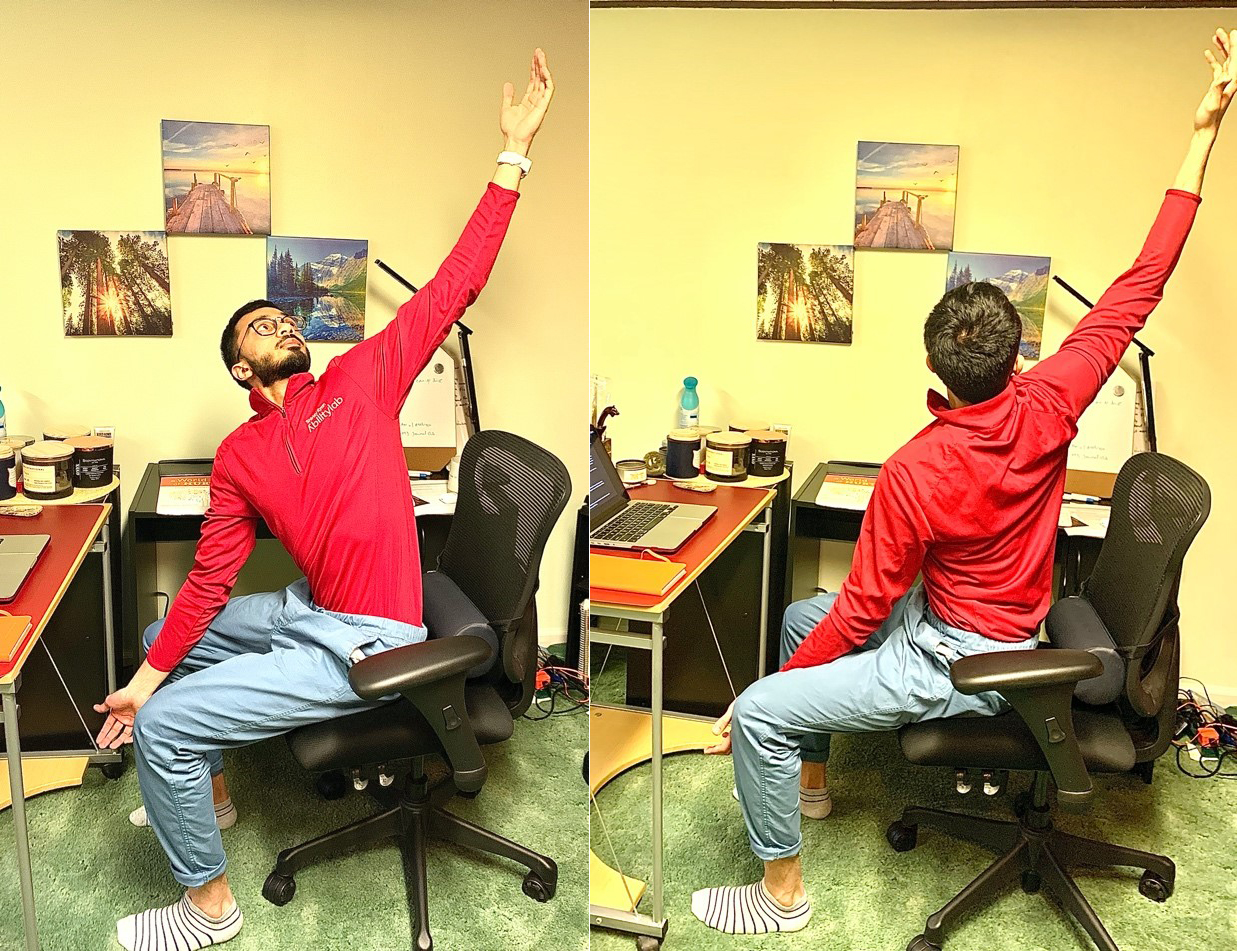 Body
Exercise 3
Start sitting up tall. Bring the chin backward. While you maintain the above position, squeeze your shoulder blades back and bring your arms into a "W" position.
Body
Important Notes
These stretches for the midback and neck should be pain-free.
The goal of accomplishing 10 to 15 repetitions of each exercise is a broad guideline for beginners. You may complete as many reps as you can tolerate while the movements remain comfortable.
Once you've improved your mobility, the next step is to strengthen muscles to maintain those improvements. Keep an eye out for a blog of postural strengthening exercises to learn more.
Shirley Ryan AbilityLab is now offering physician and therapy TeleHealth appointments to provide patients easy access to our expert clinical teams. New and existing outpatients can schedule and appointment at 312.238.1000 or here.
Meet the Author