Ixhelt Gonzalez, Wheelchair Basketball
Body
On Aug. 10, Ixhelt Gonzalez stopped by Chicago's California Park for a Paralympic send-off from campers at the Tengelsen Family Foundation Sports for Kids summer camp. Many of the kids know 17-year-old Ixhelt well. She was a Caring for Kids Camp participant starting at age 7, and still regularly plays basketball with campers.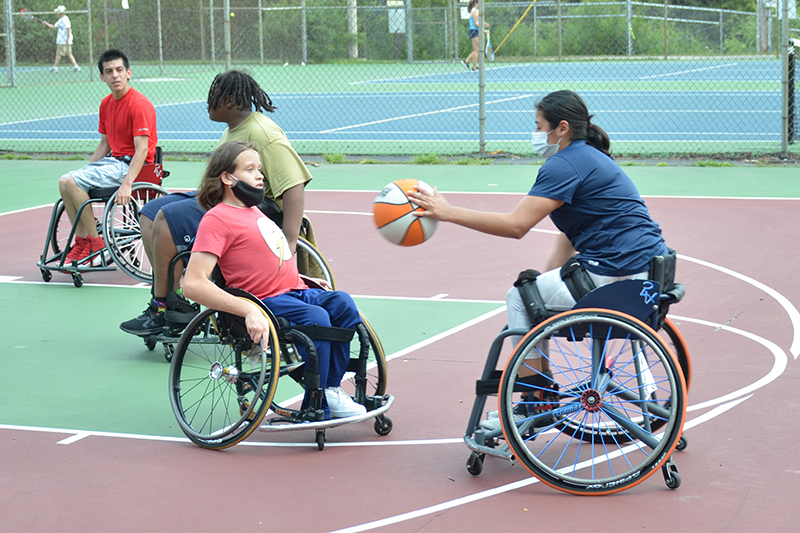 In fact, Ixhelt's wheelchair basketball career began at Shirley Ryan AbilityLab. She was introduced to the sport a decade ago by an Adaptive Sports therapist. She started playing for fun and as a way to make friends, and says the sport — and the people she has met — are an important part of who she has become.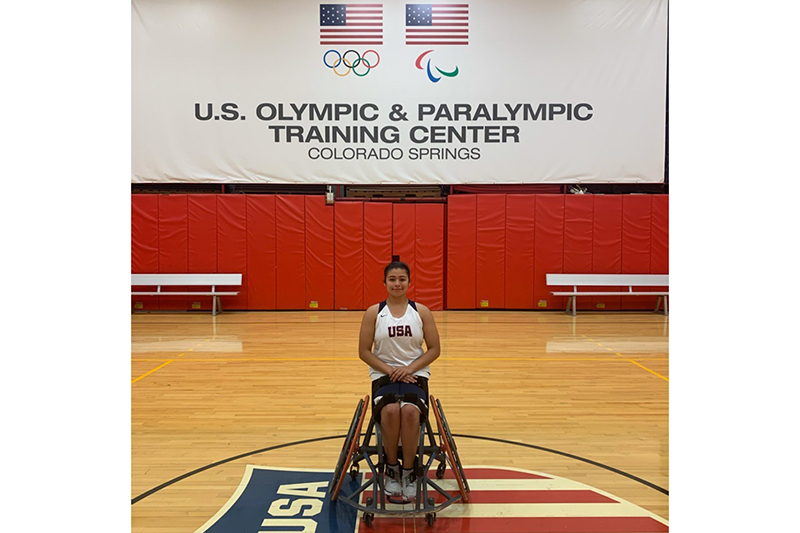 Ixhelt is the youngest player on Team USA women's wheelchair basketball team that will be looking to win another gold medal (she and her teammates previously won gold at the 2019 Parapan American Games).
Kelsey LeFevour, Wheelchair Racing
Body
Kelsey — former patient and daughter of Karen Allabastro, nurse manager and clinical instructor, Nerve, Muscle & Bone Innovation Center — will compete in two races at the Tokyo Paralympics: the T53 100-meter and 400-meter races. ("T53" is a classification used at the Paralympics to indicate athletes with impairments including spinal cord injuries.)
Born with the spinal conditions scoliosis, kyphosis and diastematomyelia, Kelsey got her start in adaptive sports in our organization's Tengelsen Family Foundation Sports for Kids programs — just like Ixhelt.
In 2019, Kelsey earned bronze and silver medals at the Parapan American Games in Lima, Peru.
We recently connected with Kelsey about her journey.
How did you get started in T53 racing?
During my freshman year at the University of Illinois, I met Adam Bleakney, the head coach for the wheelchair track and road racing team. I had never even seen a racing chair before, but he said I had really long arms, which was a good trait for wheelchair racers. From the first day I tried a racing wheelchair, I loved it. It's not that it came naturally to me by any means, but I immediately loved the feeling of getting to do something that not everyone else could.
Wheelchair racing started out as something that I did for fun. Now, it's still fun, but I started setting bigger goals for myself.
I started in 2007, and competed in my first U.S. Nationals in 2010 — and I've been to every U.S. Nationals ever since. My first international competition was in Switzerland in 2012. I was named to my first U.S. team in 2013 for the IPC World Championships in Lyon, France. I also have competed on three other World Championships teams — 2015 in Doha, Qatar; 2017 in London; and 2019 in Dubai, United Arab Emirates — and at two Parapan American Games — 2015 in Toronto and 2019 in Lima, where I earned silver in the 100 meter and bronze in the 400 meter.
What were this year's Paralympic Trials in Minneapolis like?
Unlike the Paralympic Trials in 2016, where our team was named the next day, we actually left Minneapolis without knowing whether we had made the team or not. Needless to say, it was a long week of waiting! The weekend was full of incredibly strong performances, so finally hearing my name called as one of the women selected for the Tokyo team was almost an indescribable feeling! I was honored and humbled, and felt this flood of emotions from the last five years of training since Rio de Janeiro.
How did your mom react when she found out you had qualified for the team?
She was so excited! Ever since I started racing, she has encouraged me through the stress of long training blocks and major international competitions. My mom was even able to come with me to the Paralympic Trials this year as a volunteer, and it was special having her there with me at such a big meet.