Body
With a fleet of 50 handcycles, the Sports & Fitness Adaptive Cycling Program allows people with an array of conditions to enjoy cycling. Read below for some exciting recent developments from this program.
Burr Ridge Bike Day
Body
On May 20, the Therapeutic Recreation (T-Rec) team brought adaptive bikes to the Burr Ridge Outpatient & DayRehab Center — and more than two dozen patients were able to try adaptive cycling for the first time! Throughout the summer, Shirley Ryan AbilityLab sports coordinators will visit each DayRehab location for additional "Bike Days."
Parkinson's Disease Cycling Group
Body
Demi Madden, sports coordinator, and Aleks Gebska, exercise physiologist, Fitness Center, recently launched a new, seven-week cycling program for individuals with Parkinson's disease.
Body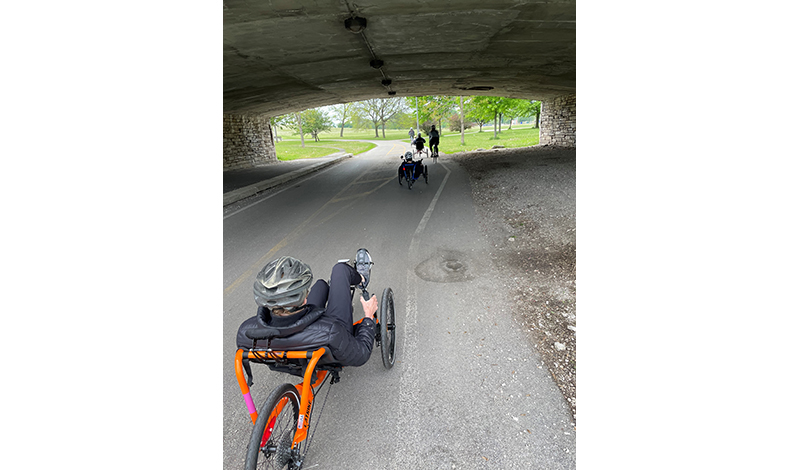 The benefits of cycling for this patient population include improved overall function and aerobic capacity, and reduced tremors, rigidity and bradykinesia. After an assessment, participants are fitted to tricycles that match their experience and ability levels. Over the course of the session, participants learn riding skills and biking etiquette.
Mike Wehner's Presentation at Move United Adaptive Sports Conference
Body
Mike Wehner, manager, Therapeutic Recreation, was a featured speaker at Move United — a recent conference on adaptive sports held in Colorado Springs, Colo. In his "TED Talk"-style presentation, Mike highlighted two new assistive biking technologies he helped develop at Shirley Ryan AbilityLab: a brake interface for cyclists with tetraplegia (co-created with Frank Ursetta, mechanical engineer, Center for Bionic Medicine); and an electronic shifting system for people with limited or no finger function (created in collaboration with Archer Components).
Adaptive Cycling Team Competitions
Body
Tour de Lou in Louisville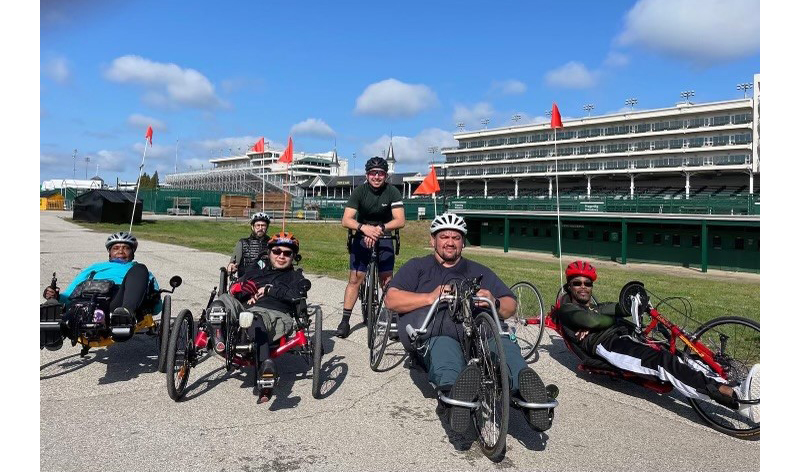 Ten riders from the Shirley Ryan AbilityLab Adaptive Cycling Program completed the 2022 PNC Tour De Lou in Louisville on April 16. The 20-mile race took riders on a course throughout the city of Louisville, including exclusive access into Churchill Downs, site of the Kentucky Derby. In addition to the riders, the traveling party included Demi Madden and Ricardo Lara, exercise physiologist.
Body
Grand Rapids River Bank Run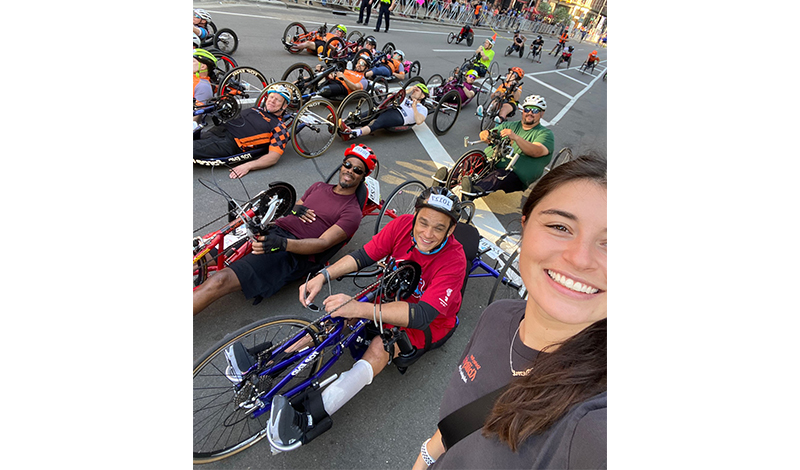 On May 14, the adaptive cycling team traveled to Grand Rapids, Mich., for the handcycle division of the River Bank Run. Congratulations to all four of our athletes who finished the 25-kilometer race:
Angelo Perez: 4th Place
Jose Alzati: 5th place (tied)
Eugene Alvarez: 5th Place (tied)
Derrall Willis: 6th place