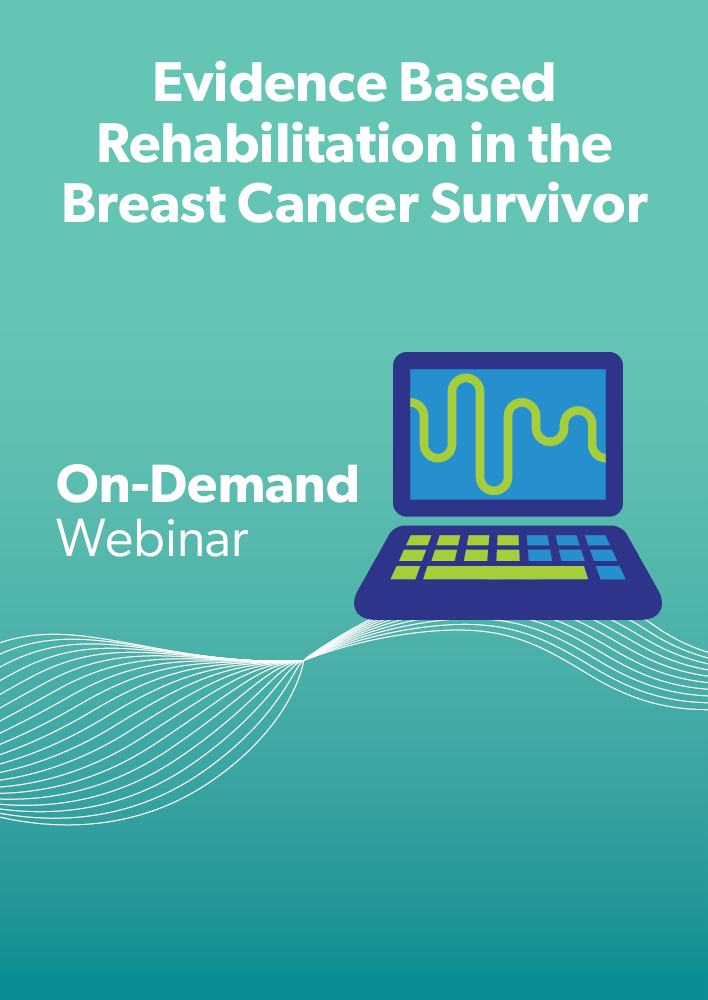 Evidence Based Rehabilitation in the Breast Cancer Survivor
Instructor: Lori Bravi, MS, OTR/L, BCPR, CLT, Shirley Ryan AbilityLab
Audience: Physical Therapists, Physical Therapist Assistants, Occupational Therapists, Occupational Therapy Assistants
Description: This 90-minute  on-demand webinar will introduce evidence-based rehabilitation principles for the breast cancer survivor with an emphasis on lymphedema warning signs, management of axillary cording and radiation fibrosis, and strengthening to improve endurance and range of motion of the affected upper quadrant. Discussion will include primary pathways used at the Shirley Ryan AbilityLab to identify and treat various stages of lymphedema across all levels of care. Participants will be able to incorporate strengthening, range of motion, and energy conservation techniques into treatment planning for these patients. A variety of cases will be discussed to illustrate the continuum of care across all stages of disease progression, from initial diagnosis to palliative care, with an emphasis on promoting functional independence and wellness.
Objectives: Upon completion of this course, participants will be able to:
Define primary and secondary lymphedema.
Identify three warning signs of upper quadrant lymphedema associated with axillary lymph node removal.
Identify three warning signs of axillary cording and/or radiation fibrosis in the breast cancer patient.
Identify three therapy interventions that the primary therapist will initiate to address associated upper quadrant range of motion and strength as a part of breast cancer rehabilitation.
Note: You will have 3 months from the date of purchase to complete and review the course material. You will receive a reminder email 2 weeks before the expiration date.
Continuing Education Credits
Physical Therapy 
This course has been approved by the Illinois Physical Therapy Board for 1.5 Contact Hours. Approval #216-000069
The Shirley Ryan AbilityLab is recognized by the New York State Education Department's State Board for Physical Therapy as an approved provider of physical therapy and physical therapist assistant continuing education. This course has been approved for 1.5 contact hour.
Occupational Therapy 

The Shirley Ryan AbilityLab is an approved provider for the American Occupational Therapy Association to offer continuing education in occupational therapy. This intermediate level program awards occupational therapists 0.15 CEUs or 1.5 contact hours. The assignment of AOTA CEUs does not imply endorsement of specific course content, products, or clinical procedures by AOTA. Category 2: Occupational Therapy Process

Basic Computer Requirements: You will need access to a computer with an Internet connection. High speed broadband access (LAN, Cable or DSL) is highly recommended.
PC: Compatible Operating System: Windows XP, Vista, 7, 8, 8.1 Web Browser: Firefox, Chrome
MAC: Compatible Operating System: OS X Web Browser: Firefox, Chrome, Safari
Cancellation Policy: To request a cancellation of an on-demand program, please provide written notice by letter, email, or fax or contact us by phone within 24 hours of placing your order and we will refund you the full course fee. If you cannot give notice within 24 hours, a credit towards a future course of equal value would apply.
Collections
Online Learning Occupational Therapists Occupational Therapy Assistants OTA and PTA Physical Therapist Assistants Physical Therapists