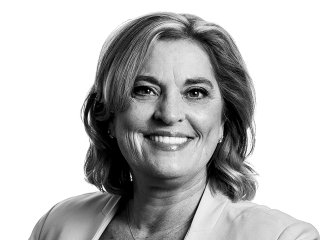 Peggy Kirk
Position
President & Chief Executive Officer
Phone Number Description
Phone
About Me
About Me
Peggy Kirk, RN, leverages her deep clinical and leadership experience to guide Shirley Ryan AbilityLab as President and Chief Executive Officer, a role she has held since Sept. 2021.
Peggy most recently served as Senior Vice President and Chief Operating Officer between 2007-2021. In this role, she oversaw all clinical areas, including Inpatient, Outpatient, DayRehab, and partnerships with acute-care hospitals domestically and internationally. She also led clinical teams in caring for more than 50,000 patients from around the world annually while achieving industry-leading benchmarks.
Additionally, she served as an integral member of the executive team charged with bringing to life Shirley Ryan AbilityLab's $550 million, 1.2 million square foot facility. The facility opened in 2017 as the first-ever translational research hospital, where physicians, scientists, innovators, technologists and clinicians work together in the same space, surrounding patients, discovering novel approaches and applying (or "translating") research in real time. In this capacity, she led the evolution of clinical treatment models to align with the hospital's vision of applied-research rehabilitation, while developing process and systems changes to facilitate this vision. She also led the two-year activation plan, guiding thousands of staff to prepare for the patient move to the new facility, which took place over the course of a single morning.   
Peggy joined Shirley Ryan AbilityLab (formerly the Rehabilitation Institute of Chicago) in 1981 as a Staff Nurse for the hospital's spinal cord injury program. While in this role, she served as co-investigator on externally funded grants and also co-authored Spinal Cord Injury: A Guide to Rehabilitation Nursing, as well as a number of peer-reviewed articles on various rehabilitation topics. In the years that followed, she held diverse roles in virtually every segment of the hospital's clinical enterprise — from Corporate Director for Inpatient Services to Vice President of Operations for various divisions, including DayRehab and Strategic Alliances.
Peggy earned her BS in Nursing from Northwestern University.   
Location
Shirley Ryan AbilityLab
355 East Erie
Chicago, IL 60611
Education & Professional Associations
Education

Credential

1976 - 1980

Nursing, Northwestern University
Work History
2021

President & CEO

Shirley Ryan AbilityLab

2007

Chief Operating Officer & Senior Vice President

Shirley Ryan AbilityLab

2002

Vice President, Clinical Operations

Rehabilitation Institute of Chicago (now Shirley Ryan AbilityLab)

1986

Nurse Manager

Rehabilitation Institute of Chicago (now Shirley Ryan AbilityLab)

1981

Staff Nurse

Rehabilitation Institute of Chicago (now Shirley Ryan AbilityLab)