Body
In 2017, the best rehabilitation hospital in the United States - the Rehabilitation Institute of Chicago - became the Shirley Ryan AbilityLab®. This exciting reinvention was necessary to ensure our continued success and will - most importantly - allow us to serve our patients in ways that are not possible in our current space, and that are unprecedented in medicine.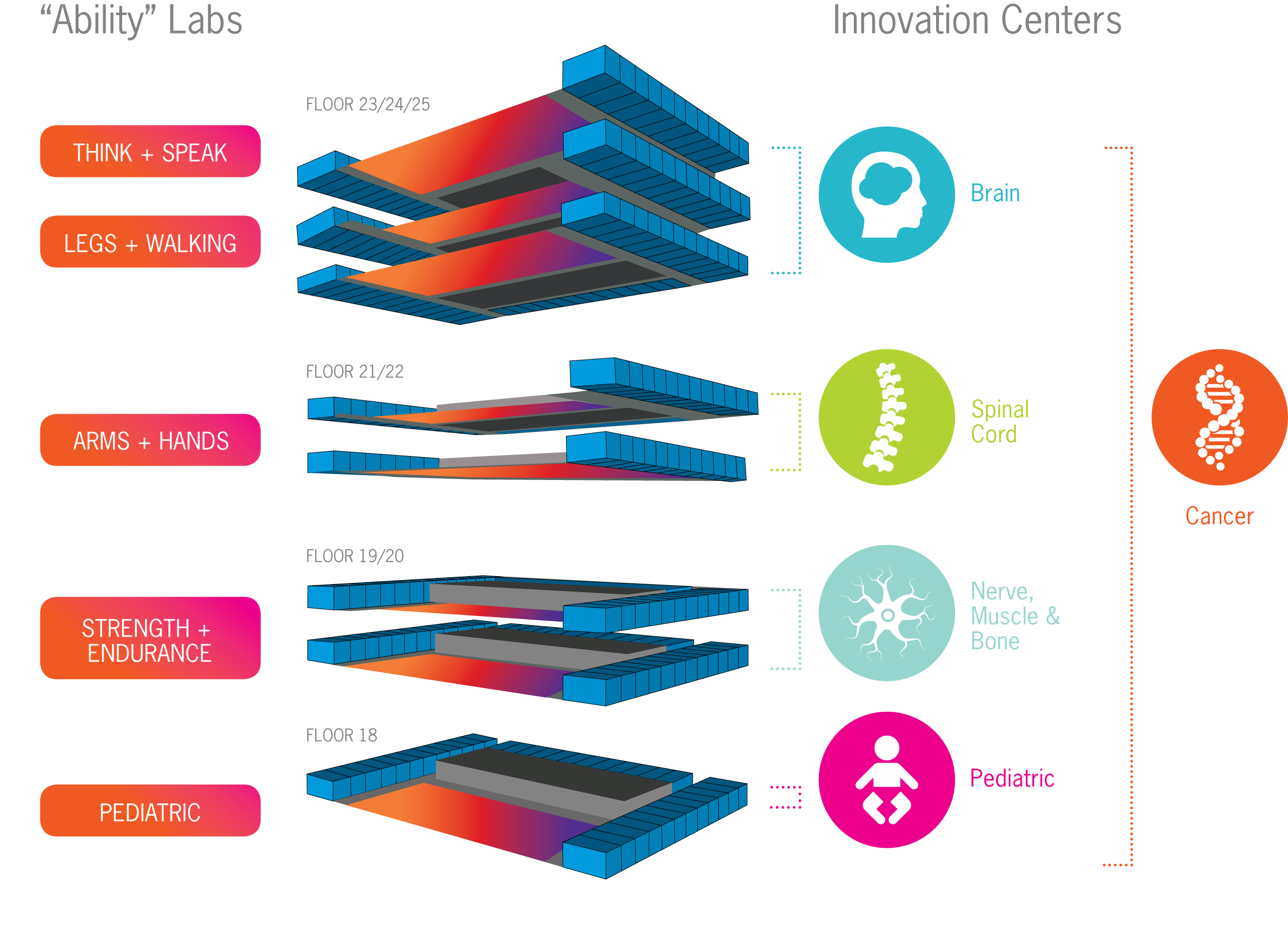 The unique design of the hospital is about creativity and inventing – processes, methods, experiences, even products that will affect real change in our patients and in their potential for full recovery. We are leveraging the design of our new building to fully express our vision, embracing an iterative rather than linear process of clinical care and recovery medicine, and integrating the intellectual with the artistic.
In short, this new space was explicitly designed to facilitate the practice of "translational medicine" - a new model for medical care in which research is applied directly during patient care.  
Facts & Figures
Body
The Shirley Ryan AbilityLab - located at 355 East Erie - is intended to exude ability and attract the world's best and brightest talent to achieve its vision.
The world's only Ability Labs: These Labs will have a unique configuration based on its purpose, boundaries will not exist; clinicians, researchers, and patients will collaborate in real time
The first-ever Innovation Centers: Unique areas where care and healing occur, each focused on an area of unique expertise
All private, individual rooms- which will allow us to serve nearly 30% more inpatients
1.2 million overall square feet, 800,000 of which will be dedicated to clinical care and research
 Extensive outpatient care facility – four times the current service size
Please explore the site and discover how our care and unique services add up to a truly transformational experience in rehabilitative care.  If you have any questions or are ready to become a patient, contact us at 1-844-355-ABLE or complete this short form and one of our representatives will contact you.