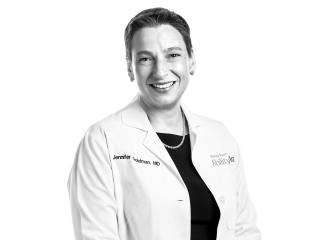 Jennifer G. Goldman, MD, MS
Position
Section Chief, Parkinson's Disease and Movement Disorders
Practicing since 1998
Joined staff in 2018
Phone Number Description
Phone
About Me
About Me
Jennifer G. Goldman, MD, MS, is the Section Chief for Parkinson's Disease (PD) and Movement Disorders Rehabilitation at Shirley Ryan AbilityLab. Dr. Goldman is a Movement Disorders neurologist with board certification in Behavioral Neurology and Neuropsychiatry. She also is a Professor of Physical Medicine & Rehabilitation and Neurology at the Northwestern University Feinberg School of Medicine.
Dr. Goldman is a clinician-researcher who has been a pioneer in the cognitive and behavioral aspects of PD and movement disorders and a longstanding champion of interdisciplinary care. Her work focuses on advancing our understanding of the non-motor and motor features of PD and movement disorders, using neuroimaging and biomarkers, and on developing pharmacological and non-pharmacological interventions to improve or prevent these symptoms. Dr. Goldman has been funded by the National Institutes of Health (NIH), the Michael J. Fox Foundation and the Parkinson's Foundation, among others, and is widely published. As a clinician, Dr. Goldman is passionate about offering a holistic, comprehensive, and interdisciplinary team-based approach for people with PD and movement disorders and their care partners.
Location
Shirley Ryan AbilityLab
355 East Erie
Chicago, IL 60611
Education & Training
Education

Credential

1989 - 1993

A.B. (Psychology, Music Performance), Princeton University

1994 - 1996

Mount Sinai School of Medicine

1996 - 1998

MD, Northwestern University Feinberg School of Medicine
Training

Credential

1998 - 1999

Internship - Evanston Hospital, Northwestern

1999 - 2002

Neurology Residency - Washington University in St. Louis

2002 - 2004

Movement Disorders Fellowship - Rush University Medical Center, Chicago
Graduate Degree

Credential

2007 - 2009

Master of Science in Clinical Research - Rush University Medical Center Graduate College, Chicago
Certificates + Licenses
Board Certified, Neurology

American Board of Psychiatry and Neurology

Board Certified, Behavioral Neurology and Neuropsychiatry

United Council for Neurologic Subspecialties
Affiliations
International Parkinson and Movement Disorder Society

Member of MDS, 2002
Chair, Pan-American Section Education Committee, 2015-2019
Secretary-Elect, Pan-American Section, 2019-2021
Member, MDS PD-MCI Study Group; Neuroimaging Study Group; Leadership Task Force; Integrative Interdisciplinary Task Force.,

American Academy of Neurology

Member of AAN, 1999
Fellow - FAAN, 2015
Chair, Movement Disorders Section, 2018-2020
Member, Women in Leadership Committee, 2015-

American Neurological Association

Fellow - FANA, 2015

Lewy Body Dementia Association

Chair, Scientific Advisory Committee, 2019-
Co-Chair, Clinical Care and Professional Education Working Group, Research Centers of Excellence, 2017-
Parkinson Study Group

Member, Scientific Review Committee, 2020-
Our lab interests lie in early detection, intervention, and prevention, including non-pharmacological strategies such as physical and cognitive exercise, for both non-motor and motor symptoms and across all disease stages of Parkinson's Disease.
view lab
Work History
2004 - 2018

Rush University, Department of Neurological Sciences

Assistant Professor, 2004-2012
Associate Professor, 2012-2018
Professor, 2018

2016 - 2018

Rush University, Department of Neurological Sciences

Founder/Director, Integrated Cognitive Behavioral Movement Disorders program, 2016-2018
Director, Huntington's Disease Society of America Center of Excellence, 2016-2018
Director, Lewy Body Dementia Association Research Center of Excellence, 2018