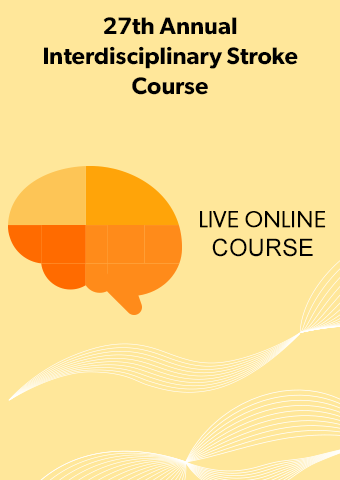 Z 5/6-5/7 27th Annual Interdisciplinary Stroke Course: New and Changing Practices
Early Bird Tuition: $350 Until April 1, 2021. After April 1st
Tuition : $450
Current research in neuroscience and stroke rehabilitation has added new dimensions and advances in the care of stroke survivors. Translating best practices from the laboratory and diagnostic testing to patient care units, this course will focus on many of those advancements and current best practices. This interdisciplinary two-day course will provide participants with an opportunity to interact and engage with physicians, researchers, and clinicians.
Day One will focus on topics such as depression post-stroke, a deeper dive into the concepts associated with neuroplasticity, gait and cognition, and best practices in supportive communication. Day Two will be devoted to translational research in the field of stroke rehabilitation, dysphagia, prosthetics and orthotics, as well as a case review. Many components of this course were designed to be interactive, having participants on-screen and working alongside presenters and their peers on case-based applications, Q&A panels, and small group dynamic problem solving.
Click Here for Complete Course Brochure and Faculty Info 

LOCATION: 100% online; no need to travel  
SUCCESSFUL COMPLETION:
Participants will complete 0.5  hours of self-study activities in advance of this two-day live online course (earning 0.5 contact hours + up to 12.5 live online contact hours = up to 13.0 contact hours). In order to receive contact hours, participants must sign in each session and complete an online evaluation.  Please note, this course is intended to have active, live participation in certain sessions – please be aware that you will need to be on camera at times to participate.
AUDIENCE:
This course is intended for Physical Therapists, Physical Therapist Assistants, Occupational Therapists, Occupational Therapy Assistants, Orthotists, Orthotic Assistants, Orthotic Technicians, Orthotic Fitters, Pedorthists, Nurses, Social Workers,  and Speech-Language Pathologists
Workshop Options: You will register above for 3 workshops.  Download course brochure to see the complete descriptions and schedule of these sessions. SLP's and Social Workers, please note there are workshops where credit is not awarded for your discipline:
Application of High Intensity Gait Training (Not eligible for ASHA or Social Work CEUs)
Uniting Forces: An Interdisciplinary Approach to Assessing and Managing Cognition after Stroke
Introduction to Supportive Communication Strategies: Practical Instruction and Hands-On Practice
Advanced Supportive Communication Strategies: Theory and Practice
Lower Extremity Orthotic Management of Stroke Patients: What Type of AFO Should I Prescribe and Why? (Not eligible for ASHA or Social Work CEUs)

Translating Results and Recommendations from Instrumental Swallow Exams (Not eligible for Social Work CEUs)

OBJECTIVES:
Upon completion of this course, participants will be able to:
Discuss post-stroke depression and other emotional Disturbances
Differentiate spontaneous biological recovery from training-induced plasticity in the early post stroke period
Apply Clinical Practice Guidelines (CPG) and Evidence Based Practices (EBP) into the treatment of Gait, Cognition, Dysphagia, and Prosthetic and Orthotic Management Post-Stroke
Utilize appropriate supportive communication techniques to aid communication with Stroke Survivors
Translate current stroke research to clinical daily activities and treatments
CONTINUING EDUCATION CREDIT
Occupational Therapy
Shirley Ryan AbilityLab is an AOTA Approved Provider of professional development. Course approval ID# 01515. This blended/hybrid course is offered at 1.30 CEUs [intermediate level, Foundational Knowledge/OT Service Delivery]. AOTA does not endorse specific course content, products, or clinical procedures.
 Physical Therapy
This two-day course has been approved by the Illinois Physical Therapy Board for 13 contact Hours (0.5 hour pre-work & 12.5 hours live). Approval #216-000069
The Shirley Ryan AbilityLab is recognized by the New York State Education Department's State Board of Physical Therapy as an approved provider of physical therapy and physical therapist assistant continuing education.  This course has been approved by the New York Physical Therapy Board for 13 Contact Hours (0.5 hours pre-work & 12.5 hours live).
Nursing  
The Shirley Ryan AbilityLab (P0609-11/30/2022) is accredited as a provider of nursing continuing professional development by the American Nurses Credentialing Center's Commission on Accreditation.
This CNE is being offered for 13.0 contact hours of continuing nursing education.
Social Work
The Shirley Ryan AbilityLab is registered by the State of Illinois to sponsor continuing education programs for social workers. This program will award 11.5 CEU.
Speech-Language Pathology
This course is offered for up to 1.3 ASHA CEUs (Intermediate level, Professional area).
 A full list of faculty disclosures for ASHA is available: HERE
Orthotics
This program has been approved for up to 13.0 credits through the American Board for Certification in O&P (ABC) for Orthotists, Orthotic Assistants, Orthotic Technicians, and Orthotic Fitters and Pedorthists. Full participation in this program is required to be eligible for the full amount of credits.
Collections
Nurses Occupational Therapists OTA and PTA Physical Therapists Physicians Speech Language Pathologists Orthotic Assistants Orthotic Fitters Orthotic Technicians Orthotists Pedorthists