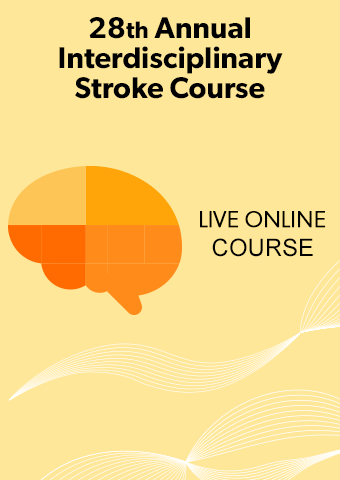 Z 5/12-5/13 28th Annual Interdisciplinary Stroke Course: The Neuroscience of Stroke Rehabilitation from the Inside Out
A knowledge of neuroanatomy and the process of neuro-recovery is a critical skill in diagnosing and/or predicting outcomes and the assessment and treatment of individuals with stroke. It is crucial for the interdisciplinary team to be able to interpret neuroradiology to effectively achieve successful outcomes in line with neuro-recovery. Fundamentally, it is important to understand how to change behavior at the patient, provider, system, or even policy level. Implementation science will help the learner to understand how key principles or frameworks can aide in the selection of interventions, especially as they pertain to neurorehabilitation.
Day one of this course will focus on neuroanatomy and neuroimaging. Attendees will apply that understanding to real-life case studies and demonstrate how to implement neuroanatomy and neuroradiology in a clinical reality. Case-based application and discussion will take a patient from initial onset, through various levels of rehabilitation, and reintegration into the community.
Day two will review translational research as applied to the stroke population both at an overall foundational and at a discipline-specific level. Participants will explore real-life obstacles in the healthcare system that may limit the implementation of evidence-based research into routine clinical practice. Learners will demonstrate knowledge translation principles in specific case studies and demonstrate how practitioners can strengthen clinical practice and evolve day-to-day care. This Two Day Online Course will involve aspects of didactic, clinical application, small and large group collaboration, and panel discussion to enhance and transform stroke care.
Click Here for Complete Course Brochure and Faculty Info  
LOCATION: 100% online; no need to travel  
SUCCESSFUL COMPLETION: Participants will complete up to 13.5 live online contact hours. In order to receive contact hours, participants must sign in each session and complete an online evaluation.  Please note, this course is intended to have active participation in certain sessions. Participants may need to be on camera at times to participate.
AUDIENCE: Physical Therapists, Physical Therapist Assistants, Occupational Therapists, Occupational Therapy Assistants, Nurses, Social Worker, and Speech-Language Pathologists
When Registering, you will Select One of the Following 4 Workshops:
Workshop #1: Application of High Intensity Gait Training Post-Stroke (120 min)*
When guided by the principles of neuroplasticity, implementation of high intensity gait training can yield significant functional gains. Through case studies, this workshop will review treatment ideas, barriers, and develop solutions in order to maximize implementation of high intensity gait training in all practice settings.
Faculty: Samantha Caravette, PT, DPT & Kelly McKenzie, PT, DPT
Workshop #2: Evidence Based Practice of Upper Extremity Recovery after Stroke: Translating Research into Practice (120 min)*
Arm and hand function in patients post-stroke can be a significantly limiting factor in return to daily living. In this workshop, general principles of evidence-based practice will be discussed with further exploration of assessments of upper extremity function and specific interventions to enhance motor recovery. Utilizing specific case examples, discussion and collaboration will focus on appropriate interventions, intensity, specificity and modifications to allow patients to return to desired activities of daily living.
Faculty: Kerry Ball, OTR/L & Emily Harstad, OTR/L
Workshop #3: From Assessment to Goal Setting in Aphasia (120 min)**
During this workshop, best practice in the management of patients post-stroke will be reviewed within specific patient case examples of communication deficits and aphasia management. A framework for treatment planning in aphasia will be provided. Patient-centered communication needs will drive assessment practices in order to identify key impairments and strategies to balance patient participation and impairment focused interventions.
Faculty: Caitlin Ferrer, MS, CCC-SLP
Workshop #4: Integrating Basic Counseling Skills (120 min)
Patients in a medical or rehabilitation setting often experience new and unexpected losses related to their circumstances. Understandably, this can create significant emotional responses, which may leave those around them feeling unsure of how to respond or provide support. As interdisciplinary staff often work with patients in their most vulnerable moments of their recovery, it is important to feel equipped on how to best respond. This workshop will focus on how interdisciplinary staff can conduct emotional assessments and provide basic counseling to patients and family members without taking away from their clinical goals or creating barriers to their goals in treatment.
Faculty: Katrina Myhra, MSW, LCSW
*No contact hours for SLP or Social Workers
**Contact hours for SLP only 
OBJECTIVES: Upon completion of this course, participants will be able to:
Identify and describe major neuro-anatomical structures of the brain, their functions and anticipated deficits present following Left Middle Cerebral Artery (MCA), Right brain, Hemorrhagic and Brainstem strokes.
Discuss the clinical implications that occur post-stroke to develop a patient-specific clinical assessment based on neurological structure and impairments.
Analyze optimal outcome measures and create a plan of care based on neuroanatomy and neuroplasticity.
Summarize and apply key principles and procedures of implementation science to patient examples and outcomes data.
Synthesize and formulate appropriate intervention delivery recommendations for discharge with specific considerations on pre-morbid factors or conditions, health literacy and financial resources.
Apply Clinical Practice Guidelines (CPG) and Evidence Based Practices (EBP) into the treatment of gait, communication and upper extremity management post-stroke.
CONTINUING EDUCATION CREDIT
Occupational Therapy
Shirley Ryan AbilityLab is an AOTA Approved Provider of professional development. Course approval ID# 04085. This Distance-learning interactive course is offered at 13.5 contact hours, 1.35 CEUs [intermediate level, [Foundational Knowledge/OT Service Delivery]. AOTA does not endorse specific course content, products, or clinical procedures.
Physical Therapy
This two-day course has been approved by the Illinois Physical Therapy Board for 13.5 Contact Hours. Approval #216-000069 
The Shirley Ryan AbilityLab is recognized by the New York State Education Department's State Board of Physical Therapy as an approved provider of physical therapy and physical therapist assistant continuing education. This course has been approved by the New York Physical Therapy Board for 13.5 Contact Hours. 
The following states require continuing education units with no state specific approval: CT, IA, and WA
Nursing  
The Shirley Ryan AbilityLab (P0609-11/30/2022) is accredited as a provider of nursing continuing professional development by the American Nurses Credentialing Center's Commission on Accreditation. This CNE is being offered for 13.25 contact hours of continuing nursing education.
Social Workers
The Shirley Ryan AbilityLab is registered by the State of Illinois to sponsor continuing education programs for social workers. This program will award 3.0 CEU.
Speech-Language Pathology
 A full list of faculty disclosures for ASHA is available: HERE
Technology Requirements
To participate, you will need access to a computer with an Internet connection. High-speed broadband access (LAN, Cable or DSL) is highly recommended.
Internet connection: broadband wired or wireless (3G or 4G/LTE)
Web browser:
Apple Safari: Latest stable version
Google Chrome: Latest stable version
Mozilla Firefox: Latest stable version
JavaScript and Cookies enabled
Speaker or headset to listen to audio files and participate in Zoom calls
Do NOT use Internet Explorer or Microsoft Edge, as they are not supported.
THANK YOU TO OUR SPONSORS:
(Please note: None of these organizations have input into the planning or delivery of course content.)
Premier Title Sponsor
We would also like to thank Merz for their educational grant which supports the Academy at the Shirley Ryan AbilityLab and helps us pull together programs such as this.
Collections
Nurses Occupational Therapists OTA and PTA Physical Therapists Physicians Speech Language Pathologists Orthotic Assistants Orthotic Fitters Orthotic Technicians Orthotists Pedorthists Social Workers