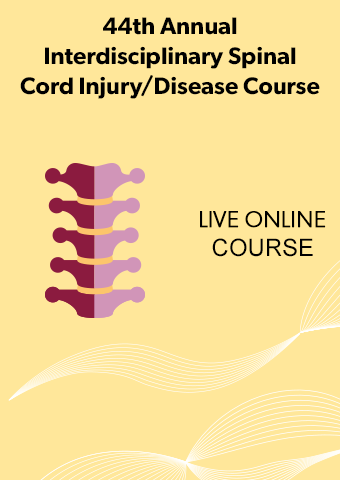 Z 4/8-4/9 - 44th Annual Interdisciplinary Spinal Cord Injury/Disease Course: A Focus on Neuromodulation
Attend our 44th Annual Spinal Cord Injury/Disease Course ONLINE!
Internationally Renowned Keynotes

Earn up to 12.5 Contact Hours over 2 Days

Lectures, case studies and panel discussions all online
Practitioners can build better therapeutic interventions when clinical decision-making and current research is at the forefront of evidence-based care. This innovative, interdisciplinary online course focuses on the resources and strategies that allow individuals with SCI/D to achieve their highest quality of life through methods of neuromodulation. Over two days, this course will integrate interactive lectures, a workshop, case and panel discussion in order to facilitate skill-building opportunities. The course focuses on neuromodulation and its use in treatment with restoration of motor control in individuals with SCI/D. The course will review the focus on the mechanisms driving these invasive and noninvasive techniques and translate into clinical recovery for injuries in the spinal cord. The application of clinical assessment of patients with SCI and neuromodulation in practice via functional electrical stimulation, transcranial magnetic stimulation (TMS) and implanted devices will be reviewed. Day 2 will tap into the challenge of quality of life issues of living with a SCI/D such as pregnancy and sexuality, as well as promotion of disability as a critical element in medicine.
For full course details and workshop descriptions and faculty list, please review the course brochure: Click Here

LOCATION: Online - Right at home!
AUDIENCE: Physical Therapists, Physical Therapist Assistants, Occupational Therapists, Occupational Therapy Assistants, Nurses, and Physicians (not offering CME)
OBJECTIVES: Upon completion of this course, participants will be able to: 
Identify current research and trends in neuromodulation with spinal cord injuries.
Theorize how various stimulation methods work mechanistically on the injured spinal cord
Discuss how experimental interventions using invasive and noninvasive methods can improve function in individuals with spinal cord injury 
Discuss psychosocial considerations for men women living with a spinal cord injury and their families regarding reproductive health and sexuality.
Review issues facing individuals living with a disability and how advocacy and inclusion can inspire change in the population
SUCCESSFUL COMPLETION: 
In order to receive contact hours, daily sign in and completion of an on-line evaluation are required. Participants will attend live online lectures that provide a foundation for the online interactive sessions.
CONTINUING EDUCATION UNITS:
Nursing
The Shirley Ryan AbilityLab (P0609-11/30/2022) is accredited as a provider of nursing continuing professional development by the American Nurses Credentialing Center's Commission on Accreditation. This CNE is being offered for 12.5 contact hours of continuing nursing education
Occupational Therapy
Shirley Ryan AbilityLab is an AOTA Approved Provider of professional development. Course approval ID# 01640. This distance learninginteractive course is offered at 1.25 CEUs [intermediate level,Foundational Knowledge/OT Service Delivery]. AOTA does not endorse specific course content, products, or clinical procedures
Physical Therapy
This two-day course has been approved by the Illinois Physical Therapy Board for 12.5 contact Hours. Approval #216-000069 The Shirley Ryan AbilityLab is recognized by the
New York State Education Department's State Board for Physical Therapy as an approved provider of physical therapy and physical therapist assistant continuing education. This two-day course has been approved for 12.5 Contact Hours
The following states require continuing education units with no state specific approval: CT, IA, and WA 
TECHNICAL REQUIREMENTS
The program will be held online.  To participate, you will need access to a device with internet connection.  Computers, laptops, iOS and Android devices are supported.  High-speed broadband internet access (LAN, Cable, or DSL) is highly recommended.
Additional requirements include:
Web browser and version: Internet Explorer 11+, Firefox 27+, Safari 7+, or Google Chrome 30+
JavaScript and Cookies enabled
Flash Player 9+
Speaker or headset to listen to recorded audio files
Speaker or headset or phone to listen to webinar facilitators
THANK YOU TO OUR SPONSORS:
 Premier Title Sponsor

Silver Sponsor
We would also like to thank Merz for their educational grant which supports the Academy at the Shirley Ryan AbilityLab and helps us pull together programs such as this.

Collections
Nurses Occupational Therapists Occupational Therapy Assistants OTA and PTA Physical Therapist Assistants Physical Therapists Physicians