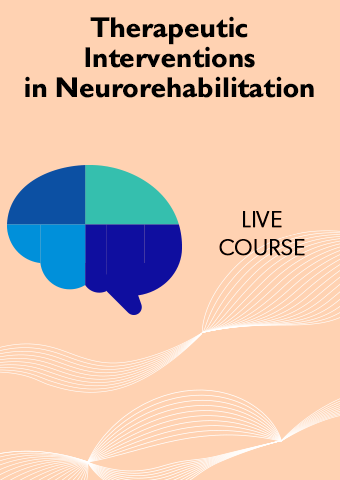 z 2/15-2/16 Therapeutic Interventions in Neurorehabilitation (Especially designed for OTA's and PTA's)
This two-day hands-on course designed specifically for OTA's and PTA's will discuss the medical complications and management for the neurologically involved patient populations, particularly in stroke. The intervention-focused agenda provides evidence based treatment strategies and practical approaches for impairments such as decreased balance, pusher syndrome, shoulder strengthening/complications, visual perceptual changes and cognitive functional deficits and implications for treatment. The program includes workshop sessions on the topics of  gait training techniques, upper extremity shaping techniques, shoulder management, communication strategies and hand edema. 
LOCATION:
Shirley Ryan AbilityLab, 355 E. Erie Street, Chicago, IL 60611
SUCCESSFUL COMPLETION:
This blended learning opportunity will include 3 hours of self-study activities that provide foundational material and set the stage for the workshop and live portion of the course.  Participants will have a chance to apply their knowledge in the two-day in-person program comprised of lectures and hands-on workshop activities. To achieve full credit for this course, participants must complete the 3 hour pre-work, attend the live program and complete an evaluation.
AUDIENCE:
Due to the focus on therapeutic interventions, this course is designed for Occupational Therapy Assistants and Physical Therapist Assistants. Occupational Therapists and Physical Therapists looking for an intervention-focused course on neurorehabilitation may also be interested and are welcome to attend.
OBJECTIVES:
Upon completion of this course, participants will be able to:
Identify potential medical complications seen in the neurologically involved client and how they affect rehabilitation potential
Describe common visual perceptual, and balance deficits and practice selected treatment techniques to facilitate functional outcomes
Identify selected evidence based treatment interventions for pusher syndrome
State 1-2 cognitive and communication treatment strategies that can influence participation in therapies and facilitate functional outcomes
Demonstrate appropriate evidence based locomotor training treatment strategies or selected upper extremity treatment strategies for patients with stroke
Describe 1-2 evidence based edema techniques for edematous hemiplegic hand.
Discuss and practice selected strengthening techniques for neurological shoulder
Outline how to structure communication with the patient to maximize use of her/his particular communication strengths to better support successful exchanges
Demonstrate application of functional electrical stimulation and orthotics to improve the ability to ambulate
CONTINUING EDUCATION CREDIT
Physical Therapy
This course has been approved by the Illinois Physical Therapy Board for 16.0 Contact Hours (3.0 Self-Study, 13 Live). Approval #216-000069
This course has been approved by the Indiana Chapter of the American Physical Therapy Association for 16 contact hours (3.0 Self-Study, 13 Live). Approval #006987887C792
The Shirley Ryan AbilityLab is recognized by the New York State Education Department's State Board for Physical Therapy as an approved provider of physical therapy and physical therapist assistant continuing education. This three-day course has been approved for 16 Contact Hours (3.0 Hours Self-Study, 13 Live).
Occupational Therapy
The Shirley Ryan AbilityLab is an approved provider for the American Occupational Therapy Association to offer continuing education in occupational therapy. This introductory level program awards occupational therapists 16 .0 CEUs or 13 contact hours + 3.0 Self-study hours for a total of 16 contact hours. The assignment of AOTA CEUs does not imply endorsement of specific course content, products, or clinical procedures by AOTA. Category Level: OT Process
HOTEL & PARKING INFORMATION
Rooms have been reserved at the Hampton Inn Chicago Downtown Magnificent Mile, 160 East Huron Street, Chicago, IL 60611. 
The Hampton Inn Chicago Downtown Magnificent Mile is located 2½ blocks from the Shirley Ryan AbilityLab. Please contact their reservations department from 9:00 am until 5:00 pm at (312) 787-2900 and ask for the Therapeutic Interventions OTA-PTA Course room block or use this link to register online: http://bit.ly/OTA-PTA-CourseRoomReservationLink. The corporate room rate is $99.00 for a deluxe king (single or double occupancy) and $99.00 for two queen beds in the room plus the *17.4% tax.  The daily rate for parking at the Hampton Inn Chicago Magnificent Mile is *$60.00/day. The corporate room rate will be available until January 31, 2018 or until the group block is sold-out (whichever comes first).  
*The rates for parking and taxes are subject to change without advanced notice.  
Directions and Parking Details for the Shirley Ryan AbilityLab can be found: here