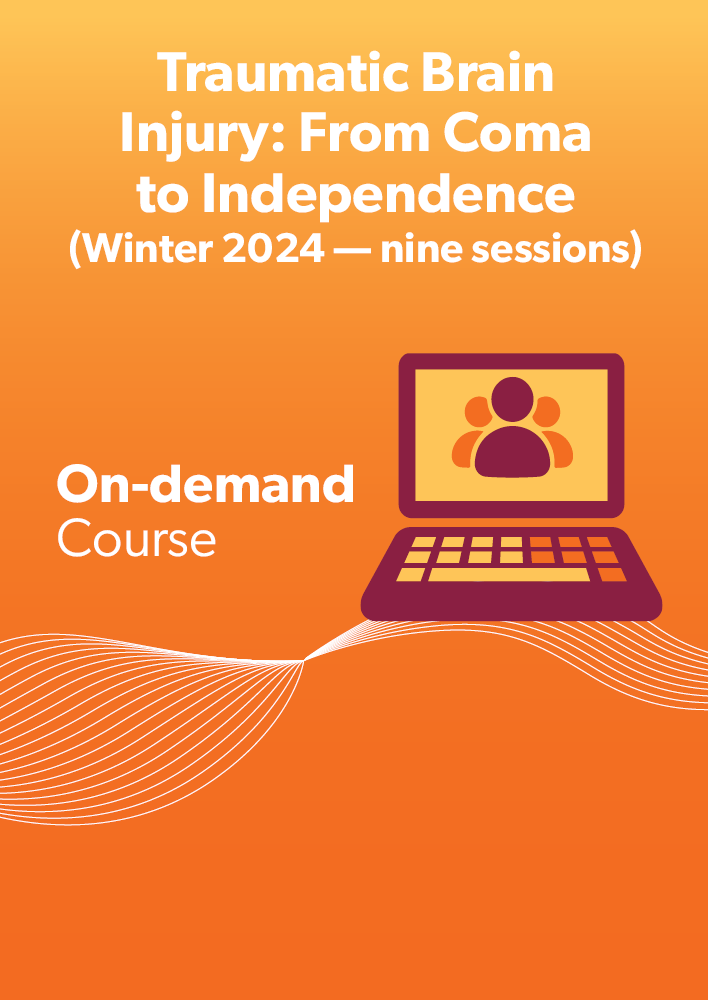 Winter Traumatic Brain Injury: From Coma to Independence (9 Sessions)
01/18/2024 – 03/28/2024
This is an ON-DEMAND COURSE that is taught virtually using the Academy Learning Portal. Other online learning materials may also be utilized.
Course Runs Over 9 Sessions from January 18 - March 28, 2024. 
DESCRIPTION: This interprofessional online course will follow the path of recovery for a patient with a severe Traumatic Brain Injury (TBI). Esteemed faculty will lead participants through the different stages, starting from disorders of consciousness (DOC) (Rancho Los Amigos I-III), and then into the challenging Rancho IV population where behavior and agitation/aggression is often seen. Physicians, clinicians, and nurses will provide a strong foundation of knowledge, as well as practical suggestions and applications. The course will explore various recovery periods, including confusion, Post Traumatic Amnesia (PTA), and increasing awareness and independence. Participants will also explore the pediatric aspect of interprofessional evaluation, intervention, and education across a range of ages. Integral therapeutic processes such as self-regulation, return to meaningful activity, and facilitation, will be addressed. Finally, the course will delve into the topic of ethics and decision-making, concluding with a discussion on how to handle these critical aspects of patient care. By the end of the course, you will have a deep understanding of the TBI recovery process, along with practical skills and knowledge to help patients at different stages of recovery.
SUCCESSFUL COMPLETION: Participants will complete 16 hours of asynchronous self-study activities including video lectures and discussions, readings, questions, scoring video clips, and a case study. This program has been designed to allow the learner to progress at their own pace. It is recommended that each of the 9 sessions be completed within 1 week.
AUDIENCE: Physical Therapists, Physical Therapist Assistants, Occupational Therapists, Occupational Therapy Assistants, Speech-Language Pathologists, Physicians (not for CME), Physician Assistants, Advanced Practice Nurses, Nurses, Social Workers, and Psychologists.
OBJECTIVES: Upon completion of this course, participants will be able to:
Define coma, the vegetative state, and the minimally conscious state.
Utilize the Agitated Behavior Scale (ABS) to rate a patient's level of agitation and use it as a communication tool
Describe an interdisciplinary team approach to behavior management to facilitate the participation of the patient with agitated-like behaviors in a rehabilitation setting
Develop an interdisciplinary plan of care for patients in the Rancho V, VI, VII stages of TBI recovery
Identify common cognitive problems associated with Ranchos Level VIII to X following TBI
Analyze the impact of a TBI on a pediatric patient
Describe how the use of Goal Attainment Scaling promotes goal achievement and the development of self-regulation after brain injury
Apply knowledge of differences in clients with TBI and family caregiver perspectives, clinical biases, and ethical dilemmas when discussing real-world safety risk case studies
CONTINUING EDUCATION CREDIT:
Nursing:
Shirley Ryan AbilityLab is accredited as a provider of nursing continuing professional development by the American Nurses Credentialing Center's Commission on Accreditation. This CNE is being offered for 17.0 contact hours of continuing nursing education including 0.83 pharmacology contact hours. 
In order to receive contact hours for the on-demand self-study, nurses must attend the entire course and complete the evaluation.
Physical Therapy:
This online course has been approved by the Illinois Physical Therapy Board for 16.0 Contact Hours (16 hours self-study). Approval #216-000069.
The Shirley Ryan AbilityLab is recognized by the New York State Education Department's State Board of Physical Therapy as an approved provider of physical therapy and physical therapist assistant continuing education. This course has been approved by the New York Physical Therapy Board for 16.0 Contact Hours (16 hours self-study).
The following states require continuing education units or contact hours with no state specific approval: CT, IA, and WA
Occupational Therapy:
Shirley Ryan AbilityLab is an AOTA Approved Provider of professional development. Course approval ID# 1036. This distance learning independent course is offered at 1.6 CEUs [intermediate level, Foundational knowledge/ OT Service Delivery]. AOTA does not endorse specific course content, products, or clinical procedures.
Speech-Language Pathologists:
TECHNOLOGY REQUIREMENTS: To participate, you will need access to a computer with an internet connection. High-speed broadband access (LAN, Cable or DSL) is highly recommended.
Internet connection: broadband wired or wireless (3G or better)
Web browser: Apple Safari: Latest stable version; Google Chrome: Latest stable version; Mozilla Firefox: Latest stable version; Microsoft Edge: Latest stable version
JavaScript and Cookies enabled
Speaker or headset to listen to audio files and participate in Zoom calls
Do NOT use Internet Explorer, as it is not supported.
Collections
Nurses Occupational Therapists Occupational Therapy Assistants OTA and PTA Physical Therapist Assistants Physical Therapists Physicians Social Workers Speech Language Pathologists