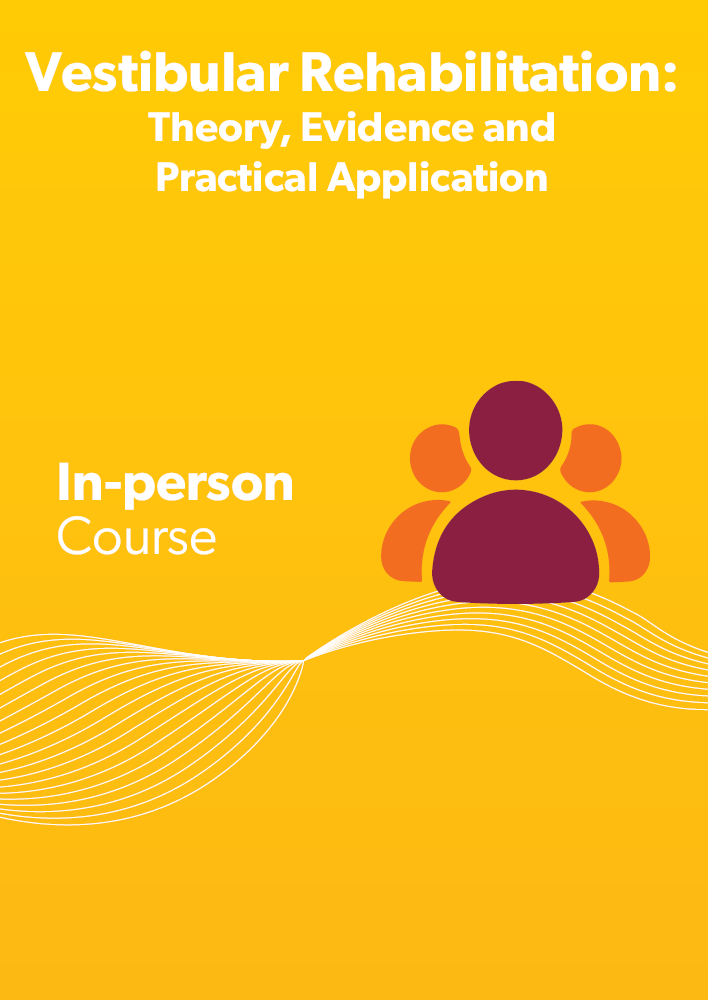 Vestibular Rehabilitation: Theory, Evidence, and Practical Application
03/06/2024 – 03/08/2024
Early Bird Rate of $700 through January 16, 2024.
Regular Fee is $800. 
This is an IN-PERSON COURSE that will be held at Shirley Ryan AbilityLab, 355 East Erie Street, Chicago IL, 60611. Pre-work will be completed online in advance of the live dates using materials posted in the Academy Learning Portal.
DESCRIPTION: This course will provide therapists with the foundational information needed to efficiently evaluate and effectively treat patients with peripheral and central vestibular disorders and with intermediate level clinical decision-making skills.  Emphasis will be placed on evidence-based practice and understanding the physiologic rationale for therapeutic interventions.  This will enhance the clinician's ability to evaluate the appropriateness and effectiveness of therapeutic interventions for common vestibular disorders. The course format will be lecture, demonstration with patient videos, and patient problem-solving sessions.
DATES: March 6th, 7th and 8th, 2024.
FACULTY: 
­­Robert Battista, MD Assistant Professor of Clinical Otolaryngology in the Department of Otolaryngology, Northwestern University Medical School
Jonella Black, PT, MS Private Practice
Janet Odry Helminski, PT, Ph.D. Professor in the Department of Physical Therapy, College of Health Professions, Rosalind Franklin University
Heather E.R. Kamath, Au.D.,CCC-A Adjunct faculty at Northwestern University
Tammie Ostrowski, PT Senior Physical Therapist, Ascension St. Mary's Hospital, Kankakee IL
Hannah Redd PT, DPT, NCS Clinical Team Lead for the outpatient neurologic clinic at Shirley Ryan AbilityLab; Adjunct Faculty, Department of Physical Therapy and Human Movement Sciences, Northwestern University
AUDIENCE: Physical Therapists, Physical Therapist Assistants, Occupational Therapists, Occupational Therapy Assistants, and Athletic Trainers (no BOC CEUs)
LEARNER OUTCOMES: Upon completion of this course, participants will be able to: 
Describe the normal anatomy and physiology of the vestibular and related systems.
Discuss the pathophysiology and medical management of common vestibular disorders.
Select and interpret the findings of appropriate outcome measures for use with common vestibular disorders.
Demonstrate an oculomotor examination and positional testing.
Interpret the findings from the history and physical examination to determine the diagnosis of common vestibular disorders.
Develop an intervention program for common vestibular disorders based on examination findings and knowledge of the vestibular system.
SUCCESSFUL COMPLETION: Participants will complete 5.5 hours of on-demand didactic self-study modules, and 4 hours of readings in advance of this three-day course (earning 22.50 contact hours + 9.5 contact hours.)  These self-study activities for the course will consist of readings and an exercise to better understand content necessary to the fundamentals of the course. Participants will fill out an assessment of this material prior to the live course. During the on-site portion of the course, participants must sign in and complete an online evaluation.  
All sessions, self-study work and online evaluations must be completed by March 8, 2024 in order to receive full credit.
CONTINUING EDUCATION CREDIT:
Occupational Therapy:
Shirley Ryan AbilityLab is an AOTA Approved Provider of professional development. Course approval ID# 00842. This live course is offered at 31.5 contact hours, 3.15 CEUs [intermediate, OT Service Delivery/Foundational Knowledge]. AOTA does not endorse specific course content, products, or clinical procedures.
Physical Therapy:
This course has been approved by the Illinois Physical Therapy Board for 31.5 Contact Hours (9.5 Hours Self-Study 22.5 Live). Approval #216-000069
The Shirley Ryan AbilityLab is recognized by the New York State Education Department's State Board for Physical Therapy as an approved provider of physical therapy and physical therapist assistant continuing education. This course has been approved for 31.5 Contact Hours (9.5 Hours Self-Study 22.5 Live).
The following states require continuing education units with no state-specific approval: CT, IA, and WA
Collections
Athletic Trainers Occupational Therapists Occupational Therapy Assistants Physical Therapist Assistants Physical Therapists