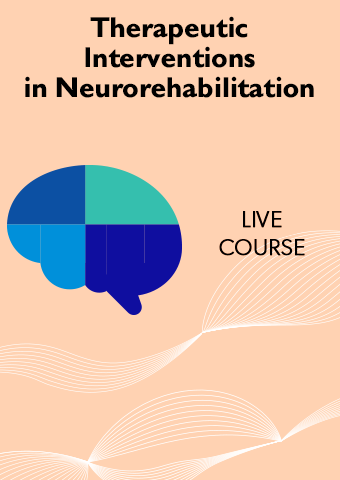 Therapeutic Interventions in Neurorehabilitation (Especially designed for OTA's and PTA's)
10/19/2023
Early Bird Tuition Until August 17, 2023. Regular Tuition: $550
This two-day program is specifically designed for Occupational Therapy Assistants (OTA) and Physical Therapy Assistants (PTA). It will focus on managing medical complications for patients with neurological disorders, with an emphasis on stroke and traumatic brain injury. The course will cover evidence-based interventions and treatment strategies to address impairments such as decreased balance, edema, visual perceptual changes, and cognitive functional deficits. The program will also focus on behavior management and communication strategies to enhance practice. Participants will have the opportunity to engage with leading faculty and peers during presentations, workshops, and round table discussions. The workshops will delve into specific rehabilitation topics such as gait training, upper extremity management (Task-specific training, Shoulder management), and executive functioning. Choose to attend in-person at our rehabilitation hospital in downtown Chicago, or join us live online from your home. Learners will participate in all workshops and discussions no matter how you choose to participate.
LOCATION:
This course is taught both in-person and virtually through an online meeting platform, and the Academy Learning Portal.
If attending live, the program will be held at the Shirley Ryan AbilityLab, 355 East Erie Street, Chicago IL, 60611. The conference site is wheelchair accessible. Accessible materials, sign language interpretation and personal assistance are available with at least 45-days advance notice.
SUCCESSFUL COMPLETION:
To successfully complete this course, you must attend and participate on both live dates, submit attendance codes in the Academy Learning Portal and complete an online evaluation of the program by Nov 3, 2023.
AUDIENCE:
Due to the focus on therapeutic interventions, this course is designed for Occupational Therapy Assistants and Physical Therapist Assistants. Occupational Therapists and Physical Therapists looking for an intervention-focused course on neurorehabilitation may also be interested and are welcome to attend.
OBJECTIVES:
Upon completion of this course, participants will be able to:
Identify potential medical complications seen in the neurologically involved client and how they affect rehabilitation potential.
Discuss appropriate evidence-based locomotor training treatment strategies or selected upper extremity evidence-based strategies for patients with stroke.
List 3 principles of neuroplasticity to apply to rehabilitation interventions.
Identify the appropriate level of cueing necessary to facilitate a patient's engagement, ensuring they are adequately challenged while maintaining their maximum participation.
Describe how to structure communication with the patient to maximize use of communication strengths to better support a rehabilitation program. 
CONTINUING EDUCATION CREDIT
Physical Therapy
This course has been approved by the Illinois Physical Therapy Board for 12.5 contact hours. Approval #216-000069
The Shirley Ryan AbilityLab is recognized by the New York State Education Department's State Board for Physical Therapy as an approved provider of physical therapy and physical therapist assistant continuing education. This course has been approved for 12.5 contact hours.
The following states require continuing education units with no state-specific approval: CT, IA, and WA
Occupational Therapy
Shirley Ryan AbilityLab is an AOTA Approved Provider of professional development. Course approval ID# Pending. This distance learning-interactive/ live interactive course is offered at 12.5 contact hours, 1.25 CEUs [intermediate level, foundational knowledge/OT service delivery]. AOTA does not endorse specific course content,  products, or clinical procedures.
HOTEL & PARKING INFORMATION
Shirley Ryan AbilityLab has a preferred rate at The Hyatt Centric Chicago Magnificent Mile which is located 1½ blocks from the Shirley Ryan AbilityLab. You can use the following link to reserve a room: Hyatt | Select Room & Rate
The W Hotel is located 1 block from the Shirley Ryan AbilityLab.  You can book a room online at Marriott.com using the Shirley Ryan special promo code: R0I
Directions and Parking Details for the Shirley Ryan AbilityLab can be found: here
TECHNOLOGY REQUIREMENTS
To participate, you will need access to a computer or device with an internet connection. If you are joining from home, high-speed broadband access (LAN, Cable or DSL) is highly recommended. Wi-fi will be available for those attending in-person. 
Internet connection: broadband wired or wireless (3G or better)
Web browser: Apple Safari: Latest stable version; Google Chrome: Latest stable version; Mozilla Firefox: Latest stable version; Microsoft Edge: Latest stable version
JavaScript and Cookies enabled
Speaker or headset to listen to audio files and participate in Zoom calls
Do NOT use Internet Explorer, as it is not supported.
Collections
Occupational Therapists Occupational Therapy Assistants Physical Therapist Assistants Physical Therapists