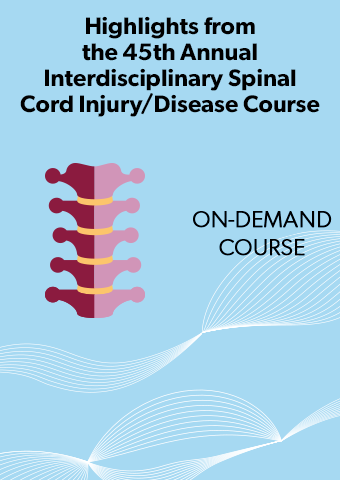 Highlights from the 45th Interdisciplinary Spinal Cord Injury/Disease Course: Biomarkers and Prognostic Indicators
This highlights course contains recordings of key lectures from the 45th Annual SCI/D live program. There are no live workshops included.
Persons with SCI and their families experience a severe decrease in quality of life due to the physical, social, psychological and financial burden of long-term health care, income loss, and disability.1  Rehabilitation professionals can have a huge effect in limiting this impact by accurately assessing function and prognosis of disability and focusing the patient and family on attainable goals.2 Highlights from this course aim to review research updates in biomarkers to aid the clinician or researcher in making an accurate estimate of prognosis.  Prognostic factors from neuroimaging, to blood and systemic physiological markers (such as spasticity and descending connectivity) will be reviewed. 
Prognosis prediction is essential for planning rehabilitation programs, setting functional goals, return to community reintegration and organizing financial resources, including insurance coverage. However, predicting long-term outcomes from initial characteristics is a challenging task; there is a pressing need to improve the prediction of SCI recovery. At present, the most important factor that predicts neurological recovery is the severity of damage detected by the clinical neurological exam. We will review many of these prognostic factors, but also discuss at length how these markers can guide effective clinical reasoning in rehabilitation.
1Tate DG, Kalpakjian CZ, Forchheimer MB. Quality of life issues in individuals with spinal cord injury. Arch Phys Med Rehabil. 2002;83(12 Suppl 2):S18-25. 
2French DD, Campbell RR, Sabharwal S, Nelson AL, Palacios PA, Gavin-Dreschnack D. Health care costs for patients with chronic spinal cord injury in the Veterans Health Administration. J Spinal Cord Med. 2007;30(5):477-481.
For full course details and faculty list, please review the course brochure: Click Here

LOCATION: Online - Right at home!
AUDIENCE: Nurses who have experience working with this patient population (Nursing CE's not offered), Occupational Therapists, Occupational Therapy Assistants, Physical Therapists, Physical Therapist Assistants,  Physicians (CME credits not offered) and Speech Language Pathologists 
LEARNER OUTCOMES: Upon completion of this course, participants will be able to: 
Describe specific biomarkers used to predict outcomes and recovery following SCI.
Recognize how issues such as autonomic dysreflexia or labor and delivery can alter the sympathetic and parasympatheic responses in individuals with an SCI.
SUCCESSFUL COMPLETION: 
In order to receive contact hours, the module must be viewed and completion of an online evaluation are required.
CONTINUING EDUCATION UNITS:
Occupational Therapy
Shirley Ryan AbilityLab is an AOTA Approved Provider of professional development. Course approval ID# 04967 This distance learning-independent course is offered at 6.5 contact hours, .65 CEUs [intermediate level, Foundational Knowledge/OT Service Delivery]. AOTA does not endorse specific course content, products, or clinical procedures.
Physical Therapy
This two-day course has been approved by the Illinois Physical Therapy Board for 6.5 contact Hours. Approval #216-000069
The Shirley Ryan AbilityLab is recognized by the New York State Education Department's State Board for Physical Therapy as an approved provider of physical therapy and physical therapist assistant continuing education. This two-day course has been approved for 6.5 Contact Hours
The following states require continuing education units with no state-specific approval: CT, IA, and WA
Speech-Language Pathology
TECHNICAL REQUIREMENTS
To participate, you will need access to a computer with an Internet connection. High-speed broadband access (LAN, Cable or DSL) is highly recommended.
Internet connection: broadband wired or wireless (3G or 4G/LTE)
Web browser:
Apple Safari: Latest stable version
Google Chrome: Latest stable version
Mozilla Firefox: Latest stable version
JavaScript and Cookies enabled
Speaker or headset to listen to audio files
Do NOT use Internet Explorer or Microsoft Edge, as they are not supported. 
THANK YOU TO OUR SPONSORS:
(Please note: None of these organizations have input into the planning or delivery of course content.)
 Premier Title Sponsor

Gold Level Sponsor

Edward Hines, Jr. Veteran's Affairs Hospital
We would also like to thank Merz for their educational grant which supports the Academy at the Shirley Ryan AbilityLab and helps us pull together programs such as this.
Collections
Nurses Occupational Therapists Occupational Therapy Assistants OTA and PTA Physical Therapist Assistants Physical Therapists Physicians Speech Language Pathologists Online Learning