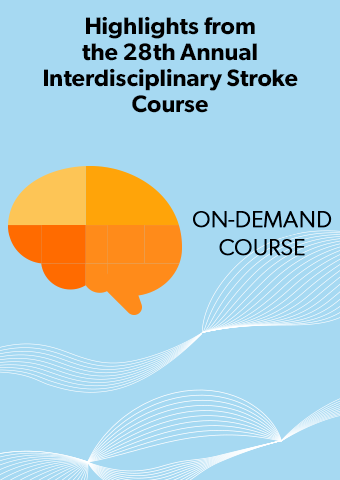 Highlights 28th Annual Interdisciplinary Stroke Course The Neuroscience of Stroke Rehabilitation from the Inside Out
This highlights course contains recordings of key lectures from the 28th Annual Interdisciplinary Stroke live program. There are no live workshops included.
A knowledge of neuroanatomy and the process of neuro-recovery is a critical skill in diagnosing and/or predicting outcomes and the assessment and treatment of individuals with stroke. This course focuses on the clinical reasoning central to neurorehabilitation. It is crucial for the interdisciplinary team to be able to interpret neuroradiology to effectively achieve successful outcomes in line with neuro-recovery. Fundamentally, it is important to understand how to change behavior at the patient, provider, system, or even policy level. Implementation science will help the learner to understand how key principles or frameworks can aide in the selection of interventions, especially as they pertain to neurorehabilitation.
This course will focus on neuroanatomy and neuroimaging. Attendees will be able to apply that understanding and implement neuroanatomy and neuroradiology in a clinical reality. Improving sleep may be a key to faster and better recovery after a stroke. We will explore the science of sleep and its impact on physical and cognitive function, and discuss the sleep troubles often faced by individuals with stroke. New research launched to measure and improve sleep for our patients, from the inpatient to home setting, with the goal of enhancing their recovery in rehabilitation and beyond will be reviewed.
A review of translational research as applied to the stroke population both at an overall foundational and at a discipline-specific level. Participants will explore real-life obstacles in the healthcare system that may limit the implementation of evidence-based research into routine clinical practice.
For full course details and faculty disclosures, please review the course brochure: Click Here 
LOCATION: Online - Right at home!
AUDIENCE: Nurses who have experience working with this patient population, Occupational Therapists, Occupational Therapy Assistants,  Physical Therapists, Physical Therapist Assistants, Physicians, and Speech Language Pathologists
LEARNER OUTCOMES: Upon completion of this course, participants will be able to: 
Identify and describe major neuro-anatomical structures of the brain, their functions and anticipated deficits present following Left Middle Cerebral Artery (MCA), Right brain, Hemorrhagic and Brainstem strokes
Discuss the clinical implications that occur post-stroke to develop a patient-specific clinical assessment based on neurological structure and impairments
Summarize and apply key principles and procedures of implementation science to patient examples and outcomes data
SUCCESSFUL COMPLETION: 
In order to receive contact hours, the module must be viewed and completion of an online evaluation are required.
CONTINUING EDUCATION UNITS:
Occupational Therapy
Shirley Ryan AbilityLab is an AOTA Approved Provider of professional development. Course approval ID# 05019. This distance learning-independent course is offered at 3.5 contact hours, 0.35 CEUs [intermediate level, Foundational Knowledge/OT Service Delivery]. AOTA does not endorse specific course content, products, or clinical procedures.
Physical Therapy
This course has been approved by the Illinois Physical Therapy Board for 3.5 contact Hours. Approval #216-000069
The Shirley Ryan AbilityLab is recognized by the New York State Education Department's State Board for Physical Therapy as an approved provider of physical therapy and physical therapist assistant continuing education. This course has been approved for 3.5 Contact Hours
The following states require continuing education units with no state-specific approval: CT, IA, and WA
Speech-Language Pathology
TECHNICAL REQUIREMENTS
To participate, you will need access to a computer with an Internet connection. High-speed broadband access (LAN, Cable or DSL) is highly recommended.
Internet connection: broadband wired or wireless (3G or 4G/LTE)
Web browser:
Apple Safari: Latest stable version
Google Chrome: Latest stable version
Mozilla Firefox: Latest stable version
JavaScript and Cookies enabled
Speaker or headset to listen to audio files
Do NOT use Internet Explorer or Microsoft Edge, as they are not supported. 
THANK YOU TO OUR SPONSORS:
(Please note: None of these organizations have input into the planning or delivery of course content.)
 Premier Title Sponsor



We would also like to thank Merz for their educational grant which supports the Academy at the Shirley Ryan AbilityLab and helps us pull together programs such as this.
Collections
Online Learning Nurses Occupational Therapists Occupational Therapy Assistants OTA and PTA Physical Therapist Assistants Physical Therapists Physicians Speech Language Pathologists