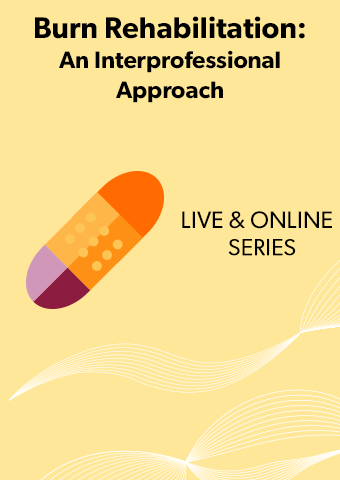 Burn Rehabilitation: An Interprofessional Approach
10/24/2023
Early Bird registration fee before August 24, 2023 $300. Regular registration is $350. 
DESCRIPTION: This interprofessional course will explore the unique and complex rehabilitation process for individuals who have sustained burn injuries. Topics covered in this course include wound management and care, the different types of burns, healing properties of skin, and potential complications from burn injuries. Participants will learn strategies for improving mobility and functional independence as well as how to provide psychosocial support to promote holistic recovery.  The course emphasizes the importance of interdisciplinary collaboration among healthcare professionals, that can enable patients to return to participation in all areas of life more quickly.  Upon completion of this course, you will be equipped with the knowledge and skills necessary to provide comprehensive burn care and promote the physical, psychological and social recovery of your patients.
DATE: This course will run from October 24, 2023 through December 5, 2023 and will consist of self-study, one LIVE online session and four on-demand video recordings. If you are unable to attend the live session, a recorded version will be made available shortly after its conclusion. 
FACULTY: Interdisciplinary Faculty from the Shirley Ryan AbilityLab
AUDIENCE: Nurses, Occupational Therapists, Occupational Therapy Assistants, Orthotists, Physical Therapists, Physical Therapist Assistants and Speech-Language Pathologists
SUCCESSFUL COMPLETION: Participants are required to complete a total of 8.5 hours of coursework, including 4 pre-recorded online lectures, 1 live, online session, and 1 hour of self-study work. The live, online session will provide participants with the opportunity to interact with instructors and other participants in real time. The session will be recorded and made available on-demand for those who are unable to attend live.  Participants will also be required to complete a post-course survey in order to receive credit for the course. All coursework must be completed by December 5, 2023, to earn full credit.
MORE DETAILS TO COME


Collections
Nurses Occupational Therapists Occupational Therapy Assistants Physical Therapist Assistants Physical Therapists Speech Language Pathologists