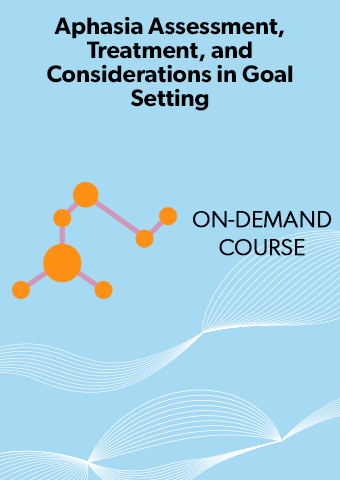 Aphasia Assessment, Treatment, and Considerations in Goal Setting
NOTE: This course will expire on 6/30/2023. You will only have until 6/30/2023 to complete all course requirements for credit. 
In recent years, there has been a proliferation of research targeting various aspects of aphasia treatment. These range from studies addressing the development, theoretical underpinnings and efficacy of specific treatments to more general issues such as intensity and dose that impact learning and outcomes. In this self-paced, 5 hour online course, participants will have an opportunity to explore assessment, treatment planning, principles and considerations, and goal setting. Additionally, participants will read a peer reviewed article related to treatment planning and considerations and apply their knowledge to case based scenarios, calculations of intervention intensities. Specific emphasis will be placed on translating theory to practical daily application.

FACULTY:
Leora R. Cherney, PhD, CCC-SLP, BC-ANCDS
Scientific Chair, Think + Speak Lab
Director - Center for Aphasia Research and Treatment
Professor, Physical Medicine & Rehabilitation, and Communication Sciences & Disorders
Coleman Foundation Chair
Julia Carpenter, MA, CCC-SLP, BC-ANCDS
Clinical Practice Leader for Speech-Language Pathology, Staff Development
Research Speech-Language Pathologist, Center for Aphasia Research and Treatment
Shirley Ryan AbilityLab
Caitlin Ferrer, MA, CCC-SLP
Speech and Language Pathologist, Aphasia Lab Therapist, Think + Speak Lab, Shirley Ryan AbilityLab
 Click HERE for complete course brochure
AUDIENCE: 
Speech-Language Pathologists
SUCCESSFUL COMPLETION:
Participants will complete 3 online modules, read an article on the Aphasia treatment approach, VNeST (Verb Network Strengthening Treatment), apply knowledge and skills gained to the application of a final evaluation assessment. Total content time: 5 hours (or 0.50 ASHA CEU). Learners will have 180 days from date of purchase to complete the course content to receive the continuing education units.
OBJECTIVES:
Upon completion of this course, participants will be able to:
Identify common assessment practices and limitations
Summarize models of lexical processing in order to assess the underlying language system
Review elements important to the selection of intervention targets
Discuss factors such as type, severity, and chronicity of aphasia that influence goal-setting and the development of a treatment plan
Describe components related to optimal "dose" of aphasia therapy and implications for treatment planning and scheduling
CONTINUING EDUCATION CREDIT
Speech-Language Pathology
This course is offered for up to 0.50 ASHA CEUs (Intermediate level, Professional area).
Technology Requirements
The program will be held online.  To participate, you will need access to a device with internet connection.  Computers, laptops, iOS and Android devices are supported.  High-speed broadband internet access (LAN, Cable, or DSL) is highly recommended.
Additional requirements include:
Web browser and version: Internet Explorer 11+, Firefox 27+, Safari 7+, or Google Chrome 30+
JavaScript and Cookies enabled
Flash Player 9+
Camera on computer to be able to be on screen during workshops and other designated times
Speaker or headset to listen to recorded audio files
Speaker or headset or phone to listen to webinar facilitators
Cancellation Policy: To request a cancellation of an on-demand program, please provide written notice by letter, email, or fax or contact us by phone within 24 hours of placing your order and we will refund you the full course fee. If you cannot give notice within 24 hours, a credit towards a future course of equal value would apply.






Collections
Speech Language Pathologists