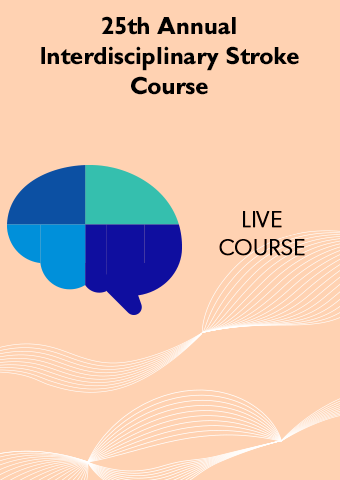 z 7/11-7/12 25th Annual Interdisciplinary Stroke Course: Advancing Collaborative Stroke Expertise and Rehabilitation Care
This 25th annual interdisciplinary course will add new dimensions to the understanding and management of stroke by focusing on the latest research and clinical advances that have affected treatment. This year we will explore creative evidence-based interdisciplinary approaches across the continuum of care. The keynote speaker will address strategies to optimize stroke rehabilitation evidence and the effect on the culture of clinical practice.  Presentations on risk in the cardiac population and family perspectives on the impact of the family on adaptation after stroke will be presented. Clinicians will participate in selected self-study activities and workshops addressing clinical implications of current research studies on aphasia treatment outcomes, metacognitive strategy training, intensive gait training, upper extremity interventions, dysphagia treatment and identification and management of emotional issues.
Click Here for Complete Course Brochure and Faculty Info 

LOCATION:
Shirley Ryan AbilityLab, 355 E Erie St, Chicago, IL 60611
SUCCESSFUL COMPLETION:
Participants will complete 1 hour of self-study activities in advance of this two day course (earning 1.0 contact hours + 13.5 live contact hours = 14.5 contact hours). During the in-person portion of the course, participants must sign in each day and complete an online evaluation.
AUDIENCE:
This course is intended for Physical Therapists, Physical Therapist Assistants, Occupational Therapists, Occupational Therapy Assistants, Speech-Language Pathologists, Nurses
Workshop Options: You will register above for 4 workshops.  Download course brochure to see the complete descriptions and schedule of these sessions:
Aphasia Research - Update and Clinical Implications
Gait Training (Not Applicable for SLP CEUs)
Strategy Learning/Guided Discussion
Upper Extremity Interventions
Strength vs. Skill Training in Dysphagia Rehabilitation
The Emotional Side of Stroke: Identification and Management

OBJECTIVES:
Upon completion of this course, participants will be able to:
Describe strategies to promote implementation of stroke rehabilitation evidence and change in the culture of practice.
Explain how the heart plays a role in stroke and stroke risk in the cardiac population
Summarize the challenges and positive and negative experiences of caregiving for persons with stroke
Discuss clinical implications resulting from current research studies designed to optimize aphasia treatment outcomes
Summarize evidence supporting high intensity gait training in the subacute and chronic stroke population and strategies to implement these principles in the clinic
Define principles of metacognitive strategy training and apply the basic tenants within their practice areas with patients post-stroke
Select and modify task specific training activities that address functional goal areas and match patient motor capabilities
Identify two strength based and two skill based treatment approaches to implement with patients with dysphagia post stroke
Discuss the neuroanatomy of stroke and related behavioral/emotional/personality presentations and the management of these related presentations
CONTINUING EDUCATION CREDIT
Occupational Therapy
The Shirley Ryan AbilityLab is an approved provider for the American Occupational Therapy Association to offer continuing education in occupational therapy. This intermediate level program awards occupational therapists 0.10 CEUs or 1.00 contact hours (pre-work) and 1.35 CEUs or 13.50 contact hours (live) for a total of 14.5 hours or 1.45. The assignment of AOTA CEUs does not imply endorsement of specific course content, products, or clinical procedures by AOTA.
AOTA Classification Code: Category 2: Occupational Therapy Process 
Physical Therapy
This course has been approved by the Illinois Physical Therapy Board for 14.50 Contact Hours (1.0.self-study & 13.5 live hours)
The Shirley Ryan AbilityLab is recognized by the New York State Education Department's State Board for Physical Therapy as an approved provider of physical therapy and physical therapist assistant continuing education. This three-day course has been approved for 14.50 Contact Hours (1.0 Hours Self-Study 13.5 Live).
Speech-Language Pathology
This course is offered for  1.45 ASHA CEUs (Intermediate level, Professional area).
A full list of faculty disclosures for ASHA is available at https://ricacademy.sharefile.com/d-s8565b59341b41fa9
 HOTEL & PARKING INFORMATION
Rooms have been reserved at the Hyatt Centric Chicago Magnificent Mile, 633 North St. Clair, Chicago, Illinois, 60611.
The Hyatt Centric Chicago Magnificent Mile is located 1½ blocks from the Shirley Ryan AbilityLab. Please contact their reservation agent from 9:00 am until 5:00 pm at (888) 591-1234 and ask for the Shirley Ryan AbilityLab Annual Stroke Course room block or make your reservation online using this link: https://www.hyatt.com/en-US/group-booking/CHIMM/G-SRAL. The corporate rate is $189.00 for a Deluxe Guestroom (single or double occupancy) plus *17.4% tax. The daily rate for parking at the Hyatt Chicago is *$69.00/day with in and out privileges. The cut-off date for room reservations is June 12, 2019. Please note that the room block could reach its maximum before the cut-off date. Rooms and rates revert to a space-available basis after the room block has reached its maximum or after the cut-off date (whichever comes first.) *The rates for parking and taxes are subject to change without advanced notice.
Directions and Parking Details for the Shirley Ryan AbilityLab can be found: here
Collections
Nurses Occupational Therapists OTA and PTA Physical Therapists Physicians Social Workers Speech Language Pathologists