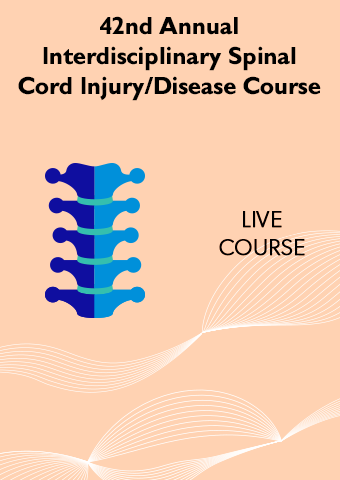 Z 6/5-6/7 42nd Annual Interdisciplinary Spinal Cord Injury/Disease Course
For full course details, workshop descriptions and faculty list, please review the course brochure: Click Here 
LOCATION: Shirley Ryan AbilityLab, 355 E Erie St, Chicago, IL 60611
AUDIENCE: Physical Therapists, Physical Therapist Assistants, Occupational Therapists, Occupational Therapy Assistants, and Physicians (not offering CME)
DESCRIPTION: Practitioners can build better therapeutic interventions when clinical decision-making and current research is at the forefront of evidence-based care. This interdisciplinary course focuses on the resources and strategies that allow individuals with SCI/D to achieve their highest quality of life.  This course integrates hands-on workshops with patient models and discipline specific leaders facilitating skill-building opportunities.  Day 1 will discuss how therapies for nerve regeneration and SCI repair aid in patient performance and the value of MRI in predicting function after Spinal Cord Injury.  Day 2 will focus on the application of assessment of patients with SCI from a seating perspective, (ISNCSCI) scoring, shoulder and bowel/ bladder interventions. Day 3 will tap into the psychosocial issues of living with a SCI/D. All 3 days include hands-on workshops in areas such as functional mobility, splinting, upper extremity FES and locomotor training.
Workshop Options: You will register above for 4 workshops. Note that these fill up on a first come, first served basis. Download the course brochure to see the complete descriptions and schedule of these sessions:
Functional Mobility and Mat Skills for Persons with SCI/D
The Applications of Technology for Prognosis and Treatment of SCI
Wheelchair Skills Training Lab
Promoting Functional Independence and Positioning through Orthotics: Splinting Workshop (additional material fee of $75 applies)
KAFO Training Strategies for Persons with SCI/D
Upper Extremity Functional Electrical Stimulation (FES) and High Repetition Task Training in SCI
Assessment and Intervention for Management of Shoulder Pain
Locomotor Training Strategies after SCI - SOLD OUT - Contact Academy@sralab.org to be added to waitlist for this workshop
Taking Care of Business: An Interdisciplinary Approach to Bowel and Bladder Management - SOLD OUT - Contact Academy@sralab.org to be added to waitlist for this workshop
(ISNCSCI) International Standards for the Neurological Classification of SCI (Beginner and Advanced Levels)
 
OBJECTIVES: Upon completion of this course, participants will be able to: 
Identify current research and trends in seating and positioning with spinal cord injuries.
Discuss psychosocial considerations for persons living with a spinal cord injury and their families. 
Demonstrate performance skills of functional mobility and mat skills, basic wheelchair skills or KAFO/ locomotor training in persons with a spinal cord injury
Evaluate the evidence regarding innovations in aspects of basic science and relevance in clinical practice in spinal cord injury. 
Practice interventions related to upper extremity splinting, shoulder management, and UE FES considerations in patients with a spinal cord injury 
Theorize how MRI could inform clinical management of individuals with SCI.
SUCCESSFUL COMPLETION: Participants will complete 3.5-4.5 hours of self-study activities in advance of this three-day course. These self-study activities for the SCI/D course will consist of webinars, readings, and exercises that provide a foundation for the in-person lab and workshops.  In order to receive contact hours, daily sign in and completion of an online evaluation are required. 
Continuing Education Units
Occupational Therapy
The Shirley Ryan AbilityLab is an approved provider for the American Occupational Therapy Association to offer continuing education in occupational therapy. The three-day intermediate level program awards occupational therapists 2.100 CEU or 21.00 contact hours (3.5-4.5 hours for pre-work & 17.50 hours live) or 22.0 contact hours if splinting lab included.  The assignment of AOTA CEUs does not imply endorsement of specific course content, products, or clinical procedures by AOTA.  AOTA CLASSIFICATION CODE: CATEGORY 2: Occupational Therapy Process
Physical Therapy
This three-day course has been approved by the Illinois Physical Therapy Board for 21.00 Contact Hours (3.5-4.5 hours pre-work & 17.75 hours live depending on lab selection). Approval #216-000069
HOTEL & PARKING INFORMATION
Rooms have been reserved at the Hyatt Centric Chicago Magnificent Mile, 633 North St. Clair, Chicago, Illinois, 60611. 
The Hyatt Centric Chicago Magnificent Mile is located 1½ blocks from the Shirley Ryan AbilityLab. Please contact their reservation agent from 9:00 am until 5:00 pm at (888) 591-1234. Please ask for the Hyatt Chicago Magnificent Mile Hotel (there are several Hyatt Hotels in Chicago) and ask for the Shirley Ryan AbilityLab Annual Spinal Cord Injury Course room block or make your reservation online using this link: https://www.hyatt.com/en-US/group-booking/CHIMM/G-SRAS. The corporate rate is $219.00 for a Deluxe Guestroom (single or double occupancy) plus *17.4% tax. The daily rate for parking at the Hyatt Chicago is *$69.00/day with in and out privileges. The cut-off date for room reservations is May 7, 2019. Please note that the room block could reach its maximum before the cut-off date. Rooms and rates revert to a space-available basis after the room block has reached its maximum or after the cut-off date (whichever comes first.) *The rates for parking and taxes are subject to change without advanced notice.
*The rates for parking and taxes are subject to change without advanced notice.
Directions and Parking Details for the Shirley Ryan AbilityLab can be found: here