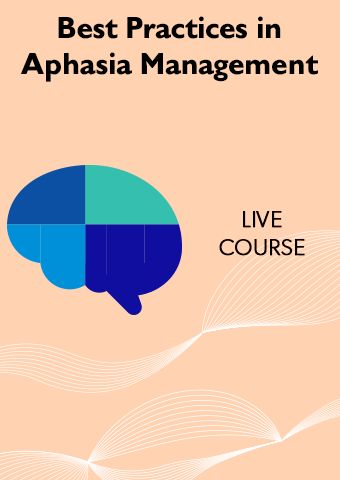 Z 6/20-6/21 Best Practices in Aphasia Management: Illustrative Cases
Click Here to Download the Course Brochure
Course Description: In recent years, there has been a proliferation of research targeting various aspects of aphasia treatment. These range from studies addressing the development, theoretical underpinnings and efficacy of specific treatments to more general issues such as intensity and dose that impact learning and outcomes, regardless of the treatment being administered.  In this two day course, we take a unique clinical approach to illustrate the basic procedures and individualized nuances associated with the newest aphasia treatment techniques.  Through a series of case studies that represent different types and severities of aphasia, we demonstrate the procedures, theoretical background and current evidence associated with a variety of different treatment approaches.  Treatments that target all language modalities are included with an emphasis on the use of written language for connecting with others through social media.  Both impairment and activity-participation treatments appropriate at different levels of chronicity are addressed. Practical issues such as cueing, errorful and errorless learning, group treatment, dose and scheduling are discussed.  The case studies will be supported by extensive videotape footage. 
Location: Shirley Ryan AbilityLab, 355 E Erie St., Chicago, IL 60611
Featured Faculty
Leora R. Cherney, PhD, CCC-SLP, BC-ANCDS, Scientific Chair, Think and Speak Lab, at the Shirley Ryan AbilityLab (SRALab) and Professor of both Physical Medicine & Rehabilitation and Communication Sciences & Disorders at Northwestern University
Melanie E. Drane, MA, MFA, LMFT, Psychotherapist in Private Practice
Successful completion: This course includes 90 minutes of online self-study activities that provide foundational material and set the stage for the live portion of the course. To successfully complete the course and receive CEUs, learners will complete the self-study module, attend the two-day program at the Shirley Ryan AbilityLab and complete the course evaluation. 
Course Objectives: Upon completion of this course, participants will be able to: 
Discuss factors such as type, severity and chronicity of aphasia that influence goal-setting and the development of a treatment plan. 
Describe components related to "dose" of aphasia therapy and implications for treatment planning and scheduling.
Outline procedures for administering at least three aphasia treatments that are appropriate for those with a severe aphasia.
Outline procedures for administering at least three aphasia treatments that are appropriate for those with a mild aphasia.
Differentiate treatments that address the underlying impairment versus the activity/participation level.
Explain the importance of addressing written language including text messaging in the treatment of aphasia. 
Discuss practical issues related to group treatment, constraint-induced aphasia treatment, and supported communication training.
Describe ways in which technology can assist in the delivery of speech-language services to individuals with aphasia.
Describe strategies to actively promote generalization of treatment effects to home and community.
Audience: Speech-Language Pathologists
CONTINUING EDUCATION CREDIT
Speech-Language Pathology
This course is offered for up to 1.4 ASHA CEUs (Intermediate level, Professional area).
Click here to see a full list of faculty disclosures for ASHA. 
HOTEL & PARKING INFORMATION
Rooms have been reserved at the Hyatt Centric Chicago Magnificent Mile, 633 North St. Clair, Chicago, Illinois, 60611.
The Hyatt Centric Chicago Magnificent Mile is located 1½ blocks from the Shirley Ryan AbilityLab. Please contact their reservation agent from 9:00 am until 5:00 pm at (888) 591-1234 and ask for the Shirley Ryan AbilityLab Aphasia Course room block or make your reservation online using this link: https://www.hyatt.com/en-US/group-booking/CHIMM/G-SRAC. The corporate rate is $219.00 for a Deluxe Guestroom (single or double occupancy) plus *17.4% tax. The daily rate for parking at the Hyatt Chicago is *$69.00/day with in and out privileges. The cut-off date for room reservations is May 22, 2019. Please note that the room block could reach its maximum before the cut-off date. Rooms and rates revert to a space-available basis after the room block has reached its maximum or after the cut-off date (whichever comes first.) *The rates for parking and taxes are subject to change without advanced notice.
 Directions and Parking Details for the Shirley Ryan AbilityLab can be found: here
Collections
Speech Language Pathologists