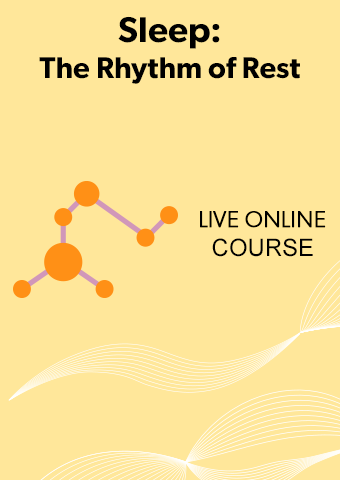 5/30-6/27: Sleep: The Rhythm of Rest
05/30/2023
COURSE DESCRIPTION: Sleep is a vital component to daily routines, function and overall health. One-third of our lives, is spent in the space of rest, dreams and cycles. This 4-part online series aims to explore what is sleep, its impact on health and how health can impact sleep in the rehabilitation population. The course seeks to provide insight into what factors to consider when providing interventions to patients in an acute, rehabilitation or home setting. The impact of education by clinical providers can aid in better sleep for optimal recovery. This course will present current research that can be applied directly to clinical practice to change behavior on optimal sleep practices.
The series is structured to review sleep foundations via circadian rhythms. This first session looks to define not only the stages of sleep, but also what happens during sleep and why sleep is a necessary component of daily life. Session two will examine how memory and sleep are related via targeted memory reactivation (TMR), whereby a stimulus that has been associated with learning is presented again during sleep to provide a review of waking brain activity. The third session dives into the interprofessional team approach to providing evidence-based assessment and intervention to patients in the rehabilitation setting with known or unknown pre-morbid sleep diagnosis factors. Our final session examines non-pharmacological approaches to the treatment of chronic insomnia and other varying sleep disorders. The course is rounded out with required self-study material that looks into the fascinating world of dreams, the anatomy involved in dreams and the work that is ongoing to unravel the meaning of dreams.
DATE & LOCATION: This online learning series consists of self-study and the following sessions: May 30, 2023 4:00-5:00pm, June 20, 2023 3:30-5:00pm, June 22, 2023 4:00-5:00pm and June 27, 2023 4:00-5:00pm. All times are in Central Time Zone. The live recordings will be available on-demand approximately 24 hours after they air. We highly recommend attending live to have interactions with faculty and colleagues and the opportunity to ask questions. 
COURSE FACULTY: 
SABRA MARGARET ABBOTT, MD, PHD Associate Professor of Neurology (Sleep Medicine), Northwestern University, Feinberg School of Medicine
MARC SLUTZKY, MD, PHD Professor of Neurology (Comprehensive Neurology), McCormick School of Engineering and Neuroscience, Northwestern University, Feinberg School of Medicine
YVONNE E. MONTI, OTD, OTR/L Assistant Professor of Occupation Therapy, Utica University
KELLY GLAZER BARRON, PHD, MPH, DBSM Adjunct Associate Professor, Psychiatry, Adjunct Associate Professor, Psychology Department, Associate Professor, Family And Preventive Medicine, The University of Utah
AUDIENCE: Nurses, Occupational Therapists, Occupational Therapy Assistants, Physical Therapists, Physical Therapist Assistants and Speech-Language Pathologists. See accreditation information below.  
OBJECTIVES: Upon completion of this course, participants will be able to: 
Define the stages of REM and non-REM sleep and what changes and activity occur in each stage
Identify co-morbid factors and new-onset deficits that impact a healthy sleep pattern during the rehabilitation process
Evaluate varying methods, practices and recommendations to improve sleep and recovery via activity levels, sleep aids and sleep hygiene
Create a toolkit to provide education on risk factors impacting sleep, sleep hygiene and evidenced based practices to facilitate recovery during the rehabilitation process
SUCCESSFUL COMPLETION: Participants will complete up to 5.5 online contact hours (4.5 live or on-demand, 1 self-study) . In order to receive contact hours for the live or on-demand sessions, participants must sign in for each session and complete an online evaluation. Please note, this course is intended to have active participation at designated points of sessions. If you cannot attend the live session, a recording will be made available in the online course materials shortly after the live event. Self-Study work will be available starting May 1, 2023. All sessions, self-study work and online evaluations must be completed by July 11th, 2023 in order to receive full credit.
CONTINUING EDUCATION UNITS:
Nursing:
The Shirley Ryan AbilityLab is accredited as a provider of nursing continuing professional development by the American Nurses Credentialing Center's Commission on Accreditation. This activity is being offered for 5.5 contact hours of continuing nursing education.
Occupational Therapy:
Shirley Ryan AbilityLab is an AOTA Approved Provider of professional development. Course approval ID# 6305. This distance learning-interactive course is offered at 5.5 contact hours, 0.55 CEUs [intermediate level, foundational knowledge/OT service delivery]. AOTA does not endorse specific course content, products, or clinical procedures.
Physical Therapy:
This course has been approved by the Illinois Physical Therapy Board for 5.5 contact hours (4.5 Live hours + 1.0 Self Study = 5.5 total hours). Approval #216-000069
The Shirley Ryan AbilityLab is recognized by the New York State Education Department's State Board for Physical Therapy as an approved provider of physical therapy and physical therapist assistant continuing education. This course has been approved for 5.5 contact hours (4.5 Live hours + 1.0 Self Study = 5.5 total hours).
The following states require continuing education units with no state-specific approval: CT, IA, and WA
Speech-Language Pathology: 
TECHNICAL REQUIREMENTS: To participate, you will need access to a computer with an internet connection. High-speed broadband access (LAN, Cable or DSL) is highly recommended.
 Internet connection: broadband wired or wireless (3G or better)
Web browser: Latest Stable Version of Apple Safari, Google Chrome, Mozilla Firefox or Microsoft Edge
JavaScript and Cookies enabled
Speaker or headset to listen to audio files and participate in Zoom calls
Do NOT use Internet Explorer, as it is not supported.


Collections
Nurses Occupational Therapists Occupational Therapy Assistants OTA and PTA Physical Therapist Assistants Physical Therapists Speech Language Pathologists