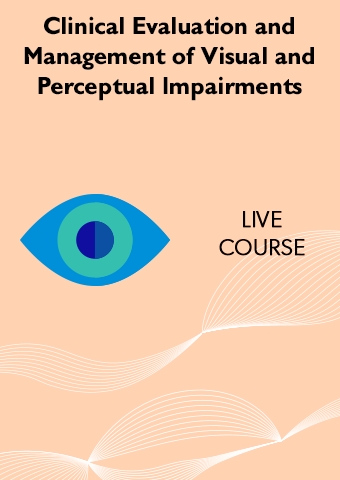 z 8/31 - 9/1 VISION 2020: Clinical Evaluation and Management of Visual and Perceptual Impairments: A "Hands-On" Approach
NEW DATES August 31-September 1
Course Description: In this two-day course, a review of the visual system and clinical manifestations of common visual impairments following stroke and traumatic brain injury will be presented. On the first day, practitioners will learn and practice comprehensive visual assessment techniques. The entire second day of the course is devoted to the clinical application of treatment strategies in a hands on interactive lab format.  The learned assessment and treatment strategies can be implemented in practice by clinicians in all levels of care.
Location: Shirley Ryan AbilityLab, 355 E Erie St., Chicago, IL 60611
Successful completion: This course includes 1.5 hours of online, self-study activities that provide foundational material and set the stage for the lectures and workshops in the live portion of the course. You will receive an email with instructions on how to access the online materials, about 6 weeks prior to the live course. To successfully complete the course and receive CEUs, learners will complete the self-study activities, attend the two-day program at Shirley Ryan AbilityLab and complete the course evaluation. 
Featured Faculty:
Amy Berryman, OTR, MSHSA, is the occupational therapy brain injury supervisor at Craig Hospital.
Tom Politzer, OD,  Dr. Politzer provides comprehensive interdisciplinary services for vision clinics at Craig Hospital, Spalding Hospital, and Swedish Hospital.          
Karen Rasavage, OTR, currently works as the OT Education Coordinator and Vision Clinic Coordinator at Craig Hospital. 
Kelsey Watters, OTR/L, is an occupational therapist at the Shirley Ryan AbilityLab (formerly the Rehabilitation Institute of Chicago). She currently works in the Think & Speak Lab as a functional cognition and vision therapist. 
Course Objectives
Upon completion of this course, participants will be able to: 
Review anatomy and function of normal visual systems.
Define common visual terminology and identify implications for therapy.
Identify common visual and visual-perceptual impairments associated with Traumatic Brain Injury and Stroke.
Perform a basic vision screen for referral to a vision specialist.
Develop clinical skills to assist with treatment planning for the patient with visual and visual-perceptual impairments.
Explain multi-disciplinary and functional impacts of visual impairments.
Demonstrate basic treatment approaches addressing visual deficits including environmental modifications and remedial visual therapy exercises.
Audience: Occupational Therapists, Occupational Therapy Assistants, Physical Therapists, Physical Therapist Assistants
CONTINUING EDUCATION CREDIT
Physical Therapy
This course has been approved by the Illinois Physical Therapy Board for 15 Contact Hours (1.5 Self-Study, 13.5 live). Approval #216-000069 
The Shirley Ryan AbilityLab is recognized by the New York State Education Department's State Board for Physical Therapy as an approved provider of physical therapy and physical therapist assistant continuing education. This two-day course has been approved for 15 Contact Hours (1.5 Self-Study, 13.5 live).
 Occupational Therapy
The Shirley Ryan AbilityLab is an approved provider for the American Occupational Therapy Association to offer continuing education in occupational therapy. This two-day intermediate level program awards occupational therapists 1.5 CEUs or 15 contact hours (1.5 hours for pre-work & 13.5 hours live). The assignment of AOTA CEUs does not imply endorsement of specific course content, products, or clinical procedures by AOTA.  AOTA CLASSIFICATION CODE: CATEGORY 2: Occupational Therapy Process – Evaluation and Intervention.
HOTEL & PARKING INFORMATION
Housing Information Coming Soon!
Directions and Parking Details for the Shirley Ryan AbilityLab can be found: here
Collections
Occupational Therapists Occupational Therapy Assistants Physical Therapist Assistants Physical Therapists