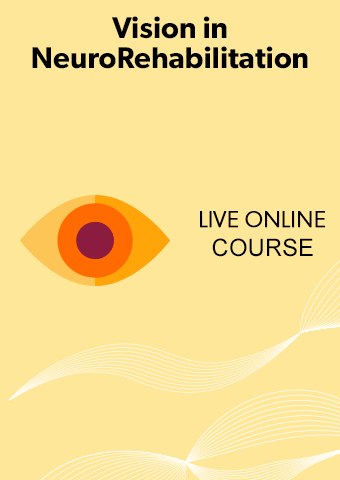 3/28-5/09: Vision in Neurorehabilitation: Practical Tools for Assessment & Management
OT/PT Early Bird before February 10, 2023: $550, After: $650
SLP Early Bird before February 10, 2023: $400, After: $450
LIVE, ONLINE DATES:
March 28th, April 4th, 11th, 18th & 25th, May 2nd & 9th.
*Live, online sessions will be held from 4:30pm-6:00pm Central Time. 
You must either attend the live course OR watch the recording before the completion of the course. We highly recommend attending this program on the live dates to obtain an optimal learning experience and leverage your access to the expert faculty. Recordings to be released within 24 hours for on-demand learners.
DESCRIPTION: 
Visual and perceptual impairments can significantly limit the ability to perform daily routines and resume participation in identified roles. Visual impairments can limit progression across different levels of care and various types of activities (e.g. reading, mobility, and self-care). This online course will serve as an introduction to common visual-perceptual impairments that can limit performance in patients who have visual impairments after neurologic injury or illness. In addition to a basic review of key anatomical features, learners will be introduced to essential components of a comprehensive vision assessment (e.g. visual acuity, ocular motor control, ocular alignment, visual fields, and spatial neglect). These concepts are organized in a simple framework that supports effective interpretation of a visual assessment and clinical decision making to develop of a plan of care. The instructors will provide an overview of potential ways that clinicians can modify the assessments when working with individuals experiencing cognitive or communication impairments. Case examples, videos and small group discussions will support interpretation and application of novel concepts.
FEATURED FACULTY: 
Viktoriya Landar, OTR/L Occupational Therapist, Shirley Ryan AbilityLab
Kelsey Watters, OTR/L, BCPR, CBIS Occupational Therapist, Shirley Ryan AbilityLab Adjunct Faculty, University of Illinois at Chicago, Occupational Therapy program
ADDITIONAL FACULTY:
Stacey Lane, PT, DPT, NCS Physical Therapist, Shirley Ryan AbilityLab
Shelby Masland, MA, CCC-SLP Speech-Language Pathologist, Shirley Ryan AbilityLab
Haleigh Nierman, OTR/L Occupational Therapist, Shirley Ryan AbilityLab
Dr. Michael Zost, O.D., FAAO, FCOVD Optometrist, Vision Rehabilitation Associates
AUDIENCE: 
OT/PT Track: Occupational Therapists, Occupational Therapy Assistants, Physical Therapists and Physical Therapist Assistants. SLP Track: Speech-Language Pathologists.
SUCCESSFUL COMPLETION & LEARNER OUTCOMES: 
Learner outcomes and the requirements for successful completion will vary by discipline, therefore please click on the appropriate brochure/syllabus below for this information: 
CONTINUING EDUCATION CREDIT:
Occupational Therapy
Shirley Ryan AbilityLab is an AOTA Approved Provider of professional development. Course approval ID# 3695. This distance learning independent/ distance learning- interactive course is offered at 22.5 Contact Hours, 2.25 CEU [intermediate level, Foundational knowledge/ OT Service Delivery]. AOTA does not endorse specific course content, products, or clinical procedures.
Physical Therapy
This online course has been approved by the Illinois Physical Therapy Board for 22.5 Contact Hours (12 hours self-study & 10.5 hours live). On-Demand approved for (22.5 hours self-study). Approval #216-000069
The Shirley Ryan AbilityLab is recognized by the New York State Education Department's State Board of Physical Therapy as an approved provider of physical therapy and physical therapist assistant continuing education. This course has been approved by the New York Physical Therapy Board for 22.5 Contact Hours (12 hours self-study & 10.5 hours live) or all on-demand (22.5 hours self-study).
The following states require continuing education units or contact hours with no state specific approval: CT, IA, and WA
Speech-Language Pathology
Technology Requirements:
To participate, you will need access to a computer with an Internet connection. High-speed broadband access (LAN, Cable or DSL) is highly recommended. 
Internet connection: broadband wired or wireless (3G or better)
Web browser:
Latest stable version of one of the following: Apple Safari, Google Chrome, Mozilla Firefox or Microsoft Edge.
JavaScript and Cookies enabled
Speaker or headset to listen to audio files and participate in Zoom calls
Do NOT use Internet Explorer, as it is not supported.
Collections
Occupational Therapists Occupational Therapy Assistants OTA and PTA Physical Therapist Assistants Physical Therapists Speech Language Pathologists