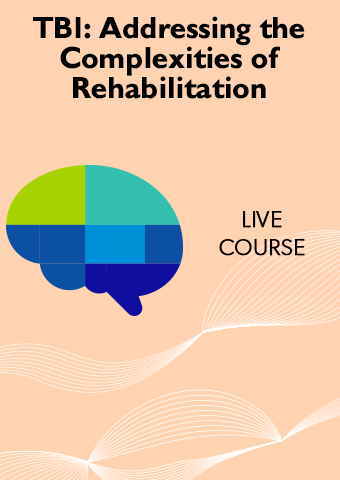 z 3/1-3/2 Traumatic Brain Injury: Addressing the Complexities of Rehabilitation
Course Description: Modern research in neuroscience and advances in technology have added new dimensions to our understanding and management of traumatic brain injury. This course will present the latest research and clinical advances that influence interdisciplinary management of persons with both severe and mild TBI. Interventions targeted toward mild brain injury such as time management or headache assessment and treatment will be reviewed.  Management of disordered consciousness targeting severe brain injury will aid the clinician treating patients with lower levels of function. Topics that address both levels of injury (mild and severe) will include pharmacological interventions, behavior management, family adaptation after brain injury, post-traumatic headache assessment, facilitating communication, contracture management, communicating difficult messages and the impact of insurance on rehabilitation and discharge placement.
Location: Shirley Ryan AbilityLab, 355 E Erie St., Chicago, IL 60611
Featured Faculty: Nathan D. Zasler, MD, FAAPM&R, FACRM, FIAMIME, DAIPM, CBIST. Dr. Zasler is CEO & Medical Director for Concussion Care Centre of Virginia, Ltd., as well as CEO & Medical Director for Tree of Life Services, Inc. and Vice-Chairperson of the International Brain Injury Association (IBIA).
Audience: Physical Therapists, Physical Therapist Assistants, Occupational Therapists, Occupational Therapy Assistants, Speech-Language Pathologists, Nurses, Social Workers, Physicians
Course Objectives: Upon completion of this course, participants will be able to
Explain the nature of post-concussive symptoms, multiple etiologies and ways to facilitate recovery and prevention of symptom persistence.
List the key historical questions and identify the key examination points for assessment of post-trauma headache.
Describe standard neurorehabilitation for patients in states of Disordered Consciousness.
Identify and implement strategies to maximize time management skills.
Discuss different low and high technology supports to increase the independence and communication of patients with brain injuries across disciplines (including facilitating success with management of medications through an interdisciplinary program).
Identify communication techniques and strategies used by clinicians to deliver difficult messages with patients and their families.
Summarize the positive and negative experiences, as well as challenges of caregiving for persons with brain injury.
Identify selected interventions for managing contractures for patients in a minimally conscious state.
Discuss the role of the team, patient, and family in the insurance approval/denial process.
Successful completion: Participants will complete 1.5 hours of self study activities in advance of this two day course (earning 1.5 contact hours + 13.5 contact hours = 15.0) These self study activities will consist of an online video and assessment covering medical complications in TBI. During the in-person portion of the course, participants must sign in each day and complete an online evaluation.
CONTINUING EDUCATION CREDIT
Physical Therapy
This course has been approved by the Illinois Physical Therapy Board for 15.00 Contact Hours (1.5.self-study & 13.5 live hours)
 Occupational Therapy
The Shirley Ryan AbilityLab is an approved provider for the American Occupational Therapy Association to offer continuing education in occupational therapy. This intermediate level program awards occupational therapists 0.15 CEUs or 1.50 contact hours (pre-work) and 1.35 CEUs or 13.75 contact hours (live) for a total of 15.25 hours or 1.525. CEU's. The assignment of AOTA CEUs does not imply endorsement of specific course content, products, or clinical procedures by AOTA.
AOTA Classification Code: Category 2: Occupational Therapy Process 
Speech-Language Pathology
This course is offered for  1.5 ASHA CEUs (Intermediate level, Professional area).
 A full list of faculty disclosures for ASHA is available at  ASHA Faculty Disclosure List
Social Work
The Shirley Ryan AbilityLab is registered by the State of Illinois to sponsor continuing education programs for social workers.  This program will award 15 CEUs.
HOTEL & PARKING INFORMATION
Rooms have been reserved at the Hyatt Centric Chicago Magnificent Mile, 633 North St. Clair, Chicago, Illinois, 60611. 
The Hyatt Centric Chicago Magnificent Mile is located 1½ blocks from the Shirley Ryan AbilityLab. Please contact their reservation agent from 9:00 am until 5:00 pm at (888) 591-1234 and ask for the Shirley Ryan AbilityLab Brain Injury Course room block or make your reservation online using this link: RoomReservationLinkBrainInjuryCourse. The corporate rate is $99.00 for a Deluxe Guestroom (single or double occupancy) plus 17.4% tax. The daily rate for parking at the Hyatt Chicago is $61.00/day. The corporate room rate will be available until February 7, 2018 or until the group block is sold out (whichever comes first). The rates for parking and taxes are subject to change without advanced notice.
Directions and Parking Details for the Shirley Ryan AbilityLab can be found: here