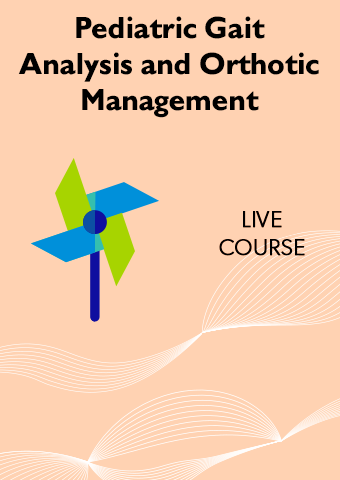 z 12/12-12/14 Pediatric Gait Analysis and Orthotic Management: An Optimal Segment Kinematics and Alignment Approach to Rehabilitation (OSKAR)
The course explores a fresh approach to the observation and analysis of normal and abnormal patterns of standing, stepping and walking with full gait cycles. The kinematics and kinetics of normal standing and walking and the abnormal gait patterns of disabling conditions will be reviewed, with particular reference to orthotic management and rehabilitation programs.  The emphasis of patient cases will focus on cerebral palsy, myelomenigocoele and other neurological conditions.  Participants will review the short and long term goals of orthotic management, in all areas of the ICF, and how to achieve them through:  the biomechanics of ankle foot orthoses, the influence of footwear, varieties of "AFO footwear combinations", use of clinical algorithms to design, align and tuning "AFO footwear combinations" in order to optimize standing and walking for the variety of gait patterns, and also the rehabilitation programs that may accompany orthotic provision. Video vector gait laboratory examples and patient discussions in small and large groups will help participants refine their clinical decision-making skills in gait analysis and orthosis design and alignment. Upon completion of the course, participants will be able to apply the principles directly into their working practice. A comprehensive manual accompanies the course.
FACULTY:
Elaine Owen, MBE, MSc, SRP, MCSP. She is ESMAC trained in Clinical Gait Analysis. For over 20 years she has used a video vector gait laboratory at Bangor Child Development Centre, UK for gait analysis, and orthotic and physical therapy management of children and adults.  
LOCATION:
Shirley Ryan AbilityLab, 355 E. Erie St, Chicago, IL 60611
AUDIENCE:
This course is intended primarily for pediatric physical therapists, orthotists, orthopedic consultants and pediatricians. It is also useful to those working with adults.
SUCCESSFUL COMPLETION:
Participants will complete 5 hours of self study activities in advance of this three day course (earning 20.5 contact hours + 5.0 contact hours= 25.5) These self study activities for the course will consist of readings and an exercise to better understand terminology and definitions necessary to the fundamentals of the course. Participants will fill out an assessment of this material prior to the live course. During the on-site portion of the course, participants must sign in and complete an online evaluation.  
OBJECTIVES:
Upon completion of this course, participants will be able to: 
Describe kinematic analysis of the divisions of the gait cycle with equal emphasis on movements of the joints and movements of the segments relative to the vertical and horizontal
Review kinetic analysis of the divisions of the gait cycle and the interaction of kinematics with kinetics
Describe the kinematics and kinetics of standing, stepping and full gait cycles
Describe and Discuss the kinematics and kinetics of abnormal gait patterns, deviations at segments and joints and categorization by segment deviation
Distinguish the assessments required to determine the optimum sagittal angle of the ankle in an AFO and demonstrate use of a clinical algorithm
Distinguish and Discuss the biomechanics of a variety of AFO and footwear designs and the alignment, refinement and tuning of these designs to optimize gait
Demonstrate use of a clinical algorithm for designing, aligning and tuning AFO Footwear Combinations to determine optimum prescriptions for each gait pattern
Demonstrate use of a clinical algorithm for determining whether a dorsiflexion free AFO design is appropriate
Demonstrate use of a clinical algorithm for determining MTPJ free or MTPJ fixed AFO design
Integrate tuning concepts with patient case examples
CONTINUING EDUCATION CREDIT
Physical Therapy
This course has been approved by the Illinois Physical Therapy Board for 25.50 Contact Hours (5.0 Hours Self-Study 20.5 Live). Approval #216-000069 
The Shirley Ryan AbilityLab is recognized by the New York State Education Department's State Board for Physical Therapy as an approved provider of physical therapy and physical therapist assistant continuing education. This three-day course has been approved for 25.50 Contact Hours (5.0 Hours Self-Study 20.5 Live).
Orthotists 
This program has been approved for up to 25.5 credits through the American Board for Certification in O&P (ABC) for Orthotists, Orthotic Assistants, Orthotic Technicians, and Orthotic Fitters and Pedorthists. Full participation in this program is required to be eligible for the full amount of credits.
Illinois Early Intervention 
The Illinois Early Intervention Training Program has been approved for this event for 25.5 hours of EI credential credit in the area of 2.0 - Assessment, 3.0 - Atypical Development, 19.0 – Intervention, 1.5 - Typical Development
HOTEL & PARKING INFORMATION
Rooms have been reserved at the Hampton Inn Chicago Downtown Magnificent Mile, 160 East Huron Street, Chicago, IL 60611.
The Hampton Inn Chicago Downtown Magnificent Mile is located 2½ blocks from the Shirley Ryan AbilityLab. Please contact their reservations department from 9:00 am until 5:00 pm at (312) 787-2900 and ask for the Pediatric Gait Analysis room block or use this link to register online: http://hamptoninn.hilton.com/en/hp/groups/personalized/C/CHIDMHX-K29-20191211/index.jhtml.  The corporate room rate is $119.00 for a deluxe king (single or double occupancy) and $139.00 for two queen beds in the room plus the *17.4% tax.  The daily rate for parking at the Hampton Inn Chicago Magnificent Mile is *$66.00/day. The corporate room rate will be available until November 11, 2019 or until the group block is sold-out, whichever comes first. 
 *The rates for parking and taxes are subject to change without advanced notice.
 Directions and Parking Details for the Shirley Ryan AbilityLab can be found: here
Collections
Physical Therapists Prosthetists