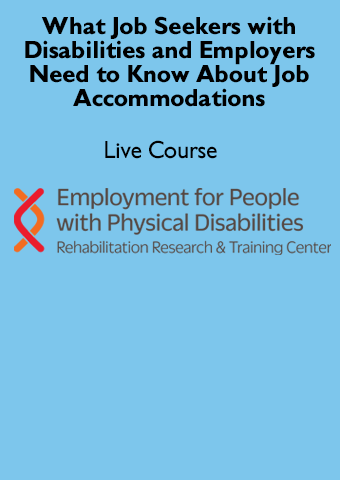 10/29/19 What Job Seekers with Disabilities and Employers Need to Know About Job Accommodations
COURSE DESCRIPTION:
$125 for Employers, Clinicians and Researchers
$25 for Persons with Disabilities
This workshop on employment accommodations and workplace accessibility will help people with disabilities and employers understand their rights and responsibilities under the Americans with Disabilities Act (ADA). Keynote speakers will discuss several topics including when to – and not to – disclose a disability, employers' responsibilities under the ADA, employment accommodations case law, permissible questions employers may ask, employers' positive experiences in providing job accommodations, and the process of providing accommodations and working with a disability. Breakout sessions are tailored for the specific needs of people with disabilities and employers, while keynote sessions are designed to address the interests of both consumers and employers.
KEYNOTE SPEAKERS:
Sharon Rennert, Senior Attorney, ADA Division Office of Legal Counsel, EEOC
Louis Orslene, Co-Director of the Job Accommodation Network (JAN)
Representatives from Northern Trust, Ernst and Young, East Bank Club, and Rush Medical Center will share their experiences and perspective as employers and employee
LOCATION:
Shirley Ryan AbilityLab, 355 E. Erie St, Chicago, IL 60611
AUDIENCE:
Occupational Therapists, Occupational Therapy Assistants, Physical Therapists, Physical Therapist Assistants, Rehabilitation Counselors and Speech-Language Pathologists
LEARNING OBJECTIVES:
Describe the rights and responsibilities of employers and employees under the Americans with Disabilities Act
Identify best practices for work place accessibility
Enhance workplace productivity using the most effective job accommodations
CONTINUING EDUCATION CREDIT
Approved for CRC (6 hours) and pending for PT, OT and SLP
Meets criteria for professional development hours for SHRM and HRCI certifications (must be submitted independently by participant)
PARKING INFORMATION
Directions and Parking Details for the Shirley Ryan AbilityLab can be found: here
Collections
Occupational Therapists Occupational Therapy Assistants Physical Therapist Assistants Physical Therapists Rehabilitation Counselors Speech Language Pathologists