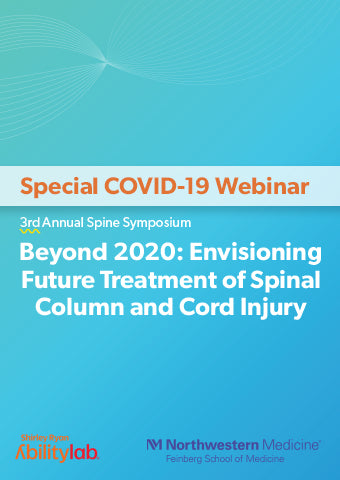 Treatment of Patients with Spinal Cord and Column Injuries during Covid-19 Pandemic
In this special one hour webinar, join a panel of experts in the fields of Neurosurgery, Orthopedic Surgery, and Physical Medicine and Rehabilitation will discuss the diagnosis, triage and treatment of spinal column and cord injuries at their institutions during the Covid 19 pandemic. We will discuss and compare testing protocols pre and post-surgery, other precautions, and changes in rehabilitation and surgical practice that different institutions across the country are adopting.
This course is jointly offered by Northwestern University Feinberg School of Medicine and Shirley Ryan AbilityLab. 
There are no CME or CEU credits available for this on-demand webinar.
AUDIENCE:

This webinar is ideal for Neurosurgeons, Trauma Surgeons, Orthopedic surgeons, Physiatrists, Nurse Practitioners, Physician Assistants, Registered
Nurses, Physical Therapists, Physical Therapist Assistants, Occupational Therapists, and Occupational Therapy Assistants
OBJECTIVES:
Upon completion of this course, participants will be able to:
Identify changes in pre and post-surgery protocols due to COVID-19, such as testing and anti-coagulation plans
Compare the experiences and practices of spinal surgery and rehabilitation teams from hospitals across the country operating in this quickly evolving pandemic
Discuss the challenges in re-opening of elective or non-essential surgeries across several institutions
Identify what changes will have long-term impact on spinal surgery and rehabilitation, such as telehealth, screening, testing, and discharge practices
Note: You will have 3 months from the date of purchase to complete and review the course material. You will receive a reminder email 2 weeks before the expiration date.
Basic Computer Requirements: You will need access to a computer with an Internet connection. High speed broadband access (LAN, Cable or DSL) is highly recommended.
PC: Compatible Operating System: Windows XP, Vista, 7, 8, 8.1 Web Browser: Firefox, Chrome, Internet Explorer 10 or higher
MAC: Compatible Operating System: OS X Web Browser: Firefox, Chrome, Safari
Collections
Online Learning Nurses Occupational Therapy Assistants Physical Therapist Assistants Physical Therapists Physicians