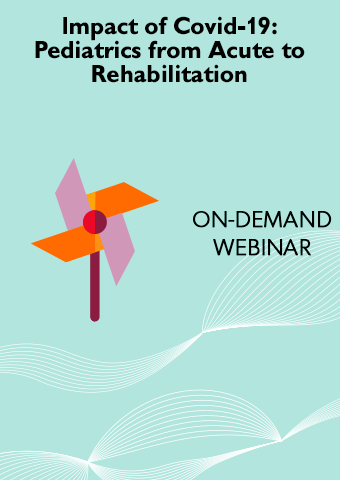 Impact of COVID-19: Pediatrics from Acute to Rehabilitation
Description: As the COVID-19 pandemic continues to spread, new trends are emerging in the pediatric population. In this 60-minute on-demand panel discussion with pediatric experts from Chicago and New York, we explore what changes they are making to protocol to protect staff and patients and the role of the pediatric hospital during a national crisis. We discuss the transition of care between acute care, inpatient rehabilitation and outpatient rehabilitation. Furthermore, we discuss the impact of limited patient access and the impact this is having on medical education. 
Continuing Education Credits are not offered for viewing this webinar.
Objectives
Upon completion of this course, participants will be able to:
Identify changes in protocols due to COVID-19, that affect care transition from critical to acute to rehabilitation.
Compare the experiences and practices of pediatric acute care and rehabilitation from hospitals across the country operating in this quickly evolving pandemic.
Discuss the challenges in re-opening outpatient centers and the plans and ideas to ensure proper outpatient follow-up.
Identify what changes will have a long-term impact on pediatric care, such as telehealth, testing and medical education.
Faculty: 
Moderated by Ana-Marie Rojas, MD - Attending in Pediatric Physiatry at Shirley Ryan AbilityLab, and Assistant Professor of PM&R, Northwestern University Feinberg School of Medicine.
Erin Paquette, MD, JD, MBe (Bioethics) – Attending in Pediatric Critical Care, Associate Chair, Ethics Advisory Board, Ann and Robert H. Lurie Children's Hospital of Chicago  and Assistant Professor of Pediatrics (Critical Care), Northwestern University Feinberg School of Medicine.
Michael Spewak, MD – Attending in Pediatric hospital-based medicine at Ann & Robert H. Lurie Children's Hospital of Chicago and Instructor of Pediatrics, Northwestern University Feinberg School of Medicine.
Renat Sukhov, MD - Interim Medical Director, Pediatric Rehabilitation Service, Director, Pediatric Physical Medicine and Rehabilitation Fellowship Program and Clinical Associate Professor, Department of Rehabilitation Medicine at New York University Grossman School of Medicine.
Audience:  Nurses, Occupational Therapists, Occupational Therapy Assistants, Physical Therapists, Physical Therapist Assistants, Speech-Language Pathologists, Physicians
Note: You will have 3 months from the date of purchase to complete and review the course material. You will receive a reminder email 2 weeks before the expiration date.
Basic Computer Requirements: You will need access to a computer with an Internet connection. High speed broadband access (LAN, Cable or DSL) is highly recommended.
PC: Compatible Operating System: Windows XP, Vista, 7, 8, 8.1 Web Browser: Firefox, Chrome, Internet Explorer 10 or higher
MAC: Compatible Operating System: OS X Web Browser: Firefox, Chrome, Safari
Collections
Online Learning Nurses Occupational Therapists Occupational Therapy Assistants Physical Therapist Assistants Physical Therapists Physicians Speech Language Pathologists