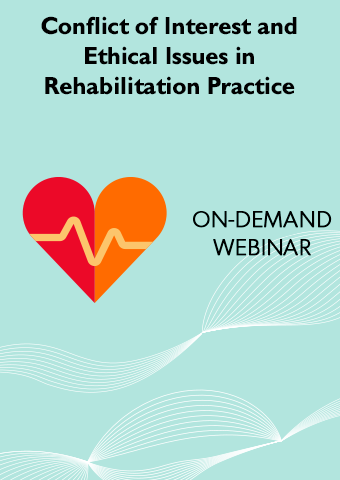 Conflict of Interest and Ethical Issues in Rehabilitation Practice
Description: Rehabilitation professionals are known for their altruistic and humanitarian motives for entering these helping professions. Because our conscious motivations may be pristine and well intentioned, it may be tempting to assume we remain immune from ethical challenges and untainted by conflicts of interest.  This webinar will challenge participants to identify and reflect on professional and business situations or relationships that may be more complex than at first realized, and may be sources of ethical challenge or conflicts of interest. The webinar will provide an analytical tool to examine such challenges.
We will briefly review some of the historical, socioeconomic and political underpinnings of the rehabilitation professions, to examine structural issues such as power and gender, that impact rehabilitation practice. We will look at potential conflicts related to financial relationships, compliance with state and federal laws, clinical reasoning and decision-making, and research.  Attendees will be challenged to reflect on ethical courage.
Objectives: Upon completion of this course, participants will be able to:
Recognize how the evolutionary advances of rehabilitation professions impose new ethical demands.
Recognize commonplace conflicts of interest and ethical decision-making in rehabilitation practice.
Apply the RIPS Model of Ethical Decision Making to rehabilitation practice.
Recognize the difference between potential and actual conflicts of interest.
Apply ethical principles and legal understanding to issues such as fee splitting and financial conflict of interest in rehabilitation practice.
Recognize when ethical courage is required.
Instructor: Peter J. McMenamin, PT, DPT, MS, OCS, Assistant Professor, Associate Chair for Clinical Practice, Department of Physical Therapy and Human Movement Sciences, Northwestern University Feinberg School of Medicine and Director of Physical Therapy Academic Affairs, Shirley Ryan AbilityLab, Director, NU-SRALAB Physical Therapy Residencies
Audience: Physical Therapists, Physical Therapist Assistants, Occupational Therapists and Occupational Therapy Assistants, Speech Language Pathologists, Social Workers
Note: This webinar will expire on 6/30/2023. You will have until this date to complete and review the course material. You will receive a reminder email 2 weeks before the expiration date.
Continuing Education Credits
Physical Therapy 
This course has been approved by the Illinois Physical Therapy Board for 1.5 Contact Hours. Approval #216-000069
The Shirley Ryan AbilityLab is recognized by the New York State Education Department's State Board for Physical Therapy as an approved provider of physical therapy and physical therapist assistant continuing education. This course has been approved for 1.5 contact hour.
Occupational Therapy 

The Shirley Ryan AbilityLab is an approved provider for the American Occupational Therapy Association to offer continuing education in occupational therapy. This intermediate level program awards occupational therapists 0.15 CEUs or 1.5 contact hours. The assignment of AOTA CEUs does not imply endorsement of specific course content, products, or clinical procedures by AOTA. AOTA Classification Code: Category 3: Professional Issues
Speech Language Pathology
This course is offered for 0.15 ASHA CEUs (Intermediate level, Professional area)
Social Work
The Shirley Ryan AbilityLab is registered by the State of Illinois to sponsor continuing education programs for social workers. This program will award 1,5 Continuing Education Credit Hour.
Sponsor License #159001466
Disclosures
Financial - Serves as an expert witness in PT malpractice cases for various law firms and insurance companies
Non-Financial – No relevant nonfinancial relationship exists
Basic Computer Requirements: You will need access to a computer with an Internet connection. High speed broadband access (LAN, Cable or DSL) is highly recommended. 
PC: Compatible Operating System: Windows XP, Vista, 7, 8, 8.1 Web Browser: Firefox, Chrome, Internet Explorer 10 or higher
MAC: Compatible Operating System: OS X Web Browser: Firefox, Chrome, Safari
Cancellation Policy: To request a cancellation of an on-demand program, please provide written notice by letter, email, or fax or contact us by phone within 24 hours of placing your order and we will refund you the full course fee. If you cannot give notice within 24 hours, a credit towards a future course of equal value would apply.
Collections
Online Learning Nurses Occupational Therapists OTA and PTA Physical Therapists Speech Language Pathologists