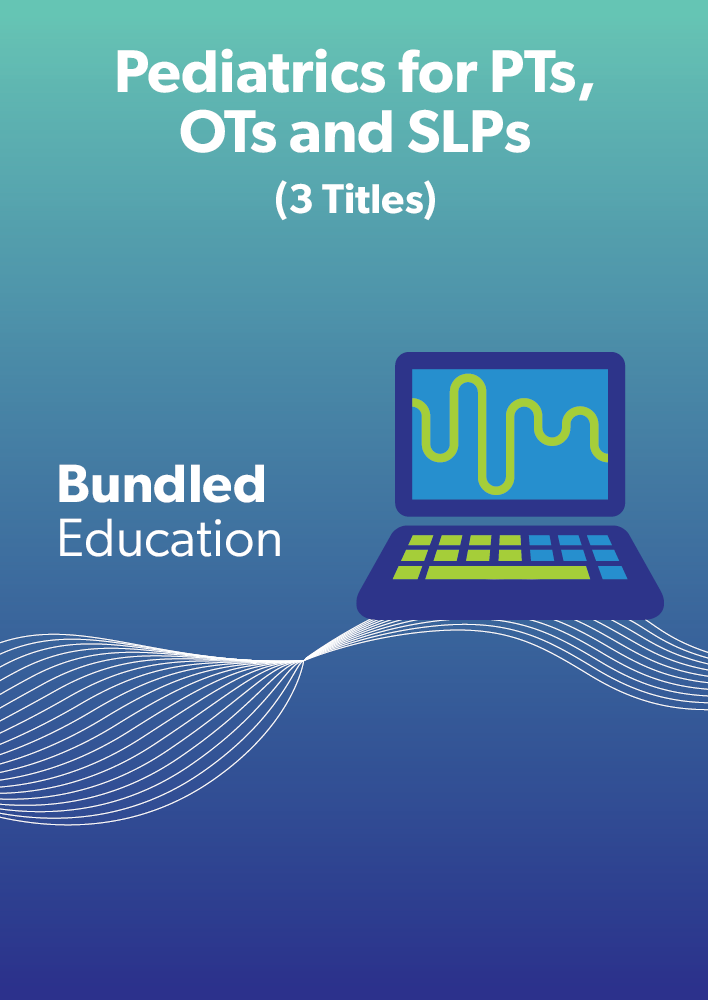 Bundled Webinars: Pediatrics for PTs, OTs and SLPs (3 Titles)
Are you interested in expanding your clinical skills of treatment for the pediatric population? For a limited time, take advantage of discounted pricing by bundling our 3 most popular on-demand webinars on Pediatrics. We have made it easy to learn more on this topic by creating 3 separate tracks based on your discipline. 
An Introduction to Pediatric Bladder & Bowel Disorders
Toe Walking—Orthotic and Gait Rehabilitation with OSKAR (Optimal Segment Kinematics and Alignment Approach to Rehabilitation)
Pediatric Cerebral Visual Impairment (CVI): A State of the Field for Clinicians
OT Track (Click HERE for Complete Webinar and Accreditation Information) 
Overcoming Challenges: Evaluation & Treatment of Sensory Based Feeding Disorders in Children
The Silent Impact of Pediatric TBI: Assessment, Intervention and Education
Pediatric Cerebral Visual Impairment (CVI): A State of the Field for Clinicians
How Does It Work? After purchasing the bundle, you will receive an email with a link to the Academy Learning Portal, where you can immediately start your courses. The on-demand version of the webinar will be added to your account as soon as the recorded version is available. You will have 90 days from the date of purchase to complete and review the course material after the on-demand version is posted. You will receive a reminder email 2 weeks before the expiration date. Your continuing education certificate will reflect whatever date you complete the online course. 
Audience:  Occupational Therapists, Occupational Therapy Assistants, Physical Therapists, Physical Therapist Assistants, and Speech Language Pathologists.
Basic Computer Requirements: To participate, you will need access to a device with an Internet connection. Computers, laptops, iOS and Android devices are supported. High-speed broadband Internet access (LAN, Cable or DSL) is highly recommended. Additional requirements include:
Web browser: latest version of Chrome, Firefox, or Safari
JavaScript and Cookies enabled
Speaker or headset to listen to recorded audio files
Speaker and microphone, or headset with microphone, or phone to listen to webinar facilitators
Do NOT use Internet Explorer or Microsoft Edge as they are not supported.
Cancellation Policy: To request a cancellation of an on-demand program, please provide written notice by email or contact us by phone within 24 hours of placing your order and we will refund you the full course fee. If you cannot give notice within 24 hours, a credit towards a future course of equal value would apply.
Collections
Bundled Webinars Occupational Therapists Occupational Therapy Assistants Physical Therapist Assistants Physical Therapists Speech Language Pathologists