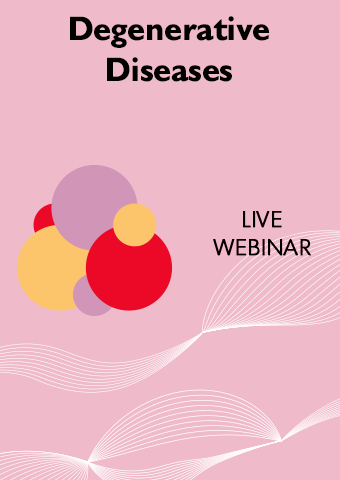 Z 7/31/18: Degenerative Diseases: Beat Barriers to Being Active
July 31, 2018
4:00 to 5:30 pm. CST

The registration for this webinar will close on July 31, at 12:00 pm cst.

Description: People with neurodegenerative diseases, such as Parkinson's disease and Multiple Sclerosis, have reduced physical activity and exercise participation. This webinar will address the physiological and psychosocial barriers to physical activity participation, and will provide participants with evidence-based strategies to help their patients beat the barriers to becoming more active in their home and community. Some of the key barriers to activity that will be discussed include physical function, pain, cognition, fatigue, depression, anxiety, self-efficacy, economic and environmental factors. Participants will learn how psychosocial intervention strategies, such as motivational interviewing and shared decision- making, can be used in rehabilitation for these populations. The application of these strategies will be discussed using case examples across diseases and severity of symptoms.
Objectives: Upon completion of this course, participants will be able to:
Describe key physiological and psychosocial features of neurodegenerative diseases that are associated with decreased physical activity.
Explain the psychosocial intervention strategies to address exercise behavior change in people with neurodegenerative disease.
Summarize exercise programs that synthesize knowledge of exercise principles (frequency, intensity, type, duration) for case examples of people with Parkinson's disease and Multiple Sclerosis.
Instructors: Miriam Rafferty, PT, DPT, PhD, NCS, Board Certified Neurologic Physical Therapist; Postdoctoral Fellow, Center for Education in Health Sciences, Northwestern University Feinberg School of Medicine; Flex Staff Physical Therapist, Shirley Ryan AbilityLab
       and
Bridget Fowler, PT, DPT, NCS, Board Certified Neurologic Physical Therapist, Physical Therapist, Nerve Muscle Bone Innovation Center/Strength and Endurance Lab, Shirley Ryan AbilityLab
Audience: Physical Therapists, Physical Therapist Assistants, Occupational Therapists, Occupational Therapy Assistants, Speech-Language Pathologists
Continuing Education Credits
Nursing
The Shirley Ryan AbilityLab is an approved provider of continuing nursing education by the Ohio Nurses Association, an accredited approver by the American Nurses Credentialing Center's Commission on Accreditation. (OBN-001-91) (OH-362, 9/01/2017).
This CNE activity is being offered for 1.5 contact hours
Physical Therapy

This course has been approved by the Illinois Physical Therapy Board for 1.5 Contact Hours. Approval #216-000069
Occupational Therapy 

The Shirley Ryan AbilityLab is an approved provider for the American Occupational Therapy Association to offer continuing education in occupational therapy. This intermediate level program awards occupational therapists 0.15 CEUs or 1.5 contact hours. The assignment of AOTA CEUs does not imply endorsement of specific course content, products, or clinical procedures by AOTA. Category 2: OT Process

Speech-Language Pathology
This course is offered for 0.15 CEUs (Intermediate level, Related area)
Disclosures
Miriam Rafferty
Financial -  Receives honorarium for teaching this course from the Shirley Ryan AbilityLab. Receives a grant from the Steering Committee of the Parkinson Outcomes Project of the Parkinson Foundation and the Agency for Healthcare & Research Quality
Non-Financial -  Serves as member of Evidence-Based Document Committee of the American Physical Therapy Association, Academy Neurologic Physical Therapy and Foundation for Physical Therapy. Elected Assembly Representative, Illinois Physical Therapy Association
Bridget Fowler
Financial -  Receives honorarium for teaching this course from the Shirley Ryan AbilityLab
Non-Financial -  No relevant nonfinancial relationship exists
Collections
Online Learning Nurses Occupational Therapists Physical Therapists Speech Language Pathologists