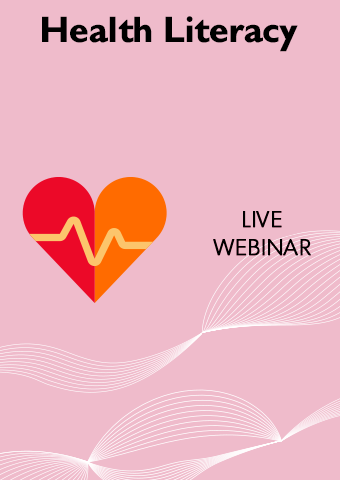 Z 8/07/18: (ETHICS) Understanding Health Literacy for the Health Care Professional
August 7, 2018
4:00 to 5:00 pm. CST

The registration for this webinar will close on August 7, at 12:00 pm cst.

Description: Health literacy is defined as "the degree to which individuals have the capacity to obtain, process, and understand basic health information and services needed to make appropriate health decisions." At the same time, however, both the HHS report Communicating Health: Priorities and Strategies for Progress and IOM report Health Literacy: A Prescription to End Confusion propose an expanded understanding of the term so that both the skills of individuals and demands of health systems are considered.  This webinar will help providers identify patients and care givers who may have low Health Literacy and provide strategies to improve outcomes.
Objectives: Upon completion of this course, participants will be able to:
Explain what Health literacy is and the problems it poses for patients
Identify ways that Health Care professionals can improve their assessments of patients' level of health literacy.
Summarize and apply HL objectives adopted as part of the healthy people 2010 and 2020 initiatives.
Outline options for reducing Literacy- related Barriers in your institution
Instructor: Kristin Elwart-Szwajkowski, DNP, Nurse Practitioner, Departments of Pediatric Cardiology & Cardiothoracic Surgery, University of Illinois Medical Center
Audience: Physical Therapists, Physical Therapist Assistants, Occupational Therapists, Occupational Therapy Assistants, Speech-Language Pathologists, Nurses, Social Workers
Continuing Education Credits
Nursing
The Shirley Ryan Ability Lab is an approved provider by the Ohio Nurses Association an accredited approver of continuing nursing education by the American Nurses Credentialing Center's Commission on Accreditation. (OBN-001-91) (OH-362, 9/1/2020).
This CNE activity is being offered for 1.0 contact hours
Physical Therapy

This course has been approved by the Illinois Physical Therapy Board for 1 Contact Hours. Approval #216-000069
Occupational Therapy 

The Shirley Ryan AbilityLab is an approved provider for the American Occupational Therapy Association to offer continuing education in occupational therapy. This introductory level program awards occupational therapists 0.1 CEUs or 1 contact hours. The assignment of AOTA CEUs does not imply endorsement of specific course content, products, or clinical procedures by AOTA. Category 3: Professional Issues

Social Work
The Shirley Ryan AbilityLab is registered by the State of Illinois to sponsor continuing education programs for social workers.  This program will award 1 CEU.
Speech-Language Pathology
This course is offered for 0.1 CEUs (Intermediate level, Profressional area)
Disclosures
Financial -  Receives honorarium for teaching this course from the Shirley Ryan AbilityLab
Non-Financial -  No relevant nonfinancial relationship exists
Collections
Online Learning Nurses Occupational Therapists Physical Therapists Social Workers Speech Language Pathologists