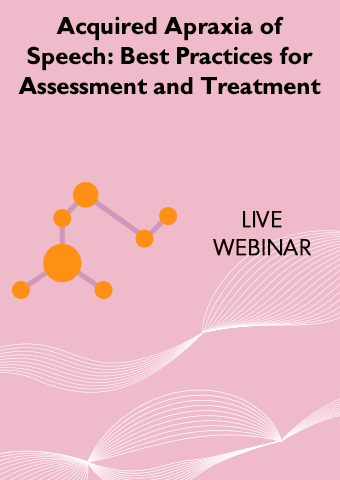 5/5/20 Acquired Apraxia of Speech: Best Practices for Assessment and Treatment
May 5, 2020
4:00 pm to 5:30 pm CST
The registration for this webinar will close at 12:00 pm (cst) on May 5, 2020.
Description:  This webinar will provide participants with an overview of acquired apraxia of speech as a result of stroke, brain injury, or other neurological conditions. The evaluation process will be reviewed through defining characteristics of apraxia of speech, as well as a review of assessments and diagnostic tools. The treatment of apraxia of speech will be reviewed through a summary of current evidence based interventions, using case examples as a means to demonstrate effective selection and implementation of these interventions. 
Instructor:
  Caitlin Ferrer, MA, CCC-SLP, Speech and Language Pathologist, Aphasia Lab Therapist, Think + Speak Lab, Shirley Ryan AbilityLab 
Audience:
  Occupational Therapists, Occupational Therapy Assistants, Physical Therapists, Physical Therapist Assistants, Speech-Language Pathologists
Objectives
Upon completion of this course, participants will be able to:
Describe defining characteristics and qualities of apraxia of speech
Identify formal and informal tools to assess individuals with apraxia of speech
Cite current research based interventions to treat apraxia of speech
Continuing Education Credits
Speech-Language Pathology

This course is offered for 0.15 ASHA CEUs (Intermediate level, Professional area).

Disclosures
Financial: Receives an honorarium for teaching this course from the Shirley Ryan AbilityLab
Non-Financial: No non-financial disclosures at this time


Collections
Online Learning Occupational Therapists Occupational Therapy Assistants Physical Therapist Assistants Physical Therapists Speech Language Pathologists