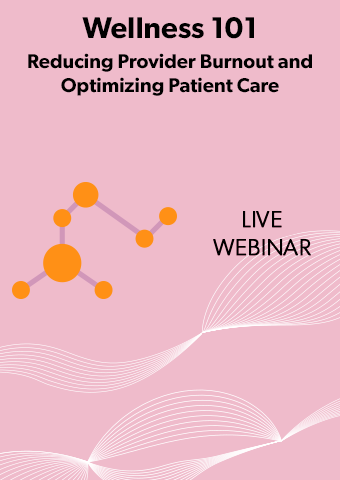 5/03/23: Wellness 101: Reducing Provider Burnout and Optimizing Patient Care
Time:  May 3, 2023, 4:00 PM - 5:30 PM Central Daylight Time
Note: If you are unable to attend the live event, you will be automatically enrolled in the on-demand version.  The on-demand version will be available six weeks after the live broadcast.
Description: Healthcare providers are under greater stress now more than ever, resulting in increased workplace burnout. In this webinar, the pillars of burnout will be defined as well as how they relate to provider mental health, and how a clinical provider's mental health can impact patient outcomes. Interactive problem solving and solution generation via specific patient case studies will demonstrate how both the provider's and the patient's mental health can influence the patient's rehabilitation and outcomes.
Learner Outcomes: Upon completion of this webinar, participants will be able to: 
Interpret the impact of burnout on provider mental health and patient outcomes
Discuss systemic, team-based solutions to provider burnout
Instructors: Kelly Krese, PT, DPT, NCS, CYT, Yara Mikhaeil-Demo, MD and Karin B. Ulstrup, MD
Audience: Nurses, Nurse Practitioners, Occupational Therapists, Occupational Therapy Assistants, Physicians, Physicians Assistants, Physical Therapists, Physical Therapist Assistants, Social Work and Speech-Language Pathologists.
Continuing Education Credits

Occupational Therapists: Pending Approval
Physical Therapists:
The Illinois Physical Therapy Board has approved this course for 1.5 Contact Hours.  Approval #216-000069
The Shirley Ryan AbilityLab is recognized by the New York State Education Department's State Board of Physical Therapy as an approved provider of physical therapy and physical therapist assistant continuing education.  This course has been approved by the New York Physical Therapy Board for 1.5 Contact Hours. 
The following states require continuing education units with no state-specific approval:  CT, IA, and WA 
Social Workers:
Shirley Ryan AbilityLab is registered by the State of Illinois to sponsor continuing education programs for social workers. This program will award 1.5 Continuing Education Credit Hours. Sponsor License #159001466.
Speech-Language Pathologists:
Disclosures
CME Leadership and Staff:
Ben Friedman, Director of CME - Has nothing to disclose.
Rebecca Bagdy, Executive Director, Academy - Has nothing to disclose.
Course Directors and Planning Committee Members:
Julie Lenkiewicz, MS, CCC-SLP - Has nothing to disclose.
Melissa Kolski, PT, OCS, Dip MDT - Has nothing to disclose.
Leslie Marriott, OT - Has nothing to disclose.
Pamela Pfeifer, MS, RN, NPD-BC - Has nothing to disclose.
Speakers, Moderators and Panelists:
Kelly Krese, PT, DPT, NCS, CYT - Has nothing to disclose.
Yara Mikhaeil-Demo, MD - Has nothing to disclose.
Karin B. Ulstrup, MD - Has nothing to disclose.
Technology Requirements: To participate, you will need access to a device with an Internet connection. Computers, laptops, iOS and Android devices are supported.
High-speed broadband Internet access (LAN, Cable or DSL) is highly recommended.
Additional requirements include:
Web browser: latest stable version of Chrome, Firefox, or Safari
JavaScript and Cookies enabled
Speaker and microphone, or headset with microphone, or phone to listen to webinar facilitators
Do NOT use Internet Explorer as it is not supported.
Cancellation Policy: To request a cancellation of a live webinar, please provide written notice by email or by phone within 24 hours of placing your order and we will refund you the full course fee. If you cannot give notice within 24 hours, a credit towards a future course of equal value would apply.
Collections
Online Learning Nurses Occupational Therapists Occupational Therapy Assistants OTA and PTA Physical Therapist Assistants Physical Therapists Physicians Social Workers Speech Language Pathologists