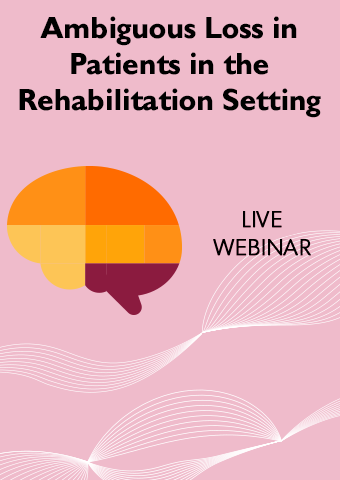 4/21/20 Ambiguous Loss in Patients in the Rehabilitation Setting
April 21, 2020
4:00 pm to 5:00 pm CST
The registration for this webinar will close at 12:00 pm (cst) on April 21, 2020.
Description:  Patients in the rehabilitation setting often experience ambiguous loss, which is often misunderstood and confusing, both to themselves and others.  As clinicians, it is import to be able to recognize and appreciate these losses when treating patients and families in a rehabilitation setting in an effort to provide the best possible care.  This webinar will focus on an in-depth look at ambiguous loss, as well as techniques and interventions that clinicians can incorporate into their approach and practice when working with these patients.
Instructor:  Katrina Myhra, LCSW, Patient and Family Counselor, Shirley Ryan AbilityLab
Audience:  Occupational Therapists, Occupational Therapy Assistants, Physical Therapists, Physical Therapist Assistants, Speech-Language Pathologists, Nurses, Social Workers

Objectives 
Upon completion of this course, participants will be able to:
Define and identify ambiguous loss in various forms and situations that affect patients and families
Identify and comprehend the difference between ambiguous loss and ambivalence
Recognize the coping techniques that patients and families may use, and how they can affect one's healing and participation in treatment
Incorporate techniques into treatment to address ambiguous loss without taking away from clinician goals
Continuing Education Credits

Occupational Therapy
The Shirley Ryan AbilityLab is an approved provider for the American Occupational Therapy Association to offer continuing education in occupational therapy. This intermediate level program awards occupational therapists 0.10 CEUs or 1 contact hour. The assignment of AOTA CEUs does not imply endorsement of specific course content, products, or clinical procedures by AOTA. Category 1: Domain of OT – Client Factors; Category 2: OT Process - Intervention
Physical Therapy
The Illinois Physical Therapy Board for 1 Contact Hour has approved this course. Approval #216-000069

The Shirley Ryan AbilityLab is recognized by the New York State Education Department's State Board of Physical Therapy as an approved provider of physical therapy and physical therapist assistant continuing education. This course has been approved by the New York Physical Therapy Board for 1 Contact Hour
Speech-Language Pathology

This course is offered for 0.10 ASHA CEUs (Intermediate level, Related area).
Nursing
The Shirley Ryan AbilityLab (OH-362, 09/01/2020-115KAS) is an approved provider of continuing nursing education by the Ohio Nurses Association (OBN-001-91), an accredited approver by the American Nurses Credentialing Center's Commission on Accreditation.
This CNE is being offered for 1.0 contact hours OH-362, 09/01/2020-115KAS
Social Work
The Shirley Ryan AbilityLab is registered by the State of Illinois to sponsor continuing education programs for social workers. This program will award 1 Continuing Education Credit Hour. Sponsor License #159001466
DisclosuresFinancial:
 Receives an Honorarium for teaching this course from the Shirley Ryan AbilityLab
Non-Financial: No non-financial disclosures at this time
Collections
Online Learning Nurses Occupational Therapists Occupational Therapy Assistants Physical Therapist Assistants Physical Therapists Speech Language Pathologists Social Workers