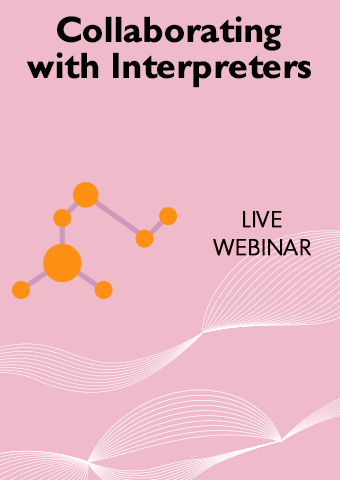 Z 11/28/18: Collaborating with Interpreters to Connect with Patients Across Language and Culture
November 28, 2018
4:00 to 5:30 pm. CST

The registration for this webinar will close on November 28, at 12:00 pm cst.

Instructor: Matthew Ginsberg-Jaeckle, MA, CHI, Program Manager, Global Patient Services, Shirley Ryan AbilityLab
Audience: Physical Therapists, Physical Therapist Assistants, Occupational Therapists, Occupational Therapy Assistants, Speech-Language Pathologists, Social Workers
Description:
This webinar aims to prepare clinicians with information regarding the best practices in collaborating with trained healthcare interpreters, with an emphasis on maximizing direct patient-clinician connections that transcend linguistic and cultural difference. Some clinicians view interpreters as a necessary nuisance, at best. Others try to use them for functions that go beyond their role and can detract from the patient-clinician relationship. In between these extremes, interpreters can be a gift to clinicians and patients alike, as their expertise is not just around language and culture, but about effective facilitation of a relationship across linguistic and cultural divides. An ever-increasing body of literature demonstrates the importance of strong patient-clinician relationships and direct communication not just to improving patient satisfaction but also to directly improving clinical outcomes, treatment compliance, and effective diagnosis. This webinar aims to equip clinicians with the tools and understanding necessary to improve their collaboration with interpreters in order to connect just as well or better with patients with limited English proficiency as they do with native English speakers.
Objectives: Upon completion of this course, participants will be able to:
Explain the clinical and social-emotional importance of a strong patient-clinician connection
Describe how to work with healthcare interpreters to overcome linguistic and cultural divides
Outline  how to control the length and speed of utterances to enhance the accuracy of interpreting
Summarize the key legal, regulatory and ethical frameworks with regards to healthcare interpreting
Apply pro-active communication strategies to ensure understanding as well as identify potential obstacles to that understanding
Continuing Education Credits
Athletic Training
The Shirley Ryan AbilityLab BOC Approved Provider Number: P794 is approved by the Board of Certification, Inc. to provide continuing education to Athletic Trainers. This program is eligible for a maximum of 1.5 cumulative Category A hours/CEUs. ATs should register for the course and claim only those hours actually spent in the educational program. According to the education levels described by the PDC, the following continuing education course is considered to be Essential Level.
Physical Therapy 
This course has been approved by the Illinois Physical Therapy Board for 1.5.Contact Hour. Approval #216-000069
Occupational Therapy 

The Shirley Ryan AbilityLab is an approved provider for the American Occupational Therapy Association to offer continuing education in occupational therapy. This intermediate level program awards occupational therapists 0.15 CEUs or 1.5 contact hours. The assignment of AOTA CEUs does not imply endorsement of specific course content, products, or clinical procedures by AOTA. Category 3: Professional Issues
Social Work
The Shiriley Ryan AbilityLab is registered by the State of Illinois to sponsor continuing education programs for social workers.  This program will award 1.5 CEU.
Speech-Language Pathology 
This course is offered for 0.15 ASHA CEUs (Introductory level, Related area)