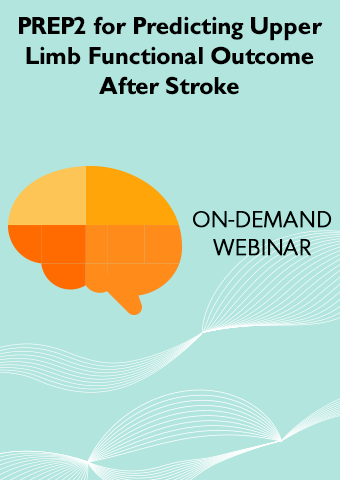 PREP2 for Predicting Upper Limb Functional Outcome After Stroke: Why and How
Description: Recovery of upper limb function after stroke is important for regaining independence. Being able to accurately predict each patient's potential for recovering upper limb function would help to set realistic rehabilitation goals, and effectively manage time and resources. However, making accurate predictions can be difficult when based on clinical judgement alone, particularly for patients with moderate to severe initial impairment.
The PREP2 algorithm combines simple clinical and neurophysiological assessments to make accurate predictions of upper limb recovery for individual patients. It has been developed and validated, and is now being used in routine clinical care. PREP2 helps therapists to tailor rehabilitation for individual patients, and improves rehabilitation efficiency, with no detectable negative effects on patient satisfaction or outcomes.
This webinar will provide an overview of the evidence supporting the PREP2 algorithm and describe how to apply it in clinical practice.
Objectives: Upon completion of this course, participants will be able to:
Identify key factors that influence motor recovery and outcomes after stroke
Describe the difficulties faced by clinicians when predicting recovery of motor function with the initial days after stroke
Describe and discuss the potential benefits of accurate prognoses for patients, their families, and the clinical team
Identify the steps of the PREP2 algorithm
Described the evidence in support of the PREP2 algorithm
Examine and interpret the SAFE score, which is the first step of the PREP2 algorithm
Describe the principles and use of transcranial magnetic stimulation (TMS) for testing the functional integrity of the corticospinal tract after stroke
Select tailored rehabilitation goals for individual patients based on PREP2 algorithm predictions
Discuss the potential facilitators and barriers to the use of the PREP2 algorithm in clinical practice
Instructor: Catherine Stinear, PhD, Associate Professor, Department of Medicine, University of Auckland, New Zealand
Audience: Physical Therapists, Physical Therapist Assistants, Occupational Therapists, Occupational Therapy Assistants
Continuing Education Credits
 Physical Therapy 
This course has been approved by the Illinois Physical Therapy Board for 1.5 Contact Hours. Approval #216-000069.
The Shirley Ryan AbilityLab is recognized by the New York State Education Department's State Board for Physical Therapy as an approved provider of physical therapy and physical therapist assistant continuing education. This course has been approved for 1.5 contact hours.
Occupational Therapy 
Shirley Ryan AbilityLab is an approved provider for the American Occupational Therapy Association to offer continuing education in occupational therapy. This intermediate level program awards occupational therapists 0.15 CEUs or 1.5 contact hours. The assignment of AOTA CEUs does not imply endorsement of specific course content, products, or clinical procedures by AOTA. Category 2: OT Process- Evaluation.
Basic Computer Requirements: You will need access to a computer with an Internet connection. High speed broadband access (LAN, Cable or DSL) is highly recommended.
PC: Compatible Operating System: Windows XP, Vista, 7, 8, 8.1 Web Browser: Firefox, Chrome, Internet Explorer 10 or higher
MAC: Compatible Operating System: OS X Web Browser: Firefox, Chrome, Safari
Cancellation Policy: To request a cancellation of an on-demand program, please provide written notice by letter, email, or fax or contact us by phone within 24 hours of placing your order and we will refund you the full course fee. If you cannot give notice within 24 hours, a credit towards a future course of equal value would apply.
Collections
Online Learning Occupational Therapists OTA and PTA Physical Therapists