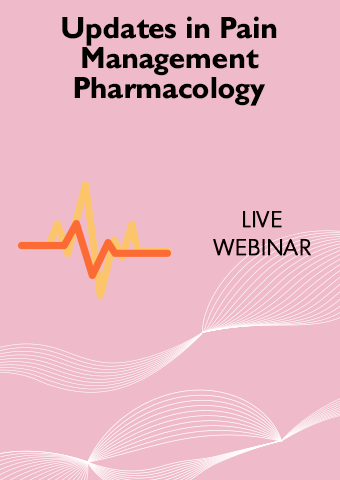 02/06/19: Updates in Pain Management Pharmacology: Clinical Implications and Side Effects
February 6, 2019
4:00 to 5:00 pm. CST

The registration for this webinar will close on February 6, at 12:00 pm cst.

Instructor: Shana Margolis, MD, Attending Physician Shirley Ryan Ability Lab; Assistant Professor Northwestern University Feinberg School of Medicine

Audience: Physical Therapists, Physical Therapist Assistants, Occupational Therapists, Occupational Therapy Assistants, Nurses

Description: Chronic pain is a nationwide epidemic, leading to decreased functionality, productivity, and significant health care costs. With the current opioid crisis, pain management pharmacology is an important topic.  Proper management of opioid and non-opioid treatments is essential for the safe management of pain.
Objectives: Upon completion of this course, participants will be able to:
Summarize the current opioid crisis
Discuss non opioid management for pain including analgesics, antidepressants, anticonvulsants, and anti-inflammatories.
Describe prudent and proper opioid management
Explain how interdisciplinary pain management can empower patients to manage their pain, maintain a healthy lifestyle, return to work, and minimize their medication burden.
Continuing Education Credits
Physical Therapy 
This course has been approved by the Illinois Physical Therapy Board for 1 Contact Hour. Approval #216-000069.
The Shirley Ryan AbilityLab is recognized by the New York State Education Department's State Board for Physical Therapy as an approved provider of physical therapy and physical therapist assistant continuing education. This course has been approved for 1 contact hour.
Occupational Therapy 
Shirley Ryan AbilityLab is an approved provider for the American Occupational Therapy Association to offer continuing education in occupational therapy. This introductory level program awards occupational therapists 0.10 CEUs or 1 contact hour. The assignment of AOTA CEUs does not imply endorsement of specific course content, products, or clinical procedures by AOTA. Category 2: OT Process
Nursing
The Shirley Ryan AbilityLab is an approved provider of continuing nursing education by the Ohio Nurses Association (OBN-001-91), an accredited approver by the American Nurses Credentialing Center's Commission on Accreditation.
OH-362, 9/01/2020-66KAS
This CNE activity is being offered for 1.0 contact hours