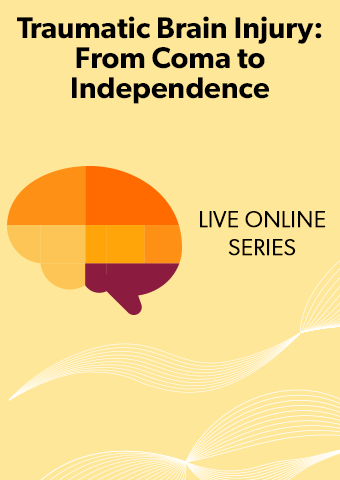 Z 1/13-2/17 Traumatic Brain Injury: From Coma to Independence
Early Bird Tuition: $450 Until November 30, 2020. After November 30th
Tuition : $500
Online series runs over 6 weeks

Recordings available ON-DEMAND if you miss a live session

Interactive group discussion board to interface with faculty and classmates
Description:  In this interdisciplinary online course, will follow the sequelae of recovery in a patient with a severe Traumatic Brain Injury (TBI). Esteemed faculty will lead participants from Disorders of Consciousness (Ranchos Los Amigos I-III), and then into the challenging Rancho IV population where behavior and agitation/aggression is often seen. Physician, clinicians, and nurses will provide the foundation of understanding related to this level of recovery, as well as practical suggestions and applications when working with individuals currently at this level of recovery. Progressing through recovery periods of confusion, Post Traumatic Amnesia, and increasing levels of awareness and independence will be discussed. The concept of returning to meaningful activity, and facilitation suggestions of how to accomplish this will be presented. Finally, the idea of ethics and decision making in these sequelae will conclude the course.
This course will offer both pre- and post- work, as well as live (and on-demand) 90 minute sessions each week. Participants will engage in the review of evidence based practice, application of skills through post tests and case-based application, and discussion with peers on the course discussion board. Content will be both informational, and applicable to daily clinical practice.

Click Here to Download the Course Brochure
Click Here to Download the Course Syllabus  
Successful completion: Participants will attend 6 online lectures (total of 9 hours) and will complete 4.5 hours of self-study pre/post work. The self-study activities for the course will consist of viewing of a pre-work module, readings, questions, scoring video clips, and a case study. There will also be interactions with faculty and classmates through discussion boards.
Course Objectives: Upon completion of this course, participants will be able to:
Define coma, the vegetative state, and the minimally conscious state.
Identify one emerging technology that may enhance patient assessment or treatment when working with patients in a disordered state of consciousness.
Discuss the quantity and quality of post-traumatic agitation.
Explain risk factors for post-traumatic agitation.
Utilize the Agitated Behavior Scale (ABS) to rate a patient's level of agitation and use it as a communication tool.
Describe an interdisciplinary team approach to behavior management to facilitate. participation of the patient with agitated-like behaviors in a rehabilitation setting.
Identify evidence-based strategies to assess for emergence from post-traumatic amnesia.
Develop an interdisciplinary plan of care for patients in the Rancho V, VI, VII stages of TBI recovery.
Identify common cognitive problems associated with Ranchos Level VIII to X following TBI.
Describe how the use of Goal Attainment Scaling promotes goal achievement and the development of self-regulation after brain injury.
Define ethical constructs of autonomy, nonmalficence, beneficence, respect, justice, and confidentiality.
Apply knowledge of differences in client with TBI and family caregiver perspectives, clinical biases, and ethical dilemmas when discussing real world, safety risk case studies.
Audience: Physical Therapists, Physical Therapist Assistants, Occupational Therapists, Occupational Therapy Assistants, and Speech-Language Pathologists, Physicians (not for CME), Advanced Practice Providers (Physician Assistants and Advanced Practice Nurses), Nurses, Social Workers, and Psychologists.
CONTINUING EDUCATION CREDIT
Physical Therapy
This online course has been approved by the Illinois Physical Therapy Board for 13.5 contact Hours (4.5 hours pre-work & 9.0 hours live). Approval #216-000069
The Shirley Ryan AbilityLab is recognized by the New York State Education Department's State Board of Physical Therapy as an approved provider of physical therapy and physical therapist assistant continuing education. This course has been approved by the New York Physical Therapy Board for 13.5 Contact Hours (4.5 hours pre-work & 9.0 hours live).
The following states require continuing education units or contact hours with no state specific approval: CT, IA, and WA.
Occupational Therapy
Shirley Ryan AbilityLab is an AOTA Approved Provider of professional development. Course approval ID# 1036. This blended/hybrid course is offered at 1.35 CEUs [intermediate level, Foundational Knowledge/OT Service Delivery]. AOTA does not endorse specific course content, products, or clinical procedures.
Nursing
The Shirley Ryan AbilityLab (P0609-11/30/2022) is approved as a provider of nursing continuing professional development by the American Nurses Credentialing Center's Commission on Accreditation.
This CNE is being offered for 13.5 contact hours of continuing nursing education.
Social Work
The Shirley Ryan AbilityLab is registered by the State of Illinois to sponsor continuing education programs for social workers. This program will award 1.35 CEU. 
Speech Language Pathologists
This course is offered for up to 1.35 ASHA CEUs (Intermediate level, Professional area).
A full list of faculty disclosures for ASHA if available: HERE
Technology Requirements
To participate, you will need the following:
Access to a computer with an Internet connection. High-speed broadband access (LAN, Cable or DSL) is highly recommended.
Phone
Internet connection
Web browser: Internet Explorer 8+, Firefox 2+, Safari 1.2+, Google Chrome
JavaScript and Cookies enabled
Flash Player 9+
Speaker or headset to listen to audio files and participate in conference calls
Collections
Occupational Therapists Occupational Therapy Assistants OTA and PTA Physical Therapist Assistants Physical Therapists Physicians Speech Language Pathologists Nurses Social Workers