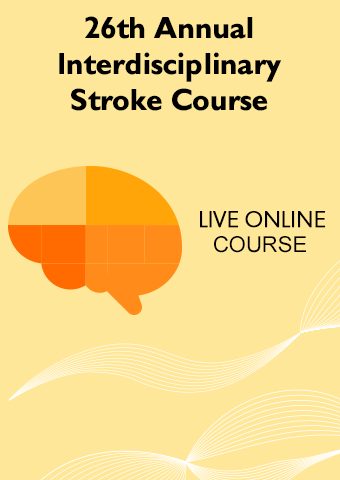 7/9 - 7/10: 26th Annual Interdisciplinary Stroke Course: In For The Long-Haul: Clinical Rehabilitation After the Hospital
Attend our Annual Stroke Course ONLINE for the first time ever!
Internationally Renowned Keynotes

Earn up to 13.5 Contact Hours in 2 Days

Lectures, Case Studies and Panel Discussions

Plus choose 4 workshops to attend (3 workshop track for SLPs) 

After sustaining a life-changing stroke, our patients begin the long process of recovery, and they are on that journey for the "long-haul." This post-acute-care hospital journey often begins in Inpatient Rehabilitation, before quickly transitioning to Outpatient therapies, and finally into the adjustment of living in the community post-stroke. Distinct needs and requests are noted at each stage for the patient and their families/caregivers. This interdisciplinary course will highlight and address many of those needs and requests along the journey. Our first keynote speaker will discuss research that optimizes long-term upper and lower extremity function post stroke. Day one will also include a panel of stroke survivors who will share their personal journeys through the recovery process upon discharge.  Workshops on the first day will explore high intensity gait, non- pharmacological spasticity management, and the art and science of delivering excellent patient education. 
Day two of our course will begin with a keynote speaker who will discuss how clinical care can impact the long-term outcomes for survivors. Participants will then engage in a choice of workshops exploring supportive communication techniques, shoulder function and pain management, Dysphagia post stroke, and long-term exercise compliance. Learners will then examine assistive technologies and augmentative and alternative communication technologies available for stroke survivors to promote independence.
Our course will conclude with a look at vocational rehabilitation services and the transition to the community, post-stroke. 
Click Here for Complete Course Brochure and Faculty Info 
SUCCESSFUL COMPLETION:
Participants will complete 1.5 hours of self-study activities in advance of this two day-live online course (earning 1.5 contact hours + up to 12.0 live online contact hours = up to 13.5 contact hours). In order to receive their contact hours, during the in-person portion of the course, participants must sign in each session and complete an online evaluation.
AUDIENCE:
This course is intended for Physical Therapists, Physical Therapist Assistants, Occupational Therapists, Occupational Therapy Assistants, Social Workers, Nurses, and Speech-Language Pathologists
Workshop Options: You will register above for 4 workshops.  Download course brochure to see the complete descriptions and schedule of these sessions. SLP's please note: there are workshops where credit is not awarded for your discipline.
High Intensity Gait ((Not Applicable for ASHA CEUs) 
A Non-Pharmacy Approach to Spasticity Management: Sub-grouping Spasticity for Therapeutic Exercise Selection (Not Applicable forASHA CEUs) 
The Fine Art and Science in Delivering Excellent Patient Education 
Supportive Communication Techniques for Interacting with Patients: Practical Instruction and Hands-On Practice
Hemiplegic Shoulder Pain Management (Not Applicable for ASHA CEUs) 
Solutions to Long Term Exercise Compliance After Stroke (Not Applicable for ASHA CEUs)
Dysphagia Rehabilitation Across The Continuum of Care
OBJECTIVES:
Upon completion of this course, participants will be able to:
Describe the necessary components to optimizing long-term upper and lower extremity function after stroke
Discuss the steps clinicians can take within the clinic setting to change the long-term outcomes for stroke survivors
Summarize the evidence supporting high-intensity gait training in the stroke patient population, and strategies to implement these principles in the clinic environment
Differentiate subjective and objective characteristics for spasticity mediated by the peripheral nervous system patient profiles
Describe evidence based treatment modalities when treating dysphagia across the continuum of care, and apply those approaches in case study scenarios
Identify the aspects of the Patient Centered Education Model (PCEM), and practice those principles in interactive case studies to strengthen carryover into clinical practice
State current technologies to enhance independence in the home and at work.
State the evidence-based principles and strategies to promote supportive communication, and apply those principles through practice and demonstration
Describe practice of evidence based interventions to address upper extremity function and pain post stroke
Summarize the American Physical Therapy Association clinical practice guidelines related to locomotion in chronic stroke survivors, and express how those guidelines can be applied to functional exercise in the long-term
State the process and goals of vocational rehabilitation related to a variety of different outcomes post stroke
CONTINUING EDUCATION CREDIT
Occupational Therapy
The Shirley Ryan AbilityLab is an approved provider for the American Occupational Therapy Association to offer continuing education in occupational therapy. The two-day intermediate level program awards occupational therapists 1.35 CEU or 13.50 contact hours of distance learning (12 Interactive & 1.5 Independent). The assignment of AOTA CEUs does not imply endorsement of specific course content, products, or clinical procedures by AOTA. AOTA CLASSIFICATION CODE: CATEGORY 2: OT Process – Evaluation & Intervention.
Physical Therapy  
This two-day course has been approved by the Illinois Physical Therapy Board for 13.5 contact Hours (1.5 hours pre-work & 12.0 hours live). Approval #216-000069
The Shirley Ryan AbilityLab is recognized by the New York State Education Department's State Board of Physical Therapy as an approved provider of physical therapy and physical therapist assistant continuing education. This course has been approved by the New York Physical Therapy Board for 13.5 Contact Hours (1.5 hours pre-work & 12.0 hours live).
Nursing  
 Shirley Ryan AbilityLab (OH-362) is approved as a provider of nursing continuing professional development by the Ohio Nurses Association, an accredited approver by the American Nurses Credentialing Center's Commission on Accreditation (live content: OH-362, 12/01/2020-126KAS; pre-work OH-362, 12/01/2020-126pKAS)
This CNE activity is being offered for 12 (live) and 1.5 (pre-work) contact hours.
Social Work
The Shirley Ryan AbilityLab is registered by the State of Illinois to sponsor continuing education programs for social workers. This program will award 4.0 CEU (approved content: The Fine Art and Science in Delivering Excellent Patient Education (1.5 hours), Patient Panel (1 hour), and Supportive Communication Techniques for Interacting with Patients: Practical Instruction and Hands-On Practice (1.5 hours).
Speech-Language Pathology

This course is offered for up to 1.20 ASHA CEUs (Intermediate level, Professional area).
 A full list of faculty disclosures for ASHA is available at: https://ricacademy.sharefile.com/d-sb99ec87b6604dbd9
Technical Requirements
The program will be held online.  To participate, you will need access to a device with internet connection.  Computers, laptops, iOS and Android devices are supported.  High-speed broadband internet access (LAN, Cable, or DSL) is highly recommended.
Additional requirements include:
Web browser and version: Internet Explorer 11+, Firefox 27+, Safari 7+, or Google Chrome 30+
JavaScript and Cookies enabled
Flash Player 9+
Speaker or headset to listen to recorded audio files
Speaker or headset or phone to listen to webinar facilitators
Collections
Nurses Occupational Therapists Occupational Therapy Assistants OTA and PTA Physical Therapist Assistants Physical Therapists Physicians Speech Language Pathologists