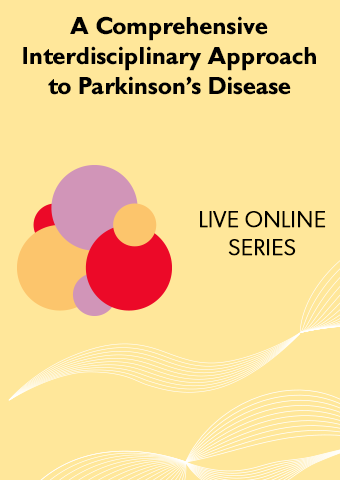 6/24-7/29 A Comprehensive Interdisciplinary Approach to Parkinson's Disease
Endorsed by the International Parkinson
and Movement Disorder Society
Online series runs over 6 weeks

Recordings available ON-DEMAND if you miss a live session

No travel needed to participate in this comprehensive course

Interactive group discussion board to interface with faculty and classmates
Description: Parkinson's Disease (PD) is one of the most common neurological diseases, with over ten million people living with the disease worldwide. It can impact gait, balance, fine motor control, cognitive abilities and communication skills as well as activities of daily living and psychosocial relationships. This live, online series will focus on the interdisciplinary collaborative care of individuals with PD.  A team of experts will lead you through the progression of the disease, best practices and applicable clinical skills.  They will highlight unique aspects of the disease, including both motor and non-motor symptoms as well as special topics regarding vision, hydration and nutrition, and sexuality/intimacy as related to PD.  The course will conclude with an in-depth look at how PD impacts caregivers and their role in this journey and how the interdisciplinary team can support them.  Participants will have an opportunity to learn both in and outside of the virtual classroom, collaborate with faculty and their peers through message boards, and discuss cases and best practices when working with the PD population.
Successful completion: Participants will attend 6 online lectures (total of 7.5 hours) and will complete 4 hours of self-study.  The self study activities for the course will consist of readings, questions, and case studies.  There will also be interactions with faculty and classmates through discussion boards, and Q&A.
Course Objectives: Upon completion of this course, participants will be able to:
Identify common motor and non-motor symptoms of PD
Formulate a plan for potential treatments for motor and non-motor symptoms of PD
Discuss the interdisciplinary team's role in managing motor symptoms from early to advanced disease
Identify common visual changes in PD and how each discipline may contribute to the management and coping with visual dysfunction
Summarize nutritional, swallowing, and eating needs, as well as potential physical and cognitive changes that can impact needs in patients with PD
Describe how PD can affect sexuality, intimacy and relationships and how the team's can facilitate management of these changes
Integrate the caregiver point of view in planning a treatment programs for motor and non-motor symptoms of PD
Audience: Physical Therapists, Physical Therapist Assistants, Occupational Therapists, Occupational Therapy Assistants, and Speech-Language Pathologists, Physicians (not for CME), Advanced Practice Providers (Physician Assistants, Advanced Practice Nurses), Social Work, Nurses, and Psychologists.
CONTINUING EDUCATION CREDIT
Physical Therapy
This online course has been approved by the Illinois Physical Therapy Board for 11.5 contact Hours (4.0 hours pre-work & 7.5 hours live). Approval #216-000069
 The Shirley Ryan AbilityLab is recognized by the New York State Education Department's State Board of Physical Therapy as an approved provider of physical therapy and physical therapist assistant continuing education.  This course has been approved by the New York Physical Therapy Board for 11.5 Contact Hours (4.0 hours pre-work & 7.5 hours live).
Occupational Therapy
The Shirley Ryan AbilityLab is an approved provider for the American Occupational Therapy Association to offer continuing education in occupational therapy. The two-day intermediate level program awards occupational therapists 1.15 CEU or 11.50 contact hours (7.5 Live & 4.0 Self-Study).  The assignment of AOTA CEUs does not imply endorsement of specific course content, products, or clinical procedures by AOTA.  AOTA CLASSIFICATION CODE: CATEGORY 1: DOMAIN OF OT: Performance Skills; CATEGORY 2: OT Process – Activity and Occupational Demands.
Speech Language Pathologists
This course is offered for up to 1.15 ASHA CEUs (Intermediate level, Professional area).
A full list of faculty disclosures for ASHA if available: HERE
Technology Requirements
To participate, you will need the following:
Access to a computer with an Internet connection. High-speed broadband access (LAN, Cable or DSL) is highly recommended.
Phone
Internet connection
Web browser: Internet Explorer 8+, Firefox 2+, Safari 1.2+, Google Chrome
JavaScript and Cookies enabled
Flash Player 9+
Speaker or headset to listen to audio files and participate in conference calls
Collections
Occupational Therapists Occupational Therapy Assistants OTA and PTA Physical Therapist Assistants Physical Therapists Physicians Speech Language Pathologists