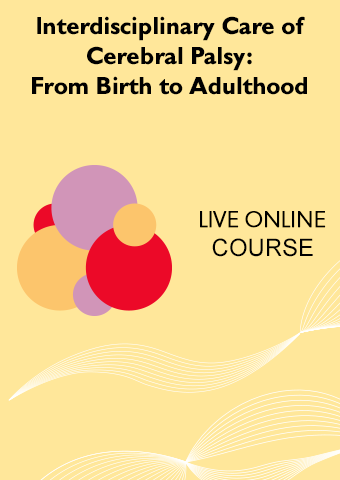 Z 08/27-08/28 Interdisciplinary Care of Cerebral Palsy: From Birth to Adulthood
Attend the CP course, without ever having to leave home!
Individuals with Cerebral Palsy (CP) are able to live long, fulfilling, and active lifestyles. This course will explore the unique health and rehabilitation considerations, both clinical and surgical, that help these individuals maximize function and mobility from birth through adulthood. We will discuss the decision making that is an integral part of patient management as an interdisciplinary team.  Furthermore, we will explore the transition to adulthood and what that means for these individuals' access to healthcare and specific providers, independence, and community involvement. We will review an ideal model of care for patients with CP including the use of outcome measures, research tools and new technologies. Day 1 will focus on early detection and lifespan management of CP, as well as therapy dosage recommendations and equipment that promotes independence. Day 2 will address debated conservative vs. surgical orthopedic management, as we consider cases on tone and spasticity management, aging, and transition. 
Keynote Speaker:
Helen Bourke-Taylor, PhD is a Fellow of the Occupational Therapy Australia Research Academy, Associate Professor, Research Honours Coordinator, Occupational Therapy Program, School of Primary and Allied Health Care, Faculty of Medicine, Nursing and Health Sciences, Monash University – Peninsula Campus, Melbourne, Australia
Program Chairs:
Luciano Dias, MD is Medical Director of the Motion Analysis Lab, Shirley Ryan AbilityLab and Professor of Orthopaedic Surgery at Northwestern Feinberg School of Medicine.
Deborah Gaebler-Spira, MD, FAAP is Director of the Cerebral Palsy Program at Shirley Ryan AbilityLab and Professor of Pediatrics and PM&R at Northwestern Feinberg School of Medicine; Pediatric Amputee Chief.
Click here for complete course brochure
AUDIENCE: 
Physical Therapists, Physical Therapist Assistants, Occupational Therapists, Occupational Therapy Assistants, Early Intervention Practitioners, Social Workers, Nurses, Orthotists, Orthotic Assistants, Orthotic Technicians, and Physicians: Physical Medicine and Rehabilitation, Orthopedics, Neurologists, Developmental Pediatricians, Pediatricians, Family Medicine Specialists (not offering CME),
SUCCESSFUL COMPLETION:
In order to receive contact hours, daily sign in and completion of an on-line evaluation are required. Participants will complete 2.25 hours of online, self-study activity in advance of this two-day course which will help provide a foundation for early identification and classification of CP, as well as the case review on spasticity management.
OBJECTIVES:
Upon completion of this course, participants will be able to:
Identify what makes caring for the person with Cerebral Palsy (CP), in terms of clinical management, rehabilitation programs, and transition, unique across the lifespan.
Review changes in clinical care across the continuum of patient management for individuals with CP.
Discuss key outcome tools to classify people with CP in order to predict severity of neurologic and motor function and individualize their healthcare needs based on complex clinical reasoning.
Describe new and innovative approaches to therapy, including dosage/intensity, early power mobility, equipment, motion analysis, serial casting, robotics and orthoses.
Determine orthopedic care considerations for children with CP, including surgical and nonsurgical options.
Distinguish realistic goal-setting and how to best advocate for people with CP of all ages while facilitating the transition from pediatric to adult-based care in this aging population.
Workshop Options: You will register for 1 of 2 tracks of workshops. Note that these fill up on a first come, first served basis. Download the course brochure to see the complete descriptions and schedule of these sessions:
Track 1:
Motion Analysis Evaluation of Lower Extremity
Lower Extremity Serial Casting
Lower Extremity Orthoses: A Review to Optimize Positioning and Function
Track 2:
Upper Extremity Evaluation and CIMT
Upper Extremity Serial Casting
Upper Extremity Orthoses
CONTINUING EDUCATION CREDIT
Nursing
Shirley Ryan AbilityLab (OH-362, 12/01/2020-137KAS) is approved as a provider of nursing continuing professional development by the Ohio Nurses Association, an accredited approver by the American Nurses Credentialing Center's Commission on Accreditation. (OBN-001-91) This course will offer 11.5 contact hours (2.25 pre-work & 9.25 live online).
Physical Therapy
This course has been approved by the Illinois Physical Therapy Board for 11.5 Contact Hours (2.25 hours Self-Study, 9.25 hours live). Approval #216-000069 
The Shirley Ryan AbilityLab is recognized by the New York State Education Department's State Board for Physical Therapy as an approved provider of physical therapy and physical therapist assistant continuing education. This two-day course has been approved for 11.5 Contact Hours (2.25 Self-Study, 9.25 live). 
Occupational Therapy
The Shirley Ryan AbilityLab is an approved provider for the American Occupational Therapy Association to offer continuing education in occupational therapy. This two-day intermediate level program awards occupational therapists 1.15 CEUs or 11.5 contact hours (2.25 hours for pre-work & 9.25 hours live). The assignment of AOTA CEUs does not imply endorsement of specific course content, products, or clinical procedures by AOTA.  AOTA CLASSIFICATION CODE: CATEGORY 1: Domain of OT – Client Factors; CATEGORY 2: Occupational Therapy Process – Intervention and Outcomes.
Orthotics 

This program has been approved for up to 11 credits through the American Board for Certification in O&P (ABC) for Orthotists, Orthotic Assistants, and Orthotic Technicians. Full participation in this program is required to be eligible for the full amount of credits.
Social Work
Shirley Ryan AbilityLab is recognized as an Illinois Social Work Continuing Education Sponsor. This program awards social workers 1.5 continuing education hours. The following sessions apply: Marvelous Mothers I have Met, Facilitating the Transition from Childhood to Adulthood, and Transition Journey: From Pediatrics to Adult Care.
Early Intervention
The Illinois Early Intervention Training Program has approved this event for 10.5 hours of EI credential credit in the area of 6.75 – Intervention, 2 – Atypical Development, 1 – Assessment, .75 – Working with Families.
http://www.illinoiseitraining.org/page.aspx?module=15&type=1&item=1&eventid=22191
Collections
Nurses Occupational Therapists Occupational Therapy Assistants OTA and PTA Physical Therapist Assistants Physical Therapists Physicians Social Workers Orthotic Assistants Orthotic Technicians Orthotists