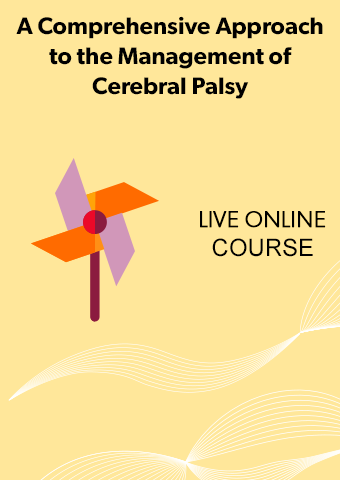 Z 8/26-8/27 A Comprehensive Approach to the Management of Cerebral Palsy: 3-12 Years
Attend the 2nd Annual CP course, without leaving the comforts of home!
This 2 day, online course will explore a holistic approach to the management of children with cerebral palsy, focusing on the relationship between body function, participation and the child's environment.  Traditionally the biomedical model of treating children and their impairments has not always translated to functional improvements.  The movement towards collaboration across all levels of care and within the child's different environmental contexts is pivotal in order to focus on the most important aspects of the child's development. Didactic content will discuss the importance of surgical and therapeutic management for both the upper and lower extremity. Innovative therapy will be emphasized for the child between 3-12 years of age, essential ages for goal achievement and participation. Inclusion of community based care and discussions on parents' perspectives of care will allow an in-depth exploration of the barriers to overall participation. This course will focus on clinical decision-making exploration and collaboration for consistent care and support for children and families.
Keynote Speaker:
Peter Rosenbaum MD, FRCP(C), DSc (HC) 
is a ), co-founder of the world recognized CanChild Center for Childhood Disability Research and Patricia Sharp OTD, MS, OTR/L, BCP, Certified CO-OP Therapist and Instructor from Cincinnati Children's
Program Chairs:
Gadi Revivo, DO is Assistant Medical Director of the Pediatric and Adolescent Rehabilitation Program, Shirley Ryan AbilityLab and Assistant Professor, Department of PM&R at Northwestern Feinberg School of Medicine.
Ana-Marie Rojas, MD, is a Pediatric Physiatrist at Shirley Ryan AbilityLab 
Click HERE for complete course brochure

AUDIENCE: 
Physical Therapists, Physical Therapist Assistants, Occupational Therapists, Occupational Therapy Assistants, Early Intervention Practitioners, Social Workers, Nurses, Orthotists, Orthotic Assistants, Orthotic Technicians, and Physicians: Physical Medicine and Rehabilitation, Orthopedics, Neurologists, Developmental Pediatricians, Pediatricians, and Family Medicine Specialists (not offering CME).
SUCCESSFUL COMPLETION:
In order to receive contact hours, daily sign in and completion of an on-line evaluation are required. Participants will complete 2 hours of online, self-study activity in advance of this two-day course. Pre-work will  provide a foundation for the classification of CP, review spasticity management and the discuss the use of the 6 F-words as the contextual theme for the course.
OBJECTIVES:
Upon completion of this course, participants will be able to:
Describe innovative approaches to therapy for children with CP, 3-12 years old.
Review the clinical decision making required to recommend various techniques or intervention.
Identify strategies to assist in the implementation of telehealth as a medium for rehabilitation services.
Identify key community resources to assist in providing a holistic therapy plan for children with CP.
Describe how the collaboration among medical team, family and community is integral in providing holistic care for children with CP
Review the timeline for monitoring, evaluation and management of orthopedic complications associated with children with CP and their level of function.
Workshop Options: You will register for 1 of the 2 workshops listed below. Note that these fill up on a first come, first served basis. Download the course brochure to see the complete descriptions and schedule of these sessions:
Track 1: Clinical Decision Making for the Management of the Lower Extremity
Track 2: Clinical Decision Making for the Management of the Upper Extremity

CONTINUING EDUCATION CREDIT
Nursing
The Shirley Ryan AbilityLab (P0609-11/30/2022) is accredited as a provider of nursing continuing professional development by the American Nurses Credentialing Center's Commission on Accreditation. This CNE is being offered for 14.75 contact hours (includes 1.0 Pharmacology contact hours).
Occupational Therapy
The Shirley Ryan AbilityLab is an approved provider for the American Occupational Therapy Association to offer continuing education in occupational therapy. Course approval ID#0000001701. This two-day intermediate level program awards occupational therapists 1.45 CEUs or 14.5 contact hours (2 hours for pre-work & 12.5 hours live). The assignment of AOTA CEUs does not imply endorsement of specific course content, products, or clinical procedures by AOTA.  AOTA CLASSIFICATION CODE: CATEGORY 1: Domain of OT – Client Factors; CATEGORY 2: Occupational Therapy Process – Intervention and Outcomes.
Orthotics
This program has applied for 14.5 credits through the American Board for Certification in O&P (ABC) for Orthotists, Orthotic Assistants, Orthotic Technicians, and Orthotic Fitters and Pedorthists. Full participation in this program is required to be eligible for the full amount of credits.
Physical Therapy
This two-day course has been approved by the Illinois Physical Therapy Board for 14.5 contact Hours (12.5 live and 2.0 Self-study). Approval #216-000069 The Shirley Ryan AbilityLab is recognized by the New York State Education Department's State Board for Physical Therapy as an approved provider of physical therapy and physical therapist assistant continuing education. This two-day course has been approved for 14.5 Contact Hours (12.5 live and 2.0 Self-study) The following states require continuing education units with no state specific approval: CT, IA, and WA
Social Work
Shirley Ryan AbilityLab is recognized as an Illinois Social Work Continuing Education Sponsor. This program awards social workers 3.5 continuing education hours. The following sessions apply: 6 F-Words in Childhood Disability, CanChild Workshop, Vocalizing the F-Words: Assistive Technology to Enhance Communication and Community Participation, Outpatient vs School Based Therapy: The Difference and Importance of Communication and Team Collaboration, Accessing and Advocating: Unique Perspective of Families Successes and Challenges.
Collections
Nurses Occupational Therapists Occupational Therapy Assistants Orthotic Assistants Orthotic Technicians Orthotists Physical Therapist Assistants Physical Therapists Social Workers