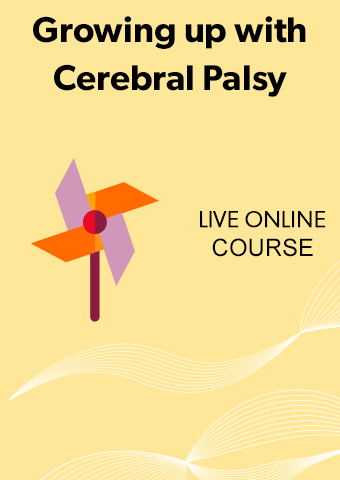 Z 8/18-8/19 Growing up with Cerebral Palsy: The Teenage Years
Attend the 3rd Annual CP course, without leaving the comforts of home!
The transition from adolescence to adulthood in children with Cerebral Palsy (CP) is an important milestone for the rehabilitation practitioner.  This 2 day, online course seeks to emphasize the management of CP and its impact on social, family and community engagement in adolescence to early adulthood(ages 13-21). This course will move through 4 major themes over the span of two days focusing on aging and growth. Our format will allow for a live dynamic discussion between experts in the field. The first day will address the impact of aging on the muscle of an adolescent with CP and how this affects their rehabilitation management. We will transition through aging,  addressing issues surrounding sexuality as the adolescent matures with a disability.  We will also discuss pain in the aging child with CP and its impacts on participation and overall health. The second day will address the importance of exercise, fitness and sport for the teenage child. A panel discussion of individuals with CP will provide a first hand dialogue on how sport and fitness have shaped lives. As in previous years, the course will end with a review of major orthopedic surgeries relevant to this age group.  A live panel discussion will tie in the major themes over the course and highlight the importance of collaboration between health care practitioners during the transition to the adult world.
Click HERE for complete course brochure

AUDIENCE: 
Advanced Practice Provider (APN's and PA's), Nurses (outpatient, inpatient), Occupational Therapists, Occupational Therapy Assistants, Orthotic Assistants, Orthotic Technicians, Orthotists, Physical Therapist Assistants, Physical Therapists, Social Workers, and Physicians (including Residents and Fellows): Physiatrists, Orthopedics, Neurologists, Pediatricians, and Family Medicine Specialists.
Objectives: Upon completion of this course, participants will be able to:
Identify how the clinical implications of aging with cerebral palsy impacts treatment recommendations.
Describe how factors that contribute to pain in the adolescent with CP informs treatment planning.
Describe the common orthopedic surgeries in the feet and hands for adolescence between the age of 13-21
Select appropriate rehabilitation interventions to use for the adolescent with CP between the ages of 13-21.
Identify key community resources to assist families in making the transition from adolescence to adult services.
SUCCESSFUL COMPLETION:
In order to receive contact hours, daily sign in and completion of an on-line evaluation are required. Participants will complete 0.5 hours of online, self-study activity in advance of this two-day course. Pre-work provides a foundation for the use of neurotoxins to manage spasticity. Additional prework has been added to the course related to spascticity management and the use of the 6 F's as a theoretical framework. Please note the prework marked optional was a required part of the course in previous years, therefore no CE will be awarded for these optional activities.
Program Chairs:
Gadi Revivo, DO is Section Chief, Pediatric and Adolescent Rehabilitation Program
Shirley Ryan AbilityLab, Shirley Ryan AbilityLab and Assistant Professor, Department of PM&R at Northwestern Feinberg School of Medicine.
Ana-Marie Rojas, MD, is Pediatric Rehabilitation Fellowship Director, Shirley Ryan AbilityLab and Assistant Professor, Department of Physical Medicine and Rehabilitation Northwestern University Feinberg School of Medicine.

CONTINUING EDUCATION CREDIT 
Nursing

The Shirley Ryan AbilityLab is accredited as a provider of nursing continuing professional development by the American Nurses Credentialing Center's Commission on Accreditation. This CNE is being offered for 11.0 contact hours of continuing nursing education.
Occupational Therapy
Shirley Ryan AbilityLab is an AOTA Approved Provider of professional development. Course approval ID# 4141. This distance learning- interactive course is offered at 1.15 CEUs [intermediate level, Foundational knowledge/ OT Service Delivery]. AOTA does not endorse specific course content, products, or clinical procedures.
Orthotics
This program has been approved for up to 11.0 credits through the American Board for Certification in O&P (ABC) for Orthotists, Orthotic Assistants, and Orthotic Technicians. Full participation in this program is required to be eligible for the full amount of credits.
Physical Therapy
This two-day course has been approved by the Illinois Physical Therapy Board for 11.5 contact Hours (11.0 live and 0.5 Self-study). Approval #216-000069
The Shirley Ryan AbilityLab is recognized by the New York State Education Department's State Board for Physical Therapy as an approved provider of physical therapy and physical therapist assistant continuing education. This two-day course has been approved for 11.5 Contact Hours (11.0 live and 0.5 Self-study)
The following states require continuing education units with no state specific approval: CT, IA, and WA
Physician
The Rehabilitation Institute of Chicago DBA Shirley Ryan AbilityLab is accredited by the Illinois State Medical Society (ISMS) to provide continuing medical education for physicians.
The Rehabilitation Institute of Chicago DBA Shirley Ryan AbilityLab designates this live activity for a maximum of 11.50 AMA PRA Category 1 Credit(s)™. Physicians should claim only the credit commensurate with the extent of their participation in the activity.
Social Work
Shirley Ryan AbilityLab is recognized as an Illinois Social Work Continuing Education Sponsor. This program awards social workers 3.5 continuing education hours. The following sessions apply: Sexuality and CP, The Importance of Sport and Fitness, Teen Panel: How Sport and Fitness have changed my life, Psychocial Talk: Discussing Resources, Challenges, Barriers and Key Take Home for the Rehabilitation Professional.
Collections
Nurses Occupational Therapists Occupational Therapy Assistants Orthotic Assistants Orthotic Technicians Orthotists Physical Therapist Assistants Physical Therapists Physicians Social Workers