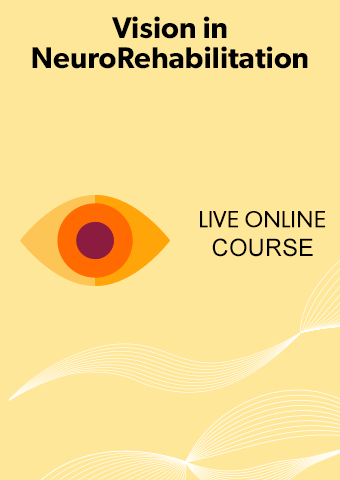 Z 4/05-5/10 Vision in NeuroRehabilitation: Practical Tools for Assessment & Management
100% online. 

Choose the Live Online or On-Demand option: Attend 6 live, online sessions or choose to view recordings on-demand. 

Interactive group discussion board and optional office hours to interface with faculty and classmates.
Download the Course Brochure: HERE
Download the Course Syllabus: HERE  
Description: Visual and perceptual impairments can significantly limit the ability to perform daily routines and resume participation in identified roles. Visual impairments can limit progression across different levels of care and various types of activities (ex: reading, mobility and self-care). This online course will serve as an introduction to common visual-perceptual impairments that can limit performance, with patients who have visual impairments after neurologic injury or illness, There will be a basic review of key anatomical features. Learners will be introduced to various components of a comprehensive visual assessment (ex: visual acuity, ocular motor control, ocular alignment, visual fields and spatial neglect). These concepts are organized in a simple framework that supports effective interpretation of a visual assessment and development of a plan of care. Cognitive and communication impairments may require modifications to these assessments, so instructors will provide an overview of options their use. Case examples, videos and small group discussions will support interpretation and application of novel concepts.

You will register for one of two options:
LIVE OPTION: Take the course live, attending one video conference each week. If you miss a live session, a recording will be available the following day. There will be additional assignments to match the experience of the live breakout sessions. You will be permitted to watch recordings for up to 2 live sessions. 
ON-DEMAND OPTION: Take this course on-demand, on a self-paced basis. The recordings of each session will be released one day following the live event and you must complete all of the material before May 24th. If you choose the on-demand option, you will have additional assignments to match the experience of the live breakout sessions. We will also offer 2 office hour opportunities to learners who cannot attend the live sessions, so you have time to speak directly with faculty.
Successful completion: Participants in live option will attend 6 online, live lectures utilizing a video conference platform (total of 9 live hours) and will complete 10 hours of self-study. You will be permitted to watch recordings for up to 2 live sessions. If you miss 3 or more live sessions, you will be moved into the on-demand version of this course.
Participants in on-demand option will watch all sessions on-demand for a total of 19 self-study clock hours. The self-study activities for the course will consist of videos, readings, case studies, discussion board posting, and knowledge checks. There will also be optional opportunities to engage with faculty and classmates through question and answer sessions. 
 Course Objectives: Upon completion of this course, participants will be able to:
Identify key anatomical features of the visual system and common visual-perceptual deficits associated with neurologic diagnoses.
Select appropriate components of a comprehensive vision assessment using the framework introduced during course (visual acuity impairments, ocular motor changes, visual field loss and spatial neglect).
Critically assess and interpret findings from a visual assessment in the context of case examples.
Develop a treatment plan to address performance breakdowns related to common visual perceptual deficits observed in neurologic patients.
Identify symptoms or other contributing factors that may influence performance during a visual assessment with neurologic patients.
Audience: Occupational Therapists, Occupational Therapy Assistants, Physical Therapists, Physical Therapist Assistants and Physicians (not for CME), Optometrists (not offering CEU's)
CONTINUING EDUCATION CREDIT
 Occupational Therapy
Shirley Ryan AbilityLab is an AOTA Approved Provider of professional development. Course approval ID# 3695. This course is offered at 19.0 Contact Hours [intermediate level, Foundational knowledge/ OT Service Delivery]. AOTA does not endorse specific course content, products, or clinical procedures.
Physical Therapy
This online course has been approved by the Illinois Physical Therapy Board for 19.0 Contact Hours (10.0 hours self-study & 9.0 hours live). On-Demand approved for (19.0 hours self-study). Approval #216-000069
The Shirley Ryan AbilityLab is recognized by the New York State Education Department's State Board of Physical Therapy as an approved provider of physical therapy and physical therapist assistant continuing education. This course has been approved by the New York Physical Therapy Board for 19.0 Contact Hours (10.0 hours self-study & 9.0 hours live) or all on-demand (19.0hours self-study).
The following states require continuing education units or contact hours with no state specific approval: CT, IA, and WA
Technology Requirements
To participate, you will need access to a computer with an Internet connection. High-speed broadband access (LAN, Cable or DSL) is highly recommended.
Internet connection: broadband wired or wireless (3G or 4G/LTE)
Web browser:
Apple Safari: Latest stable version
Google Chrome: Latest stable version
Mozilla Firefox: Latest stable version
JavaScript and Cookies enabled
Flash Player 9+
Speaker or headset to listen to audio files and participate in Zoom calls
Do NOT use Internet Explorer or Microsoft Edge, as they are not supported. 
Collections
Occupational Therapists Occupational Therapy Assistants Optometrists OTA and PTA Physical Therapist Assistants Physical Therapists Physicians