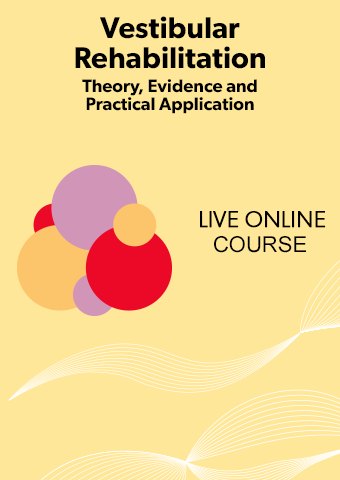 Z 3/03-3/17: 3 Day Vestibular Rehabilitation: Theory, Evidence and Practical Application Course
03/03/2023
This 33rd annual vestibular course will provide therapists with the foundational information needed to efficiently evaluate and effectively treat patients with peripheral and central vestibular disorders and with intermediate-level clinical decision-making skills.  Emphasis will be placed on evidence-based practice and understanding the physiologic rationale for therapeutic interventions.  This will enhance the clinician's ability to evaluate the appropriateness and effectiveness of therapeutic interventions for common vestibular disorders and evolving and emerging disorders (i.e. post-Covid conditions, persistent postural perceptual dizziness-PPPD). The course format will be lecture, demonstration with patient videos, lab break-out sessions, and patient problem-solving sessions.
LIVE, ONLINE DATES: March 3, 2023, March 10, 2023 and March 17, 2023. You must attend all 3 days live OR watch the recordings before the completion of the course. We highly recommend attending this program on the live dates to get the most out of it.
FACULTY: 
Robert Battista, MD, Assistant Professor of Clinical Otolaryngology in the Department of Otolaryngology, Northwestern University Medical School.
Jonella Black, PT, MS, Program Coordinator for Vestibular Rehabilitation, NorthShore University HealthSystems in Evanston, IL.
Janet Odry Helminski, PT, PhD, Professor in the Department of Physical Therapy, College of Health Professions, Rosalind Franklin University. 
Heather Rudisill Kamath, Au.D.,CCC-A, Adjunct Faculty at Northwestern University
Tammie Ostrowski, PT, Senior Physical Therapist, Ascension St. Mary's Hospital, Kankakee IL.
Heidi Roth, PT, NCS, DHS, Assistant Professor: Department of Physical Therapy & Human Movement Sciences at Northwestern University ; Physical Therapist: Shirley Ryan Ability Lab
AUDIENCE:
Athletic Trainers (not getting BOC CEUs), Occupational Therapists, Occupational Therapy Assistants, Physical Therapists, and Physical Therapist Assistants
SUCCESSFUL COMPLETION: 
Participants will complete 5.5 hours of on-demand didactic self-study modules, and 4 hours of readings and self-study in advance of this three-day online course (earning 22.0 live contact hours + 9.5 self-study contact hours.)  The self-study activities will provide participants will foundational information to support the course content. Participants will complete a self-assessment and evaluation of this material before the live course. During the online portion of the course, participants must enter a code for morning and afternoon sessions and complete an online course evaluation. All sessions, self-study work and online evaluations must be completed by March 24, 2023 in order to receive full credit.
LEARNER OUTCOMES: 
Upon completion of this course, participants will be able to: 
Describe the normal anatomy and physiology of the vestibular and related systems.
Discuss the pathophysiology and medical management of common vestibular disorders.
Select and interpret the findings of appropriate outcome measures for use with common vestibular disorders.
Demonstrate an oculomotor examination and positional testing.
Interpret the findings from the history and physical examination to determine the diagnosis of common vestibular disorders.
Develop an intervention program for common vestibular disorders based on examination findings and knowledge of the vestibular system.
 Here's what some past participants had to say: 

I took this course ~ 10 years ago, its fascinating to see the updates in the literature and eval/ treatment. This course made this content much more approachable and understandable. Also gained some new tricks to use in the hospital for treatment and evaluation.
I am 5 years out of school and have always held a strong interest in vestibular treatment. ..I have taken courses [online], purchased books, read articles and never felt confident in my skill set and knowledge… [This online course] definitely challenged and evolved my scope of knowledge and understanding…I truly feel like my understanding has been taken to a new level and I am very excited to market more confidently and hopefully positively impact patient's live in this community.

CONTINUING EDUCATION CREDIT:
Occupational Therapy
The Shirley Ryan AbilityLab is an AOTA Approved Provider of professional development. Course approval ID# 00842. This hybrid course (both distance learning – independent and interactive) is offered at 31.5 CEUs [intermediate, OT Service Delivery/Foundational Knowledge]. AOTA does not endorse specific course content, products, or clinical procedures.
Physical Therapy
This course has been approved by the Illinois Physical Therapy Board for 31.5 Contact Hours (9.5 Hours Self-Study 22.0 Live). 
The Shirley Ryan AbilityLab is recognized by the New York State Education Department's State Board for Physical Therapy as an approved provider of physical therapy and physical therapist assistant continuing education. This three-day course has been approved for 31.5 Contact Hours (9.5 Hours Self-Study 22.0 Live). 
The following states require continuing education units or contact hours with no state-specific approval: CT, IA, and WA 
Technology Requirements:
To participate, you will need access to a device with an Internet connection.
Computers, laptops, iOS and Android devices are supported.
High-speed broadband Internet access (LAN, Cable or DSL) is highly recommended. 
Additional requirements include:
Web browser: latest version of Chrome, Firefox, or Safari
JavaScript and Cookies enabled
Speaker or headset to listen to recorded audio files
Speaker and microphone, or headset with microphone, or phone to listen to course facilitators
Collections
Athletic Trainers Occupational Therapists Occupational Therapy Assistants Physical Therapist Assistants Physical Therapists