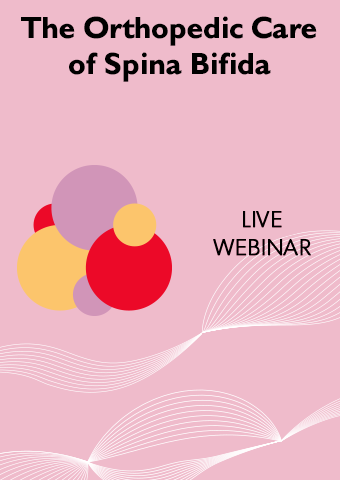 Z 1/30/20 The Orthopedic Care of Spina Bifida
January 30, 2020
4:00 pm to 5:00 pm CST
The registration for this webinar will close at 12:00 pm (cst) on January 30, 2020.
Description:  In this webinar, functional classification (MM1, MM2, MM3, MM4) together with the FMS classification will be presented. We will discuss the use of gait analysis to identify functional abnormalities and provide the best treatment to it. Orthopedic pathologies that will be reviewed include: hip, knee (crouch gait), rotational deformities (tibia/femur), ankle (valgus) and all feet pathologies.
Orthotic management (AFO, GRAFO, KAFO, HKAFO, RGO) will be discussed, as well as the orthopedic and mobility issues in adult spina bifida.
The course with conclude with 2 clinical cases, that include gait analysis-pre and post op. 
Instructor: Vineeta T. Swaroop, MD,  Assistant Professor, Orthopaedic Surgery, Northwestern University Feinberg School of Medicine, Ann & Robert H Lurie Children's Hospital of Chicago, and Shirley Ryan AbilityLab
Filling in for Luciano Dias, MD, Professor of Orthopedic Surgery Northwestern Feinberg School of Medicine, Medical Director Orthopedic Session Spina Bifida Clinic Lurie Children's Hospital, Medical Director Gait Analysis Center Shirley Ryan AbilityLab 
Audience:  Occupational Therapists, Occupational Therapy Assistants, Physical Therapists, Physical Therapy Assistants
Objectives 
Upon completion of this course, participants will be able to:
Recognize the 4 functional levels
Discuss the FMS classification
Identify the most common deformities that affect gait
Recognize components of adult spina bifida function
Continuing Education Credits
Physical Therapy 
The Illinois Physical Therapy Board for 1 Contact Hour has approved this course. Approval #216-000069
The Shirley Ryan AbilityLab is recognized by the New York State Education Department's State Board of Physical Therapy as an approved provider of physical therapy and physical therapist assistant continuing education.This course has been approved by the New York Physical Therapy Board for 1 Contact Hour
Occupational Therapy
The Shirley Ryan AbilityLab is an approved provider for the American Occupational Therapy Association to offer continuing education in occupational therapy. This intermediate level program awards occupational therapists 0.1 CEUs or 1 contact hour. The assignment of AOTA CEUs does not imply endorsement of specific course content, products, or clinical procedures by AOTA. Category 1: Domain of OT – Client Factors and Performance Skills
Disclosures
Financial: Receives a Salary from the Shirley Ryan AbilityLab
Non-Financial: No non-financial disclosures at this time
Collections
Occupational Therapists Occupational Therapy Assistants Physical Therapist Assistants Physical Therapists