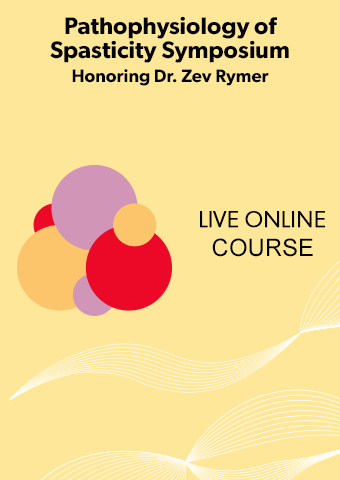 Z 11/11-11/12 Pathophysiology of Spasticity A Symposium Honoring Dr. Zev Rymer
William Zev Rymer, MD, Ph.D. 
Director of the Single Motor Unit Laboratory
Shirley Ryan AbilityLab
2-Day Live Online Course
Click Here to Download the Course Brochure
Description: Spasticity is one of the most common symptoms manifested following damage to the central nervous system (CNS), and is seen in individuals with neurological conditions, such as: stroke, spinal cord injury, and cerebral palsy.  This symposium aims to review research updates in the pathophysiology of spasticity from anatomical and physiological changes in neuronal networks that lead to the development of spasticity to quantifications and measurements of spasticity.
Spasticity has been defined as a motor disorder characterized by a velocity-dependent increase in tonic stretch reflexes with exaggerated tendon jerks, resulting from hyperexcitability of the stretch-reflex. A panel discussion will focus on the electrophysiologic mechanisms that are responsible for the well-established increase in stretch reflex excitability in many muscles of stroke survivors. Observations addressing relative contributions of reflex gain versus reduced threshold in spastic muscles and the pivotal role of reticulospinal and other brainstem pathways in promoting spasticity following stroke will be addressed.
Lesions of descending motor pathways in the spinal cord in animals and humans are linked to the development of symptoms of hyperreflexia. Imbalanced contributions from corticospinal and reticulospinal pathways have been shown in humans with spasticity but not when spasticity is absent. New evidence links the extent of residual corticospinal connections to the presence of spasticity across muscles below the injury in humans with motor complete paralysis.
While spasticity has a neural origin, muscle properties change dramatically in response to the chronically altered neural input.  Importantly, muscle function can be altered by surgically manipulating neuromuscular units.  We will provide insights into what happens in the operating room!  From intraoperative measurements of muscle microscopic structure and mechanical function to surgical nerve transfers and microneurectomy, presenters will provide practical insights into the adaptation of muscle to spasticity and novel surgical treatments for spasticity. 
Course Objectives: Upon completion of this course, participants will be able to:
Describe anatomical physiological changes leading to a spastic neural network.
Illustrate how regulatory functions of the spinal cord change with the development of spasticity.
Describe changes in muscle properties and muscle function accompanying spasticity.
Discuss how changes in descending motor pathways can affect the development of spasticity in individuals with CNS damage.
Review ways to quantify spasticity using  electrophysiology and biomechanics following CNS damage.
Audience: Scientists, Physical Therapists, Physical Therapist Assistants, Occupational Therapists, Occupational Therapy Assistants,  Nurses, and Physicians 
Accreditation: None Offered
To participate, you will need the following:
Access to a computer with an Internet connection. High-speed broadband access (LAN, Cable or DSL) is highly recommended.
Phone
Internet connection
Web browser: Latest stable version of Apple Safari, Google Chrome, or Mozilla Firefox
JavaScript and Cookies enabled
Speaker or headset to listen to audio files and participate in conference calls
Do NOT use Internet Explorer or Microsoft Edge, as they are not supported.
Collections
Nurses Occupational Therapists Occupational Therapy Assistants OTA and PTA Physical Therapist Assistants Physical Therapists Physicians Scientists