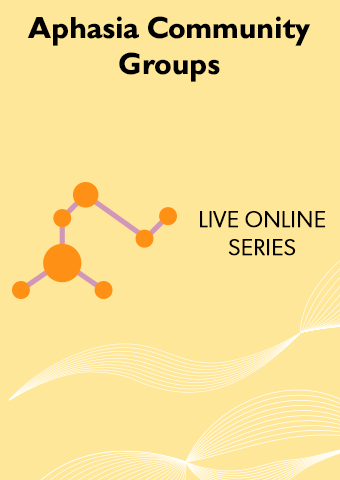 Z 09/22-12/15 Online Aphasia Group Series (For People with Aphasia ONLY)
PLEASE MAKE SURE YOU HAVE REGISTERED FOR CLASSES AT: Register Here
The Center for Aphasia Research and Treatment  is offering two 12-week online classes for people who have aphasia. You can choose to attend Book Club, Conversation Group or both! 
CONVERSATION GROUP - $60
BOOK CLUB - $120
BOOK CLUB & CONVERSATION GROUP - $180
The registration deadline is September 9, 2022.
Option 1: Book Club 
To Kill a Mockingbird
by Harper Lee
Join us as we read a classic American book, To Kill a Mockingbird. This remarkable story is told from the point of view of Scout. Scout is a strong-willed girl coming of age in the South. Scout's town is experiencing the depression era. The community is poisoned by prejudice. Scout still views a world of great beauty.
Get to know the plight of Tom Robinson, a black man unjustly accused of a terrible crime. Mr. Robinson is defended by Atticus Finch, Scout's attorney father. Atticus Finch risks everything to defend Tom Robinson, as this engaging and memorable story unfolds.
We will learn about history surrounding To Kill a Mockingbird and discuss how this story relates to today.
You will be assigned to one book club:
Book Club
10:00 AM - 11:30 AM, Thursdays
OR
Book Club
12:00 PM - 1:30 PM, Thursdays
_________________________________________
AND/OR 
Option 2: Conversation Group 
Come and join the internet-based conversation!
See and hear from others who have aphasia, while social distancing.
This is an opportunity to talk about anything you want – what's happening in the world, politics, entertainment,  living with aphasia, your daily and weekly activities – anything goes! Converse in a supportive environment with others who have aphasia.
You will be assigned to one of these two times:
Conversation Group
12:30 PM - 1:30 PM, Thursdays
OR
Conversation Group
2:00 PM - 3:00 PM, Thursdays
_________________________________________
For more information, call the Center for Aphasia Research and Treatment at 312-238-6163 or Visit our website: http://www.sralab.org/aphasia
Collections
Online Learning